Here's a bit of automotive history: The iconic BMW 3 Series was originally available in several flavors. A 2-door sedan, 4-door sedan, coupé and later on even a convertible (cabriolet) model were all on the table.
In 2013, however, BMW deemed the best-selling BMW 3 series to be getting too confusing for buyers. And to be fair, it was all over the place. So they took out all the 2-door 3 series and re-branded them as the BMW 4 series.
So are the 4-series cars just the two-door versions of the 3 series sedan? The answer is kind of, but not exactly, since over time BMW have tried to distance the 4 series from its 3 series roots.
Despite their best efforts, the 3 series and 4 series still share a lot in common. Let's take a closer look at what exactly separates these two Bimmers.
Quick Summary
The 4 series is often considered a 2-door counterpart to the 3 series. While they feature almost identical interiors and mechanicals, BMW has given the 4 series its own identity with an all-new look for 2021.
Body Type Availability
The main difference between the 3 series and 4 series is in their body style availability.
The 3-series is available in three body styles:
Saloon (4-door)
Touring (5-door sports wagon)
Gran Turismo (4-door sportback)
The 4-series also comes in three body styles:
Coupe (2-door coupe)
Convertible (2-door cabriolet)
Gran coupe (4-door coupe)
As you can see, the 3 series focuses on 4-door/5-door body types whereas the 4 series primary focus is on sporty 2-door bodies (with the exception of the 4-door Gran Coupe).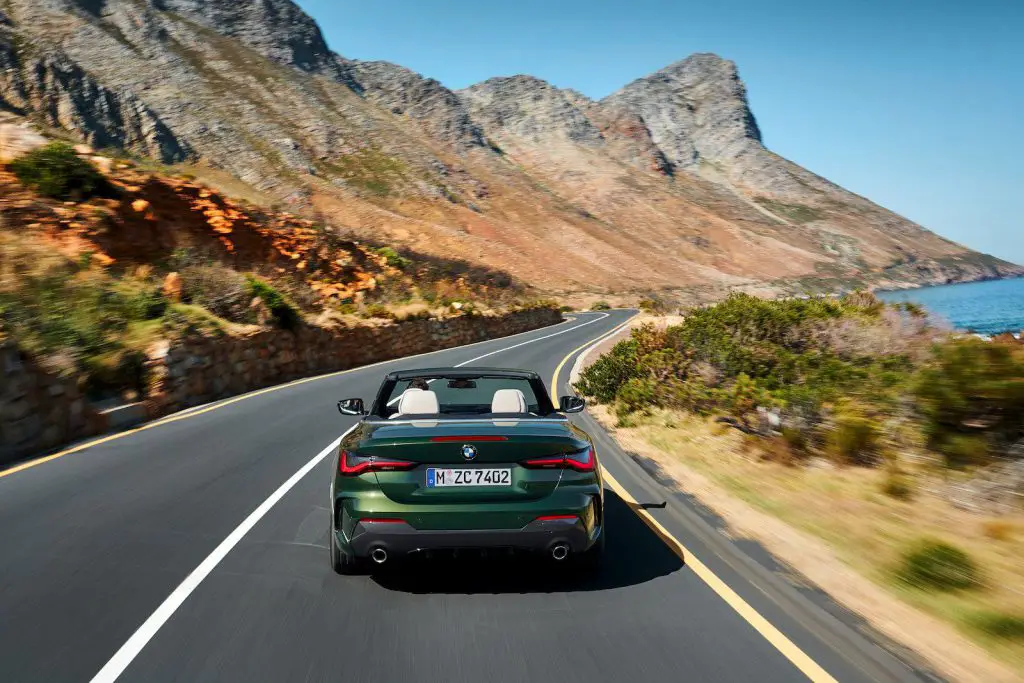 Many people find the existence of the 4-door, 4 Series Gran Coupe particularly confusing as it messes with the notion of the 4 series being the two-door counterpart of the 3 Series. But it looks more coupe-y so let's just leave it at that.
Under The Hood
The base 330i and 430i trims both share the same 2.0-liter, turbocharged inline-four petrol engine. This is matched with a 8-speed Automatic transmission that has automatic Sport and Manual shift modes. (Note that the 430i is also available with a manual 6-speed manual transmission).
As one would expect, performance is more or less identical. Both accelerate from 0-60 in ~5.5 seconds and can reach a top speed of 155 mph (electronically limited to 130 mph). Opting for the xDrive AWD variant improves acceleration slightly to 5.3 seconds.
Gearheads will likely be attracted to the M340i and M440i trims of the 3 series and 4 series, which both feature a 3.0-liter turbocharged inline six-cylinder engine. New for 2021, this engine now throws a 48-volt mild hybrid system into the mix which yields a slight boost to performance and fuel efficiency.
3 Series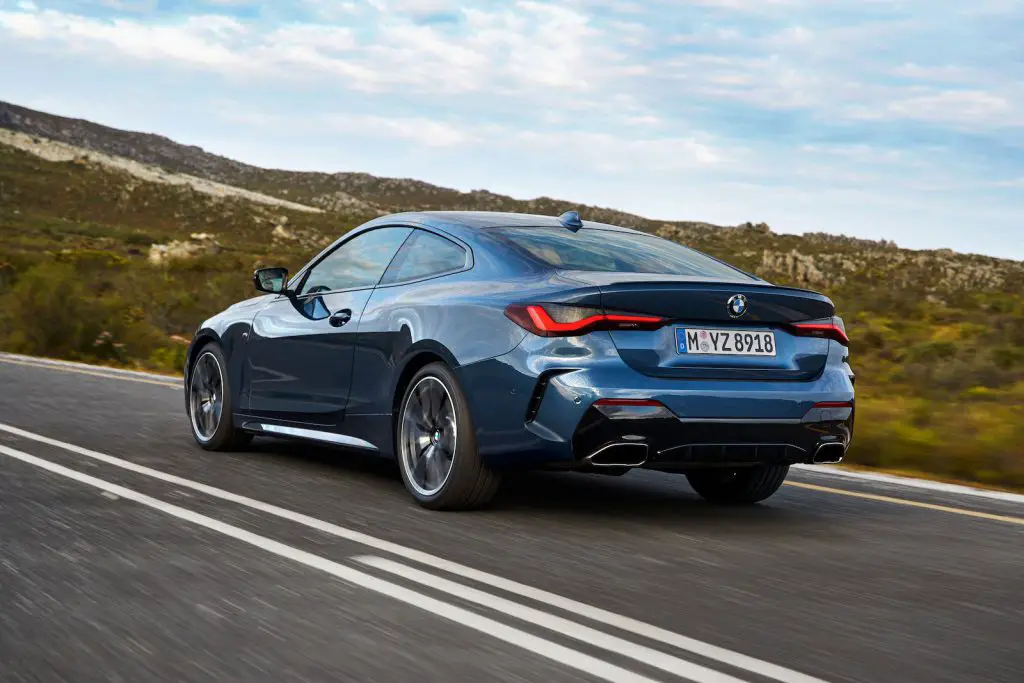 4 Series
Exterior And Interior
The two cars are almost identical under the hood, but they look very different from the outside.
The reason for this is that the 3 series entered its 7th generation (known as G20) in 2018, meaning it's in the middle of its lifecycle.
By contrast, the 4 series only just entered its 2nd generation in 2021, so it looks quite a bit different and hints at where BMW is going forward with its future designs.
The new 4 series features a massive front kidney grille which has received a polarized response so far. Beyond that, it also has sharper head and tail lights which give it a more aggressive look over the current 3 series.
Despite big differences on the outside, once you go inside both cars are virtually identical. Things like the shifter, gauge cluster screens and touch screen placement remain the same.
The only difference is that the 4 series comes with sport seats and a sports steering wheel as standard, whereas they cost extra on the 3 series.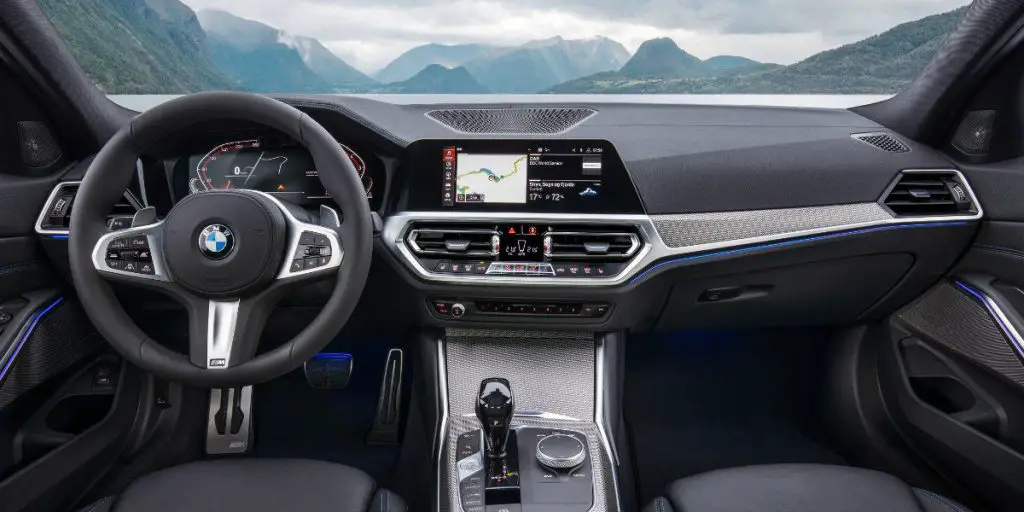 3 Series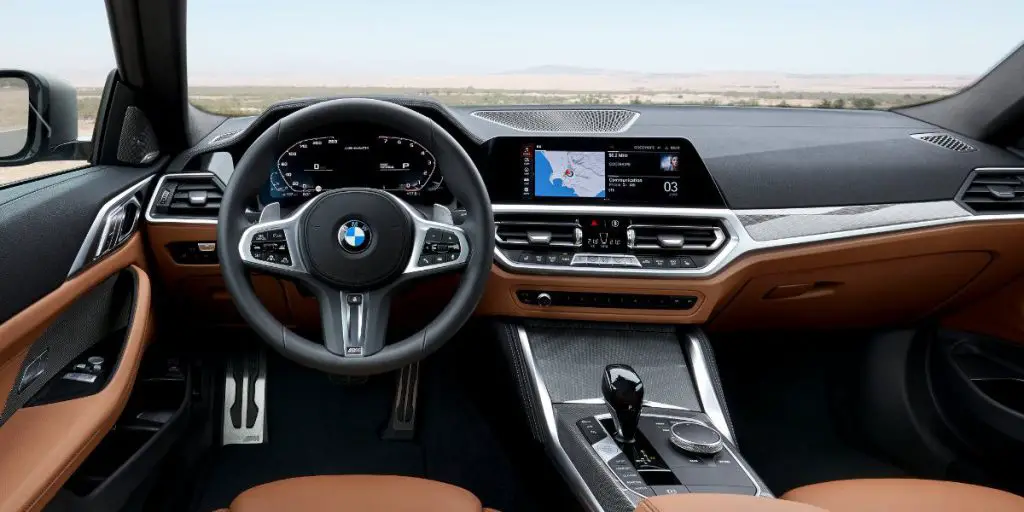 4 Series
Practicality
It shouldn't be surprising that a 4-door sedan is more practical than a 2-door coupe.
Not only is rear-row seat access much easier, but the 3 series sedan can fit 5 people (40/20/40 rear row seating arrangement) whereas the 4 series coupe can only fit 4 people. Passengers in the back of the 4 series coupe also have significantly less headroom and legroom.
The 3-series offers more generous cargo space, with 16.9 cubic feet of space in the sedan's trunk vs 15.7 cubic feet in the 4-series coupe. Of course, the 3-series sports wagon and Gran Turismo hatchback boast even more room for cargo.
Price
Given that the 3 and 4 series are built from the same foundation, you might expect the 3 series sedan and 4 series coupe to cost the same when you pick ones with the same engine.
But alas, a new 330i starts at $41,250 whereas a new 430i starts at $45,600. It might seem unfair, but it's not at all uncommon for automotive manufacturers to make you pay a premium for a sportier coupe. But at least you get sports seats and LED headlights as standard on the 4 series.
Ride And Handling
BMW is known for providing an excellent drive experience, and both cars do not disappoint. The weight is perfectly distributed on both cars, but the lower center of gravity and slightly more compact body makes the 4 series better at handling corners.
Conclusion
While there are subtle differences between the two BMW models, the underlying platform and mechanicals are very much the same. Choosing between the two should ultimately come down to whether you're looking for a more practical sedan in the 3 series or a more sporty ride in the 4 series.
In addition, the 4 series has just had a makeover and as a result you'll get more up-to-date exterior styling. That said, the 3 series still looks stunning and has another few years before it receives an aesthetic overhaul so don't let that sway you.
Comparison Table
2021 BMW 3 Series Sedan
2021 BMW 4 Series Coupe
Trim
Price
$41250
$45600
Performance
Engine
2.0L Turbo Inline-4 Gas
2.0L Turbo Inline-4 Gas
Horsepower
255 hp @ 5000 rpm
255 hp @ 5000 rpm
Torque
295 lb-ft @ 1550 rpm
294 lb-ft @ 1550 rpm
Transmission
8-Speed Automatic
8-Speed Automatic
Drivetrain
Rear-Wheel Drive
Rear-Wheel Drive
Handling
Steering Type
Rack-Pinion
Rack-Pinion
Rear Suspension
Multi-Link
Multi-Link
Rear Wheel Size
P225/45HR18
P225/45HR18
Front Suspension
Strut
Strut
Front Wheel Size
P225/45HR18
P225/45HR18
Turning Diameter (ft.)
37.4
37.4
Fuel Economy
MPG/MPGe - Hwy
36
34
MPG/MPGe - City
26
26
MPG/MPGe - Combined
30
29
Gas Tank Size (gallons)
15.6
15.6
Cruising Range - Hwy (miles)
561.6
530.4
Size and Weight
Height (in.)
56.8
54.6
Length (in.)
185.7
187.9
Weight (lbs)
3582
3578
Max Width (in.)
71.9
72.9
Wheelbase (in.)
112.2
112.2
Interior Dimensions
Seating Capacity
5
4
Trunk Volume (cu. ft.)
17.0
12.0
Front Seat Leg Room (in.)
42.0
41.8
Front Seat Head Room (in.)
38.7
38.0
Front Seat Hip Room (in.)
-
57.7
Front Seat Shoulder Room (in.)
56.0
55.1
Rear Seat Leg room (in.)
35.2
34.5
Rear Seat Head Room (in.)
37.6
35.2
Rear Seat Hip Room (in.)
-
54.1
Rear Seat Shoulder Room (in.)
54.6
55.0
Infotainment Features
HD Radio
Standard
Standard
MP3 Player
Standard
Standard
WiFi Hotspot
Optional
Standard
Satellite Radio
Standard
Standard
Bluetooth Connection
Standard
Standard
Entertainment System
Not Available
Not Available
Premium Sound System
Optional
Optional
Auxiliary Audio Input
Standard
Standard
Smart Device Integration
Standard
Standard
Hard Disk Drive Media Storage
Optional
Standard
Interior Trim
Cloth Seats
Standard
Standard
Vinyl Seats
Standard
Standard
Leather Seats
Standard
Standard
Premium Synthetic Seats
Standard
Standard
Bucket Seats
Standard
Standard
Sun/Moonroof
Standard
Standard
Leather Steering Wheel
Standard
Standard
Woodgrain Interior Trim
Not Available
Not Available
Comfort Features
A/C
Standard
Standard
Rear A/C
Standard
Standard
Telematics
Standard
Standard
Seat Memory
Standard
Standard
Seat-Massage
Not Available
Not Available
Keyless Entry
Standard
Standard
Keyless Start
Standard
Standard
Cruise Control
Standard
Standard
Multi-Zone A/C
Standard
Standard
Power Liftgate
Not Available
Not Available
Climate Control
Standard
Standard
Head-Up Display
Optional
Optional
Power Mirror(s)
Standard
Standard
Automatic Parking
Optional
Not Available
Navigation System
Standard
Standard
Power Driver Seat
Standard
Standard
Cooled Rear Seat(s)
Not Available
Not Available
Hands-Free Liftgate
Optional
Not Available
Heated Rear Seat(s)
Optional
Not Available
Remote Engine Start
Optional
Optional
Cooled Front Seat(s)
Not Available
Not Available
Heated Front Seat(s)
Optional
Optional
Power Passenger Seat
Standard
Standard
Remote Trunk Release
Optional
Not Available
Heated Steering Wheel
Optional
Optional
Adaptive Cruise Control
Optional
Not Available
Navigation from Telematics
Not Available
Not Available
Universal Garage Door Opener
Standard
Standard
Steering Wheel Audio Controls
Standard
Standard
Safety Features
ABS
Standard
Standard
Brake Assist
Standard
Standard
Night Vision
Not Available
Not Available
Rear Parking Aid
Optional
Standard
Traction Control
Standard
Standard
Stability Control
Standard
Standard
Blind Spot Monitor
Optional
Standard
Cross-Traffic Alert
Not Available
Not Available
Lane Keeping Assist
Optional
Not Available
Tire Pressure Monitor
Standard
Standard
Lane Departure Warning
Standard
Standard
Airbags
Knee Air Bag
Not Available
Standard
Driver Air Bag
Standard
Standard
Seatbelt Air Bag
Not Available
Not Available
Passenger Air Bag
Standard
Standard
Rear Head Air Bag
Standard
Standard
Rear Side Air Bag
Not Available
Not Available
Front Head Air Bag
Standard
Standard
Front Side Air Bag
Standard
Standard
Warranty
Basic
4 Years / 50,000 Miles
4 Years / 50,000 Miles
Corrosion
12 Years / Unlimited Miles
12 Years / Unlimited Miles
Drivetrain
4 Years / 50,000 Miles
4 Years / 50,000 Miles
Maintenance
3 Years / 36,000 Miles
3 Years / 36,000 Miles
Roadside Assistance
4 Years / Unlimited Miles
4 Years / Unlimited Miles