Japanese automaker Honda is fabled for its expertise in engineering engines. The Odyssey and Pilot are two of its most popular 8-seat family haulers, but which one is the better choice? In this head to head we'll be taking you through how each model fares in various categories and, ultimately, which model makes more sense for the average family.
Quick Summary
The Honda Odyssey and Pilot are equivalently priced 8-seater haulers. The Odyssey is a minivan with sliding doors and is better for carrying 6+ people or passengers with accessibility issues. For everyone else, the Pilot SUV offers a more fun drive while still being able to fit in 8 passengers if necessary.
SUV or Minivan?
Most people typically start their car hunt with a specific type of car in mind, but choosing between these two models also involves a choice between the type of vehicle you want. The Odyssey is a minivan while the Pilot is a midsize crossover SUV.
Minivans often get a bad rep and that's reflected by their considerably lower sales figures compared to SUVs. They're considered unsexy, boring to drive and less sporty than SUVs.
The reality, however, is that newer minivans not only offer decent performance and handling, but are often much more practical for the average family.
Sure, their smaller ground clearance and lower amount of torque means they don't perform well off-road or make them much good at pulling trailers. But on the flip-side, you get a significantly roomier interior as well as family friendly features like automatic sliding doors.
Therefore, it's important to consider where your priorities lie. The choice between a minivan and SUV should probably be the biggest factor in your purchase decision.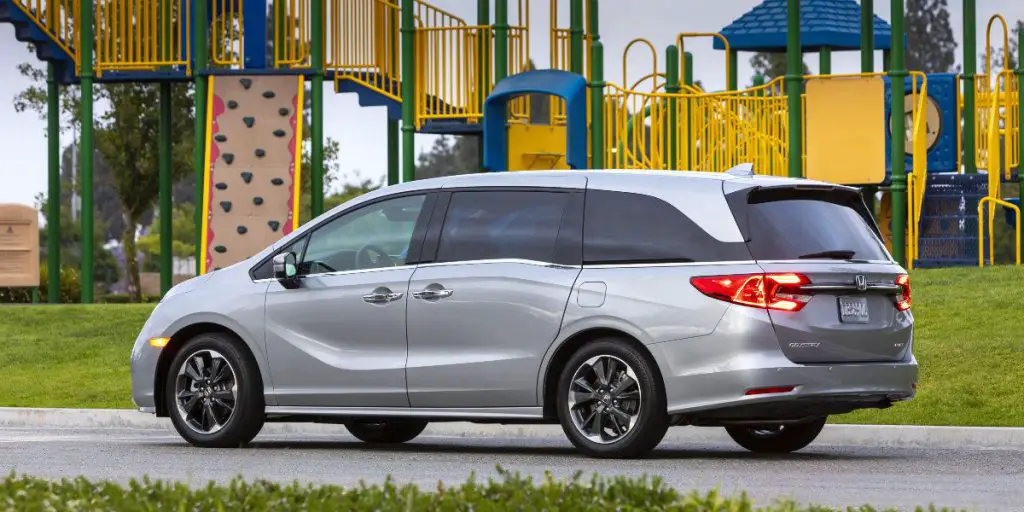 Odyssey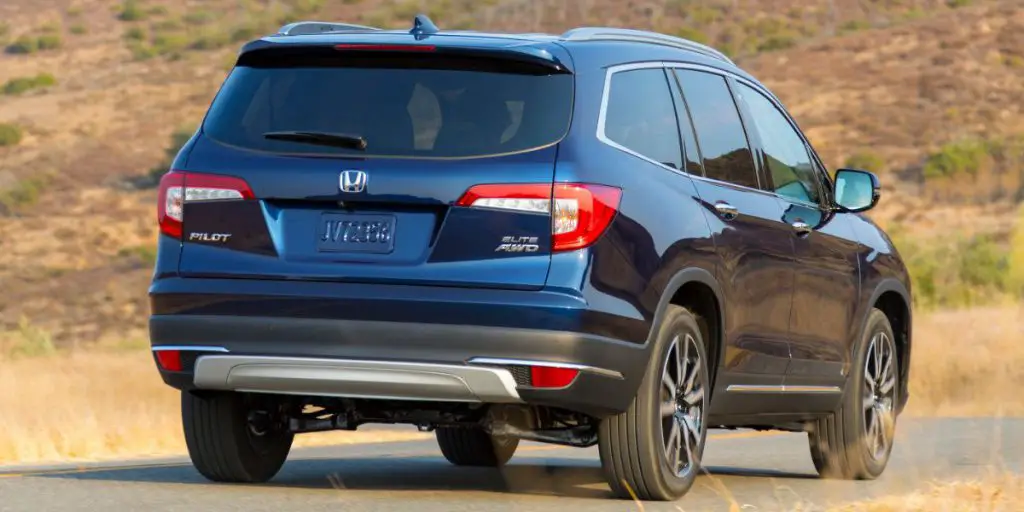 Pilot
Pricing
The Odyssey and Pilot are extremely similar in price. The Odyssey LX starts at $32,090 while the Pilot LX will cost slightly more at $32,550. However, comparing the EX, EX-L and Touring models, the Odyssey becomes the more expensive choice.
The reason the Odyssey LX is an exception is it only seats 7 people and doesn't feature any of the driver assists that you get in the next trim up–the EX. All the other trims come with 8 seats.
The base model Pilot LX, on the other hand, comes with seating for 8 and is much closer to the Pilot EX in terms of features like Honda's sensing driver assists.
Exterior
The Honda Odyssey received a complete makeover in 2018, and the 2021 maintains a similar design. Meanwhile, the last major Honda Pilot redesign was in 2019. As with most Hondas, neither the Odyssey or Pilot sport particularly bold or loud designs, and instead opt for function-over-form, low-key designs.
The Pilot is 194.5" long and 78.6" wide. The Odyssey is similar in width, but longer, measuring 203.5" from front to back.
Compared to other SUVs in its class, the Pilot doesn't offer a great amount of ground clearance at 7.3". However, it's still significantly more than the Odyssey's 5.8" clearance, but no one is purchasing an Odyssey with off-roading in mind!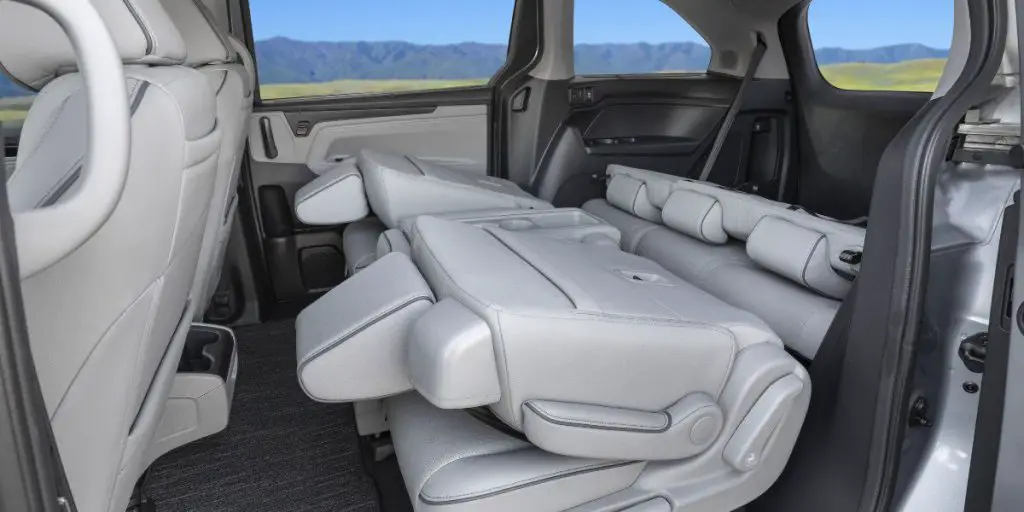 Odyssey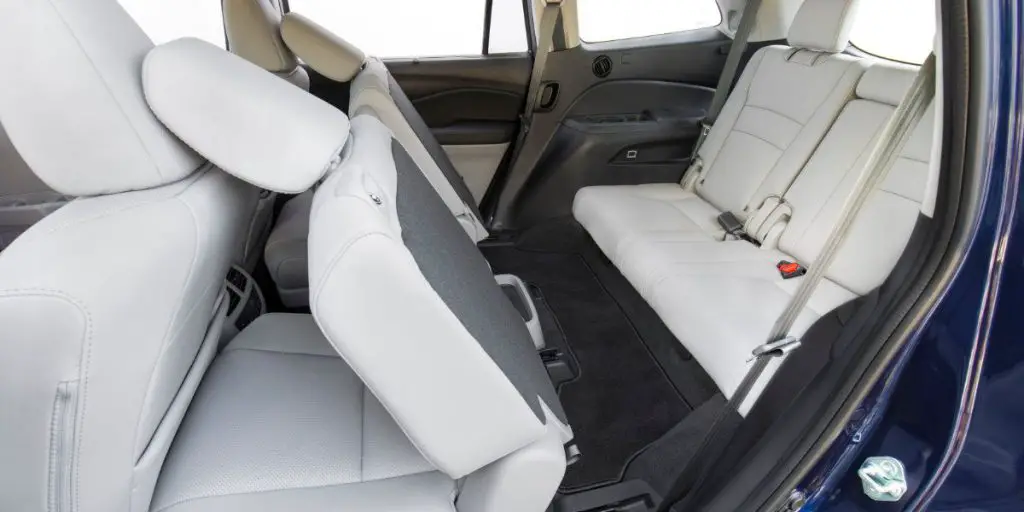 Pilot
Interior Space
Comparing the amount of interior space made available for passengers and cargo, the Odyssey is the clear winner.
The Odyssey is very slightly more generous when it comes to legroom, headroom, shoulder room and hip room. It offers a total of 163.6 cubic feet of passenger volume, compared to the Pilot's 152.9 cubic feet. That said, the difference is quite slight and won't be noticeable for the average passenger.
When we look at the cargo space, however, the Odyssey has the Pilot easily beat. It has much room for cargo in all three possible seating configurations (no seats down, third-row down, second and third-rows down). Behind the third row, it offers twice as much space behind the third row.
The Odyssey also offers some unique ways to reconfigure the interior seating arrangement. The center seat in the second row can be removed to turn it from a 3 person seating bench to a pair of captain's chairs. The pair of chairs can then be rearranged further from left to right to make access to the third row easier.
Engine Performance
Both the Odyssey and the Pilot share the same 3.5-liter V6 that produces 280 horsepower and 262 pound-feet of torque.
However, as an SUV, the Pilot is better suited to towing and is rated to tow up to 3500 lbs. By comparison, the Odyssey minivan has a maximum towing capacity of 3000 lbs.
The Odyssey features a 10-speed automatic transmission, whereas the Pilot is available with a 6-speed automatic transmission (LX, EX, EX-L) or a 9-speed automatic transmission (Touring, Elite and Black). A higher number of gears makes gearing more aggressive and progressive, but different drivers have different preferences, so a test drive is the best way to find out what feels best for yourself.
FWD/AWD: The Odyssey is only available as a FWD, while the Pilot can either be FWD or AWD. An all-wheel drive is superior for rougher terrain and wintry conditions.
Fuel Economy
Both the Odyssey and Pilot offer good fuel economy for their size. The Odyssey has an ever so slightly superior fuel efficiency with 28 mpg on the highway and 19 mpg in the city. By comparison, the Pilot manages 27 mpg on the highway and 19 mpg in the city.
There is some variation across the Pilot range, however, depending on the model in question. Going for an all-wheel drive Pilot will reduce the fuel efficiency by around 1mpg, and opting for a 9-speed transmission will result in a 1 mpg increase.
Driver Assist Technology
Honda's main driver assist technologies are Lane Keeping Assist System (LKAS), Adaptive Cruise Control (ACC), Auto high-beam headlights and Blind Spot Information System (BSI).
All four of these driver assists are present on the Odyssey and Pilot starting with the EX.
With the base LX, however, things are a bit different. The 2021 LX Odyssey doesn't come with any of these Honda Sensing assists, whereas the 2021 LX Pilot comes with all but BSI.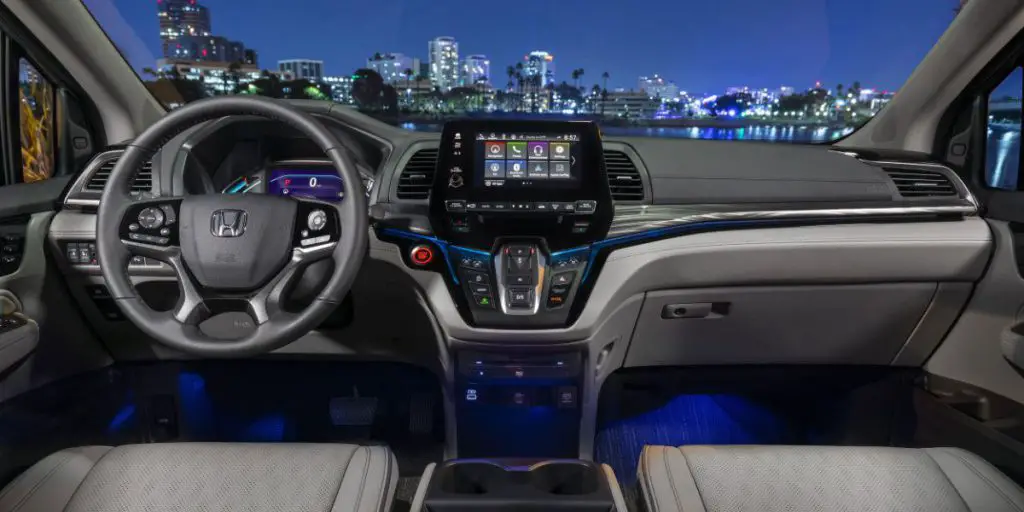 Odyssey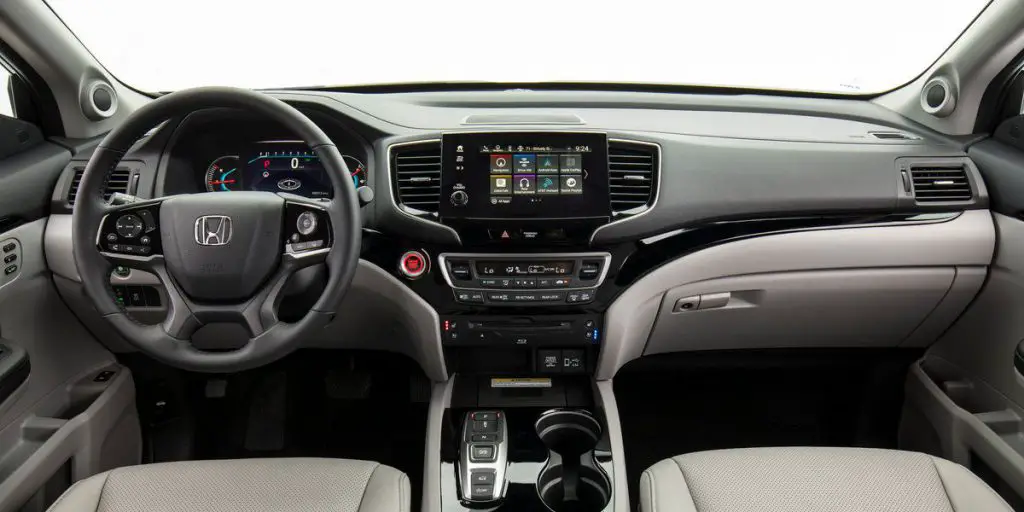 Pilot
Infotainment and Connectivity
Both the Odyssey and Pilot similar infotainment setups. The base LX models only feature a 5-inch LCD display, while the EX and above feature 8-inch touchscreen displays with Apple CarPlay and Android Auto integration. Meanwhile, the Pilot Touring, Elite and Black have a rear entertainment system with a 10.2-inch HD screen, blu-ray player and built-in streaming apps.
USB and 12-volt outlets are numerous in both models, although slightly different, with the Odyssey offering one more 12-volt outlet but two less USB ports.
Safety
Safety is incredibly important for any vehicle, and even more so when transporting a larger number of passengers.
According to NHTSA safety ratings, the Honda Odyssey and Honda Pilot are some of the safest cars around. The Honda Odyssey scores a perfect 5-star rating across all crash tests. The Pilot gets 5-stars in all but one – front passenger side – which received a 4-star rating.
In IIHS testing, both Hondas received 'top safety pick' awards.
Conclusion
The Odyssey makes a lot more sense for larger families who will often find themselves utilizing the third row. With sliding doors and seats that can be rearranged, it is a lot more convenient to get everyone inside.
It also leaves much more room for cargo, meaning you won't have any problems fitting things in for your next family holiday.
For those who don't see themselves driving large numbers of passengers around often, the Pilot is the better choice. It's more fun to drive, easier to park and on the rare occasion you need to pack people in, can still fit up to 8 people.
Comparison Table
2021 Honda Odyssey
2021 Honda Pilot
Trim
Price
$31790
$32550
Performance
Engine
3.5L V6 Gas
3.5L V6 Gas
Horsepower
280 hp @ 6000 rpm
280 hp @ 6000 rpm
Torque
262 lb-ft @ 4700 rpm
262 lb-ft @ 4700 rpm
Transmission
10-Speed Automatic
9-Speed Automatic
Drivetrain
Front-Wheel Drive
Front-Wheel Drive
Handling
Steering Type
Rack-Pinion
Rack-Pinion
Rear Suspension
Trailing Arm
Multi-Link
Rear Wheel Size
P235/60HR18
P245/60HR18
Front Suspension
Strut
Strut
Front Wheel Size
P235/60HR18
P245/60HR18
Turning Diameter (ft.)
39.6
39.4
Fuel Economy
MPG/MPGe - Hwy
28
27
MPG/MPGe - City
19
20
MPG/MPGe - Combined
22
23
Gas Tank Size (gallons)
19.5
19.5
Cruising Range - Hwy (miles)
546.0
526.5
Size and Weight
Height (in.)
68.3
70.6
Length (in.)
205.2
196.5
Weight (lbs)
4398
3982
Max Width (in.)
78.5
78.6
Wheelbase (in.)
118.1
111.0
Interior Dimensions
Seating Capacity
7
8
Front Seat Leg Room (in.)
40.9
40.9
Front Seat Head Room (in.)
40.7
40.1
Front Seat Hip Room (in.)
58.6
59.1
Front Seat Shoulder Room (in.)
63.1
62.0
Rear Seat Leg room (in.)
40.9
38.4
Rear Seat Head Room (in.)
39.5
40.2
Rear Seat Hip Room (in.)
64.8
57.3
Rear Seat Shoulder Room (in.)
61.6
62.0
Third Row Leg Room (in.)
38.1
31.9
Third Row Head Room (in.)
38.3
38.9
Third Row Hip Room (in.)
48.4
44.6
Third Row Shoulder Room (in.)
60.0
57.6
Infotainment Features
HD Radio
Not Available
Not Available
MP3 Player
Standard
Standard
WiFi Hotspot
Not Available
Not Available
Satellite Radio
Not Available
Not Available
Bluetooth Connection
Standard
Standard
Entertainment System
Not Available
Not Available
Premium Sound System
Not Available
Not Available
Auxiliary Audio Input
Standard
Standard
Smart Device Integration
Standard
Not Available
Hard Disk Drive Media Storage
Standard
Not Available
Interior Trim
Cloth Seats
Standard
Standard
Vinyl Seats
Standard
Standard
Leather Seats
Standard
Standard
Premium Synthetic Seats
Standard
Standard
Bucket Seats
Standard
Standard
Sun/Moonroof
Not Available
Not Available
Leather Steering Wheel
Not Available
Not Available
Woodgrain Interior Trim
Not Available
Not Available
Comfort Features
A/C
Standard
Standard
Rear A/C
Not Available
Not Available
Telematics
Not Available
Not Available
Seat Memory
Not Available
Not Available
Seat-Massage
Not Available
Not Available
Keyless Entry
Standard
Standard
Keyless Start
Standard
Standard
Cruise Control
Standard
Standard
Multi-Zone A/C
Standard
Standard
Power Liftgate
Not Available
Not Available
Climate Control
Standard
Standard
Head-Up Display
Not Available
Not Available
Power Mirror(s)
Standard
Standard
Automatic Parking
Not Available
Not Available
Navigation System
Not Available
Not Available
Power Driver Seat
Standard
Not Available
Cooled Rear Seat(s)
Not Available
Not Available
Hands-Free Liftgate
Not Available
Not Available
Heated Rear Seat(s)
Not Available
Not Available
Remote Engine Start
Not Available
Not Available
Cooled Front Seat(s)
Not Available
Not Available
Heated Front Seat(s)
Not Available
Not Available
Power Passenger Seat
Standard
Not Available
Remote Trunk Release
Not Available
Not Available
Heated Steering Wheel
Not Available
Not Available
Adaptive Cruise Control
Standard
Standard
Navigation from Telematics
Not Available
Not Available
Universal Garage Door Opener
Not Available
Not Available
Steering Wheel Audio Controls
Standard
Standard
Safety Features
ABS
Standard
Standard
Brake Assist
Standard
Standard
Night Vision
Not Available
Not Available
Rear Parking Aid
Not Available
Not Available
Traction Control
Standard
Standard
Stability Control
Standard
Standard
Blind Spot Monitor
Not Available
Not Available
Cross-Traffic Alert
Not Available
Not Available
Lane Keeping Assist
Standard
Standard
Tire Pressure Monitor
Standard
Standard
Lane Departure Warning
Standard
Standard
Airbags
Knee Air Bag
Standard
Not Available
Driver Air Bag
Standard
Standard
Seatbelt Air Bag
Not Available
Not Available
Passenger Air Bag
Standard
Standard
Rear Head Air Bag
Standard
Standard
Rear Side Air Bag
Not Available
Not Available
Front Head Air Bag
Standard
Standard
Front Side Air Bag
Standard
Standard
Warranty
Basic
3 Years / 36,000 Miles
3 Years / 36,000 Miles
Corrosion
5 Years / Unlimited Miles
5 Years / Unlimited Miles
Drivetrain
5 Years / 60,000 Miles
5 Years / 60,000 Miles
Roadside Assistance
3 Years / 36,000 Miles
3 Years / 36,000 Miles