While the market continues to lean towards compact and crossover SUVs, there's no love lost for the sedan, and especially sedans with a high-end feel that are still well within most people's "affordable" bracket.
Japanese automakers are well-known for supplying this market segment, especially Nissan. Two excellent examples would be the Nissan Sentra and the Nissan Altima. These are often compared to each other as members of Nissan's sedan family. So, where do the similarities and differences lie?
Quick Summary
The Nissan Sentra is a compact sedan, whereas the more expensive Nissan Altima is classed as a mid-size sedan. This means the Nissan Altima is bigger on the outside and offers more interior space. But it's the superior engine options and AWD availability that have made the Nissan Altima worth the extra expense.
Where They Sit In The Nissan Sedan Range
Here is the full range of Nissan sedans available in the USA, ordered from smallest to biggest:
There's also the Nissan LEAF EV, which as a compact sedan is comparable to the Sentra in size, but being an electric car costs more than the mid-size Nissan Altima.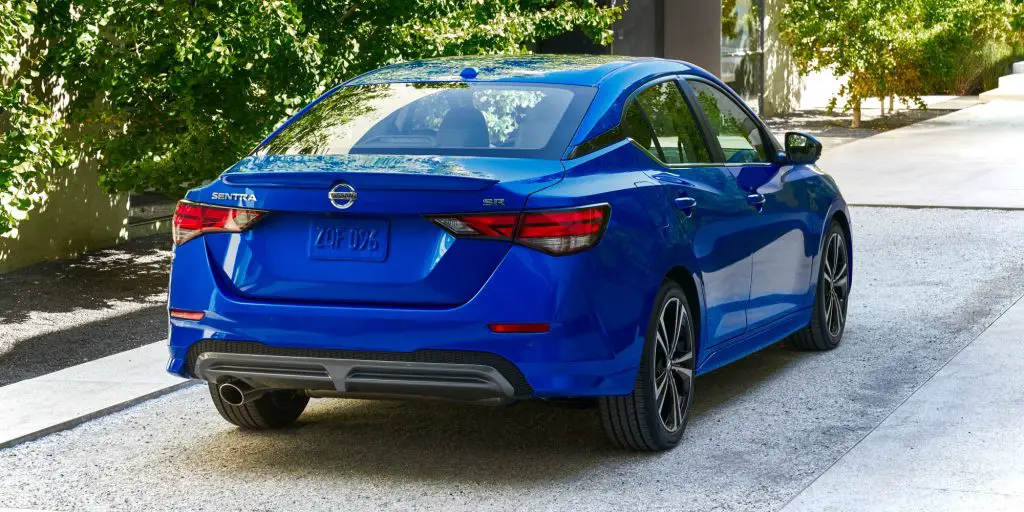 Sentra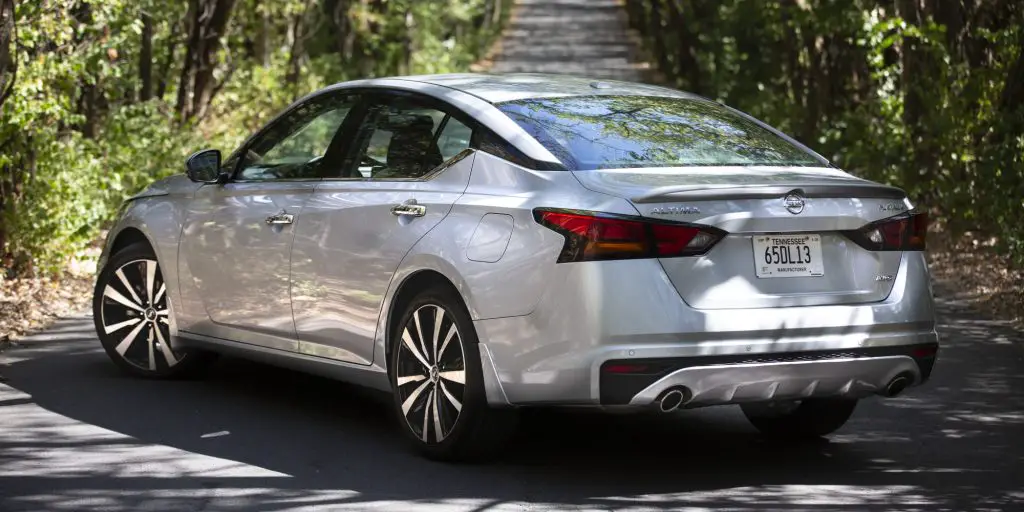 Altima
Pricing
The Nissan Sentra is the cheaper of the models with a starting MSRP of $19,510. It's available in 4 different trims, namely the Nisssan Sentra S (from $19,510), the Sentra SV (from $20,570), the Sentra SR (from $22,100) and the Sentra SR Midnight Edition (from $22,795).
The Nissan Altima costs more and starts at $24,550 for the base-level Altima S trim, and includes 5 other trim levels: Altima SV (from $25,550), Altima SR (from $26,550), Altima SR Midnight Edition (from $28,300), Altima SR VC-Turbo (from $30,900) and the Altima SL (from $29,990).
Overall, the Nissan Altima costs around $5,000 more than a similarly equipped Nissan Sentra.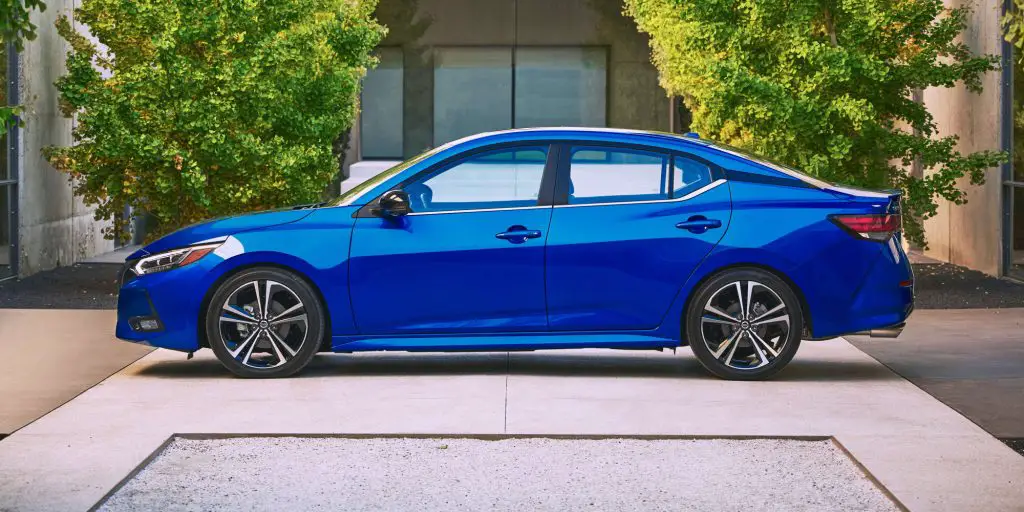 Sentra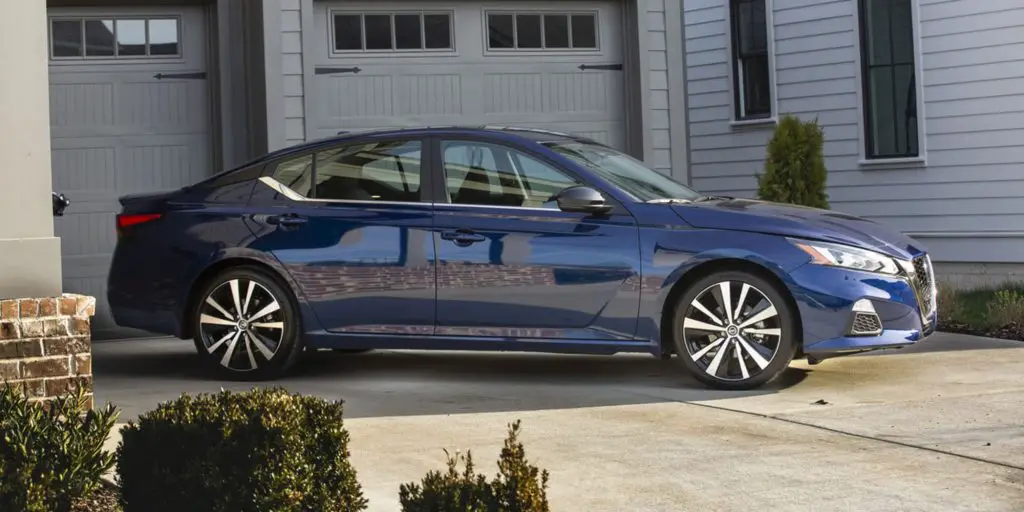 Altima
Exterior
There are many obvious similarities between these 2 models in their exterior styling. That's not really surprising since they're sibling sedan models in the same Nissan range. However, they are noticeably closer in nature than the smaller Nissan Versa, for instance, which has a more unique style within the family of Nissan sedans.
Both are characterized by a wide and imposing front end with enlarged chrome-finished frame grille, angular lines and edges, and slight sloping of the roof to give it a sports coupe feel.
The standard wheel on the Nissan Sentra is a 16″ alloy, compared to 17″ on the Nissan Altima, with both cars offering upgrades to 18″ and 19″ respectively. There are some subtle differences in the headlight and taillight signatures, but the overarching look is quite similar.
While they are stylistically similar, the larger Nissan Altima is noticeably longer at 192.9 inches compared to the Sentra's 182.7 inches, giving it more road presence.
Interior
The interiors are both fairly typical of Nissan's current interior design style of simple and straightforward elegance. The dashboards are user-friendly and familiar, with material quality varying somewhat depending on what trim you buy. The rule of thumb for both the Nissan Sentra and the Nissan Altima is that if you want better materials, you have to climb the trim ladder.
You'll find a few interesting extras in the Nissan Altima interior design like a flat-bottomed steering wheel on the SV trim, as well as some faux carbon fiber.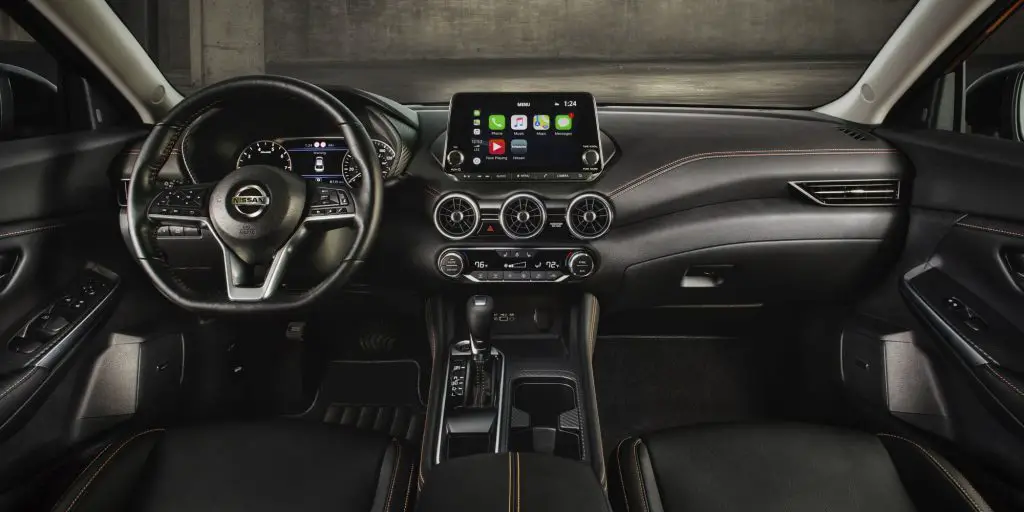 Sentra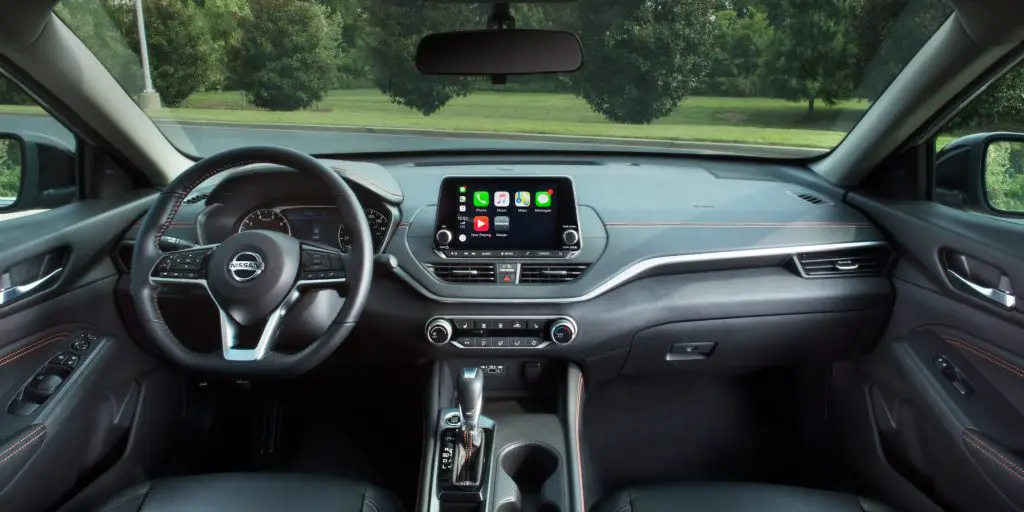 Altima
Performance
The Nissan Sentra is powered by a 2.0L 4-cylinder engine that delivers 149-hp and 146 lb-ft of torque. That's paired with a CVT transmission as standard, with a front-wheel-drive (FWD) drivetrain.
The Nissan Altima is more performance-oriented and comes with 2 engine options: the standard 2.5L 4-cylinder unit that delivers 188-hp paired with a CVT, or a 2.0L turbocharged variable compression (VC) engine that boosts it up to 248-hp. The standard four-cylinder engine can be had with all-wheel drive (FWD) for an additional $1,400, but the VC-turbo engine is only available as FWD.
Not everyone buys a sedan like these for speed, but if speed and responsiveness are important for you, then the 2.0L turbocharged engine option in the Nissan Altima makes it a great choice. The extra oomph makes the upgraded Nissan Altima substantially more fun to drive than the Nissan Sentra, which doesn't offer any engine upgrades. The Nissan Altima SR trim also gets sport-tuned suspension which is another great addition if you regularly drive on bendy roads, though the stiffer ride will make bumps and road imperfections more noticeable.
On the road, the Nissan Sentra when equipped with independent rear suspension and a smaller wheel set (16-17 inches) is a pretty comfortable and easy ride, but ride quality gets distinctly firmer when one upgrades to the larger 18-inch wheels. The Nissan Altima offers a more comfortable ride regardless, keeping shudders and vibrations to a minimum.
Finally, both cars offer decent braking and steering, but the steering in both is not especially sporty or dynamic compared to close rivals from Toyota or Hyundai, for example. It's not someone people necessarily expect from a Nissan, but if that matters to you, it's good to know.
Fuel Economy
In terms of fuel consumption, both of these Nissan sedans perform rather well. The Nissan Sentra will deliver up to 29-mpg in the city and 39-mpg on the highway. The Nissan Altima will do slightly worse at 28-mpg in the city, but still manages the same highway rating of 39 mpg. If you buy the SR VC-Turbo trim Altima, then the estimated fuel efficiency drops to 25-mpg in the city and 34-mpg on the highway.
Practicality
When it comes to cargo space, the bigger Nissan Altima has the edge again, offering 15.9 cubic feet of trunk space compared to just 14.3 cubic feet in the Nissan Sentra. It's not a dramatic difference, but every cubic foot counts when you're trying to load in that last case when vacation time comes. These figures are of course with the rear seats upright; fold them down and the Nissan Altima's cargo volume advantage is even bigger.
Rear legroom is important in sedans because efforts to make sedans more compact have made rear seating a bit of a squeeze for adult passengers. The Sentra and Altima both deliver roomy and comfortable rear spaces, the Sentra offering 34.7 inches of leg room and the Altima 35.2 inches.
Technology & Features
The Nissan Sentra gets a standard 7-inch infotainment touchscreen with the option to upgrade to an 8-inch screen, whereas the Nissan Altima gets 8 inches as standard.
Both systems are very similar, and do feature real knobs for volume control which some people love because it makes things easier when driving. You'll also find full compatibility with Apple CarPlay and Android Auto.
The Altima offers more USB ports (4 to 3), and optional remote engine start with a keyfob, but in most other respects the two models are identical in their technology offerings.
Safety Features
Both models are equipped with Nissan Safety Shield 360 as a standard feature on the SV trim and above for the Altima, and on all trim levels in the Sentra. Standard features include automatic emergency braking, pedestrian detection, rear automatic braking, blind spot warning, rear cross traffic alert, lane departure warning, high beam assist and more.
Drivers of the Nissan Altima can also benefit from Nissan's ProPILOT Assist to help with heavy traffic and open-road situations and includes advanced cruise control with automatic full stop and resuming to full speed along with surrounding traffic movements.
Key Rivals
The Nissan Sentra competes against similarly priced compact sedans, like the Hyundai Elantra and Mazda 3 sedan. The Altima faces competition in the Honda Accord, Hyundai Sonata, and Kia K5, but its biggest rival is the hugely popular Toyota Camry.
Related: Hyundai Elantra vs Hyundai Sonata comparison
Verdict
With many fundamental elements set at about the same level in both cars, including exterior and interior design, technology offerings and driving dynamics, the decision on which Nissan sedan is best can come down to a small number of preference factors. First, if you want more engine power and speed overall, the Altima wins out. But if you want something more budget-friendly while still getting the utility and nice executive looks, there's nothing wrong with the Nissan Sentra.
The Altima caters to those who want to go the extra mile in features, space and engine power and are willing to pay the difference. The Nissan Sentra best serves those who are happy with a more simple runaround that is also an attractive executive and family sedan.
Comparison Table
2022 Nissan Sentra
2022 Nissan Altima
Trim
Price
$19510
$24550
Performance
Engine
2.0L Inline-4 Gas
2.5L Inline-4 Gas
Horsepower
149 hp @ 6400 rpm
188 hp @ 6000 rpm
Torque
146 lb-ft @ 4400 rpm
180 lb-ft @ 3600 rpm
Transmission
Continuously Variable Automatic (CVT)
Continuously Variable Automatic (CVT)
Drivetrain
Front-Wheel Drive
Front-Wheel Drive
Handling
Steering Type
Rack-Pinion
Rack-Pinion
Rear Suspension
Multi-Link
Multi-Link
Rear Wheel Size
P205/60HR16
P215/60HR16
Front Suspension
Strut
Strut
Front Wheel Size
P205/60HR16
P215/60HR16
Turning Diameter (ft.)
38.1
36.1
Fuel Economy
MPG/MPGe - Hwy
39
39
MPG/MPGe - City
29
28
MPG/MPGe - Combined
33
32
Gas Tank Size (gallons)
12.4
16.2
Cruising Range - Hwy (miles)
483.6
631.8
Size and Weight
Height (in.)
56.9
56.7
Length (in.)
182.7
192.9
Weight (lbs)
3036
3208
Max Width (in.)
71.5
72.9
Wheelbase (in.)
106.8
111.2
Interior Dimensions
Seating Capacity
5
5
Trunk Volume (cu. ft.)
14.3
15.4
Front Seat Leg Room (in.)
44.0
43.8
Front Seat Head Room (in.)
38.9
39.2
Front Seat Hip Room (in.)
53.5
54.7
Front Seat Shoulder Room (in.)
56.4
58.2
Rear Seat Leg room (in.)
34.7
35.2
Rear Seat Head Room (in.)
36.7
36.9
Rear Seat Hip Room (in.)
53.3
54.5
Rear Seat Shoulder Room (in.)
54.5
57.1
Infotainment Features
HD Radio
Not Available
Not Available
MP3 Player
Standard
Standard
WiFi Hotspot
Not Available
Not Available
Satellite Radio
Not Available
Not Available
Bluetooth Connection
Standard
Standard
Entertainment System
Not Available
Not Available
Premium Sound System
Not Available
Not Available
Auxiliary Audio Input
Standard
Standard
Smart Device Integration
Standard
Not Available
Hard Disk Drive Media Storage
Not Available
Not Available
Interior Trim
Cloth Seats
Standard
Standard
Vinyl Seats
Not Available
Not Available
Leather Seats
Not Available
Not Available
Premium Synthetic Seats
Not Available
Not Available
Bucket Seats
Standard
Standard
Sun/Moonroof
Not Available
Not Available
Leather Steering Wheel
Not Available
Not Available
Woodgrain Interior Trim
Not Available
Not Available
Comfort Features
A/C
Standard
Standard
Rear A/C
Not Available
Not Available
Telematics
Not Available
Not Available
Seat Memory
Not Available
Not Available
Seat-Massage
Not Available
Not Available
Keyless Entry
Standard
Standard
Keyless Start
Standard
Standard
Cruise Control
Standard
Standard
Multi-Zone A/C
Not Available
Not Available
Power Liftgate
Not Available
Not Available
Climate Control
Not Available
Not Available
Head-Up Display
Not Available
Not Available
Power Mirror(s)
Standard
Standard
Automatic Parking
Not Available
Not Available
Navigation System
Not Available
Not Available
Power Driver Seat
Not Available
Not Available
Cooled Rear Seat(s)
Not Available
Not Available
Hands-Free Liftgate
Not Available
Not Available
Heated Rear Seat(s)
Not Available
Not Available
Remote Engine Start
Not Available
Standard
Cooled Front Seat(s)
Not Available
Not Available
Heated Front Seat(s)
Not Available
Not Available
Power Passenger Seat
Not Available
Not Available
Remote Trunk Release
Standard
Standard
Heated Steering Wheel
Not Available
Not Available
Adaptive Cruise Control
Not Available
Not Available
Navigation from Telematics
Not Available
Not Available
Universal Garage Door Opener
Not Available
Not Available
Steering Wheel Audio Controls
Standard
Standard
Safety Features
ABS
Standard
Standard
Brake Assist
Standard
Standard
Night Vision
Not Available
Not Available
Rear Parking Aid
Standard
Optional
Traction Control
Standard
Standard
Stability Control
Standard
Standard
Blind Spot Monitor
Standard
Optional
Cross-Traffic Alert
Not Available
Not Available
Lane Keeping Assist
Not Available
Not Available
Tire Pressure Monitor
Standard
Standard
Lane Departure Warning
Standard
Standard
Airbags
Knee Air Bag
Standard
Standard
Driver Air Bag
Standard
Standard
Seatbelt Air Bag
Not Available
Not Available
Passenger Air Bag
Standard
Standard
Rear Head Air Bag
Standard
Standard
Rear Side Air Bag
Standard
Standard
Front Head Air Bag
Standard
Standard
Front Side Air Bag
Standard
Standard
Warranty
Basic
3 Years / 36,000 Miles
3 Years / 36,000 Miles
Corrosion
5 Years / Unlimited Miles
5 Years / Unlimited Miles
Drivetrain
5 Years / 60,000 Miles
5 Years / 60,000 Miles
Roadside Assistance
3 Years / 36,000 Miles
3 Years / 36,000 Miles