The automotive industry is electrifying fast and there appears to be no escape from that trajectory. All-electric cars are becoming increasingly common, and it becomes increasingly necessary for consumers to really understand the differences between different models. EVs do not operate on a one-size-fits-all basis.
Today we're going to take a closer look at two big competitors in the EV marketplace for electric crossover SUVs: the Volkswagen ID.4, and Tesla's Model Y.
Quick Summary
The Tesla Model Y is Tesla's compact SUV offering, and it is a true leader when it comes to battery range, performance, and in-car technology. The VW ID.4 doesn't offer quite the same level of luxury or performance, but it's also a substantially cheaper fully electric SUV. While the VW ID.4 is worth considering over the Tesla Model Y, only the Tesla Model Y offers the option for adding a third row to seat up to 7.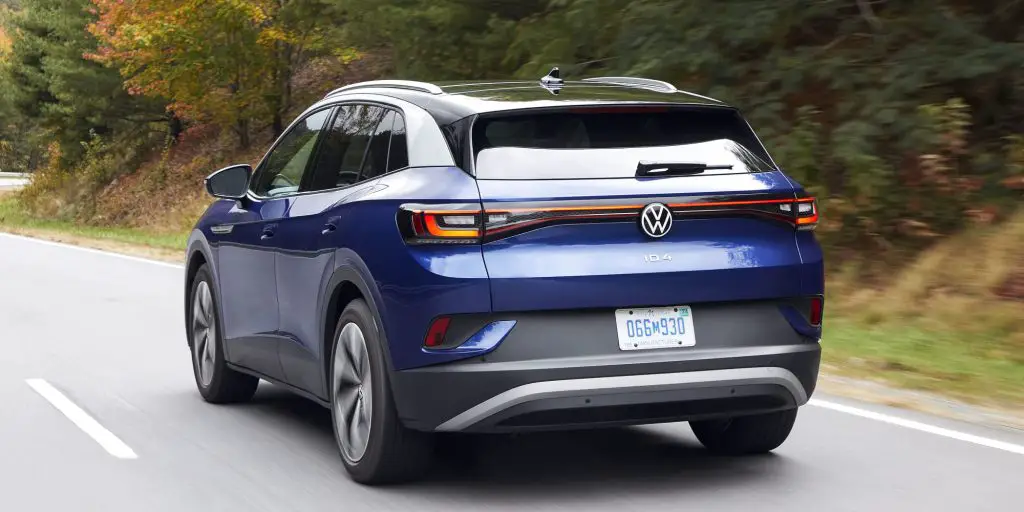 VW ID.4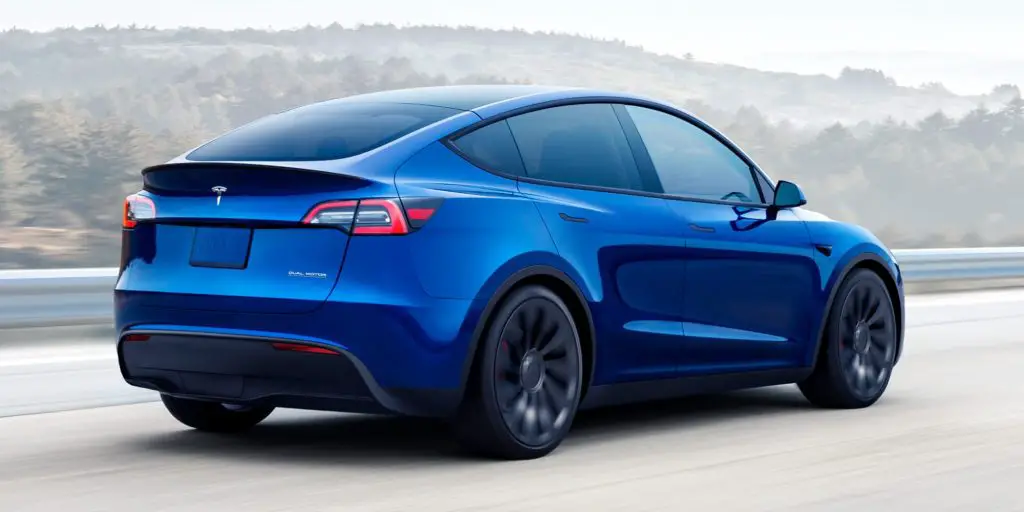 Tesla Model Y
Pricing
Pricing for EVs is slightly harder to predict with precision because there's potential for Federal tax credits which bring the costs down. Before such benefits kick in, the Volkswagen ID.4 has the advantage in price with a starting MSRP of $39,995. The Tesla Model Y starts at $58,990 for the Long Range model, and $63,990 for the Performance model. 
When you factor in the savings, the two Model Y vehicles come down to $53,940 and $58,940 respectively – but are still far more expensive than the VW ID.4. After tax credits, the ID.4 comes down to as low as $32,495.
Exterior and Interior Styling
The exterior design of each SUV reflects their own brand style and image. The Volkswagen ID.4 is unmistakably a VW in its more boxy and solid construction, but it's also been given a new, sleeker edge compared to regular Volkswagen SUV models like the VW Tiguan or Atlas. As with many automakers branching into EVs, they want to give their electric models a distinct identity of their own.
The Tesla Model Y also shows its clear connection and relationship to other Tesla models with its signature aerodynamic curves, large and slightly drooping front end, glass roof, and unique body lines. Where the ID.4 looks more like a conventional crossover SUV in its construction, the Model Y feels more like a reinvention.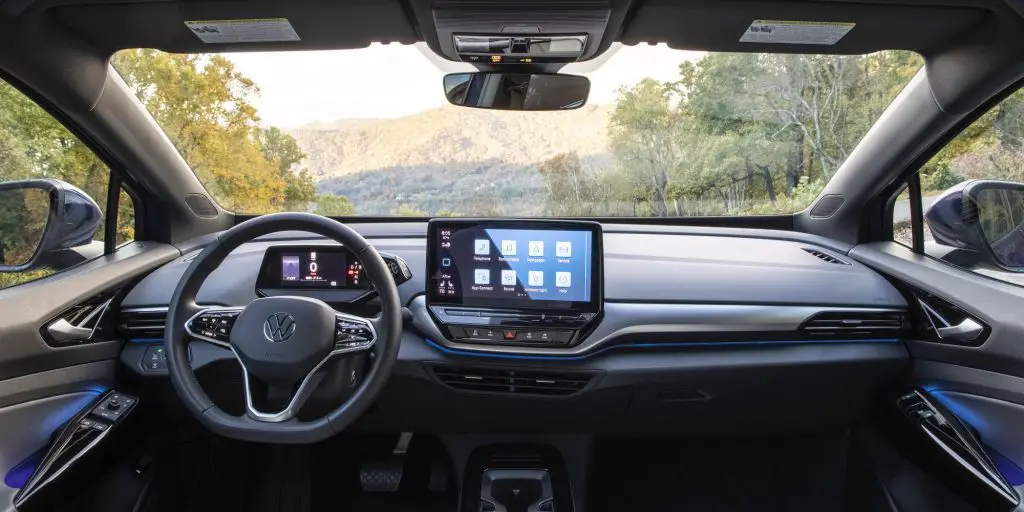 VW ID.4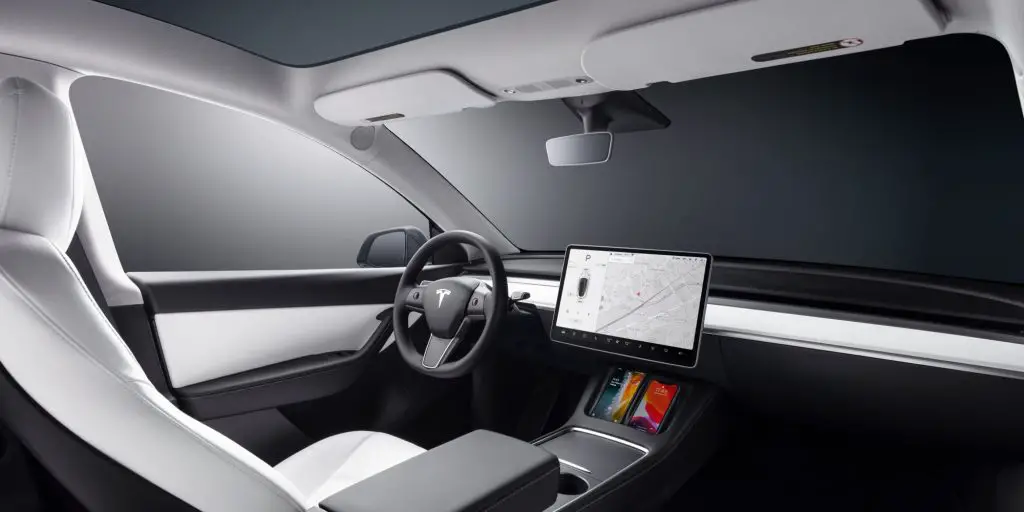 Tesla Model Y
As you move to the inside, there are some more stark differences. First of all, the Tesla Model Y can seat up to 7 by adding in the optional third row. The ID.4, on the other hand, is built for 5 people maximum. In addition, while both VW and Tesla try to offer an updated interior, VW doesn't go anything like as far as Tesla to do so.
The Model Y cockpit devotes any and all drive information to the massive 15-inch central screen, with no other instrument display. The ID.4 maintains a more regular central touchscreen and instrument cluster style, though the appearance is also updated. Both do offer glass roof designs, which create a great sense of space. 
Performance
With electric cars, there's no engine or fuel consumption to compare, so we can understand performance better through total battery capacity and maximum range on a single charge, first and foremost. The Tesla Model Y offers a range of up to 330 miles on its 75kWh lithium-ion battery pack. The Performance model, which eats through the battery slightly faster, manages up to 303 miles.
Both Model Y ranges are better than the very best on offer from the ID.4 Pro, which gets up to 260 miles on its 77kWh battery pack. It might not surprise people to learn the Tesla range is greater, since it is one of their biggest USPs in the market right now for all their models.
On the road, the Model Y is more of a speed machine with a 0-60 mph time of just 4.4 seconds, compared to 7.6 seconds in the ID.4. The VW's speed gets better on the AWD model (5.4 seconds). The Model Y also has greater towing capacity at 3,500 lbs, compared to 2,700 on the ID.4.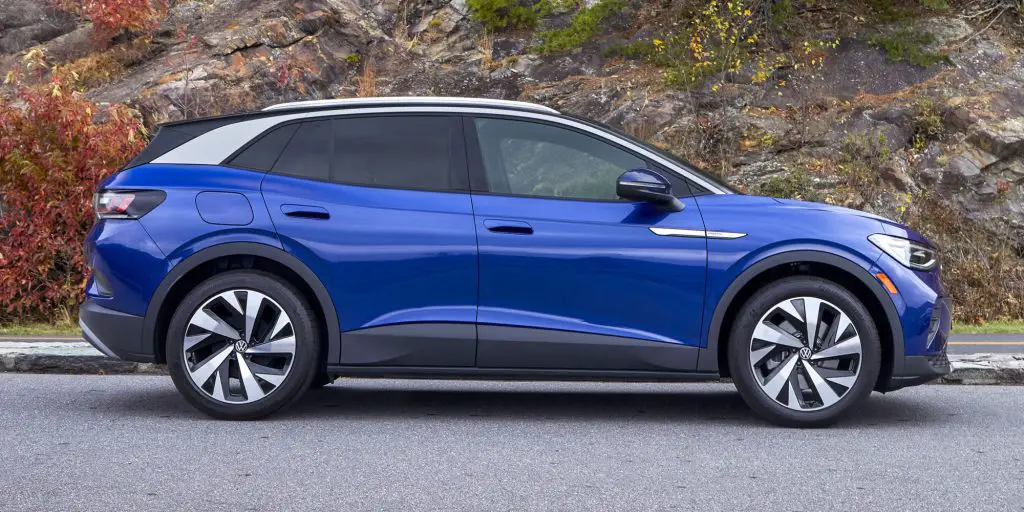 VW ID.4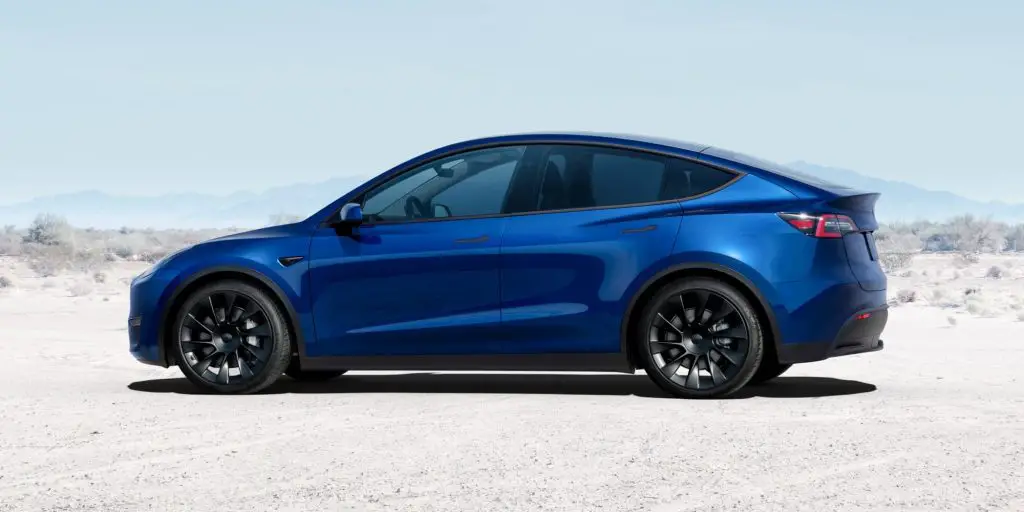 Tesla Model Y
Practicality
When it comes to the practical side of EVs, we need to look at things like charging and regenerative braking, as well as traditional things like cargo and passenger space. First, when it comes to charging, the Model Y is built better for the fast-charging world. Plug a Model Y into one of Tesla's Supercharger DC units for 15 minutes, and you'll get up to 162 miles of added range. The ID.4 will only get up to 62 miles from 10 minutes in a DC fast charger.
In fairness, there's less range to add back into the ID.4, that's true, but the Model Y's superior ability to take ultra-fast charging solutions make it more practical for those taking their EV the distance. The Model Y also outmatches the VW ID.4 in cargo space, offering 68 cubic feet between its front trunk "Frunk" and the rear cargo area. The ID.4 only offers 30.3 cubic feet with the rear seats up, and 64.2 cubic feet with the rear seats down.
The ID.4 does offer all passengers a comfortable ride, however, with a comfortable 37.6 inches of rear-seat legroom. The Model Y is very generous in the second row at 40 inches, but the third row is much more snug.
Technology & Features
No one in the EV marketplace really rivals Tesla when it comes to on-board technology integration. In the main areas of tech supremacy: battery/range, driver assistance technology, regenerative braking, and infotainment, Tesla is ahead of VW, but VW are working hard to catch up.
One big advantage Tesla owners have is the benefit of over-the-air updates, which have already been shown to be able to fix mechanical problems like braking distances, too. The larger infotainment screen also offers Tesla owners access to video games, streaming services and much more in a way that other EVs, including the ID.4 can't yet compete. VW started to use OTA updates from September 2021, but they are still far behind Tesla in their implementation.
While you do get a lot more in the way of technology features: AutoPilot, Full Self-Driving Mode, OTA updates, streaming services, etc, you do also pay a lot more money for that privilege. The Model Y is far more expensive even when you factor in rebates and tax incentives.
Safety
The ID.4 offers standard automated emergency braking with pedestrian detection, lane departure warning, lane keeping assist, adaptive cruise control and a semi-autonomous driving mode. Tesla offers all of the same on paper, but its technology is a lot more mature and well-tested on the road through its other models. VW is still the "new kid on the block" when it comes to EVs.
Verdict
The Model Y might appear to come out in front in many technological respects, but let's not forget that Elon Musk himself has driven VW electric vehicles and commented on their great quality. The ID.4 suits those on a tighter budget but who want to make the switch to electric now. Those looking for a more feature-rich and higher-tech experience can opt for the Model Y.
Let's not also forget aesthetics. The ID.4 is the one among these 2 models that actually looks more like a traditional SUV. If that appeals more, then the ID.4 could be the better call. For those who prefer the more futuristic styling of the Model Y, that car will have greater appeal.
Comparison Table
2021 Volkswagen ID.4
2022 Tesla Model Y
Trim
Price
$39995
$58990
Performance
Engine
Electric
Electric
Horsepower
201 hp
-
Torque
228 lb-ft
-
Transmission
Single Speed Automatic
Single Speed Automatic
Drivetrain
Rear-Wheel Drive
All-Wheel Drive
Handling
Steering Type
Rack-Pinion
Rack-Pinion
Rear Suspension
Multi-Link
Multi-Link
Rear Wheel Size
PR19
P255/45WR19
Front Suspension
Strut
Double Wishbone
Front Wheel Size
PR19
P255/45WR19
Turning Diameter (ft.)
33.5
39.8
Fuel Economy
MPG/MPGe - Hwy
89
117
MPG/MPGe - City
104
131
MPG/MPGe - Combined
97
125
Size and Weight
Height (in.)
64.4
63.9
Length (in.)
180.5
187.0
Weight (lbs)
-
4555
Max Width (in.)
72.9
75.6
Wheelbase (in.)
108.9
113.8
Interior Dimensions
Seating Capacity
5
5
Front Seat Leg Room (in.)
41.1
41.8
Front Seat Head Room (in.)
-
41.0
Front Seat Hip Room (in.)
-
53.8
Front Seat Shoulder Room (in.)
-
56.4
Rear Seat Leg room (in.)
37.6
40.5
Rear Seat Head Room (in.)
-
39.4
Rear Seat Hip Room (in.)
-
50.6
Rear Seat Shoulder Room (in.)
-
54.0
Infotainment Features
HD Radio
Standard
Not Available
MP3 Player
Standard
Standard
WiFi Hotspot
Standard
Standard
Satellite Radio
Standard
Not Available
Bluetooth Connection
Standard
Standard
Entertainment System
Not Available
Not Available
Premium Sound System
Not Available
Not Available
Auxiliary Audio Input
Standard
Standard
Smart Device Integration
Standard
Standard
Hard Disk Drive Media Storage
Not Available
Standard
Interior Trim
Cloth Seats
Standard
Standard
Vinyl Seats
Not Available
Standard
Leather Seats
Not Available
Standard
Premium Synthetic Seats
Not Available
Standard
Bucket Seats
Standard
Standard
Sun/Moonroof
Not Available
Standard
Leather Steering Wheel
Standard
Not Available
Woodgrain Interior Trim
Not Available
Standard
Comfort Features
A/C
Standard
Standard
Rear A/C
Not Available
Not Available
Telematics
Standard
Not Available
Seat Memory
Not Available
Standard
Seat-Massage
Not Available
Not Available
Keyless Entry
Standard
Standard
Keyless Start
Standard
Standard
Cruise Control
Standard
Standard
Multi-Zone A/C
Standard
Standard
Power Liftgate
Not Available
Standard
Climate Control
Standard
Standard
Head-Up Display
Not Available
Not Available
Power Mirror(s)
Standard
Standard
Automatic Parking
Not Available
Optional
Navigation System
Standard
Standard
Power Driver Seat
Standard
Standard
Cooled Rear Seat(s)
Not Available
Not Available
Hands-Free Liftgate
Not Available
Not Available
Heated Rear Seat(s)
Not Available
Standard
Remote Engine Start
Not Available
Not Available
Cooled Front Seat(s)
Not Available
Not Available
Heated Front Seat(s)
Standard
Standard
Power Passenger Seat
Standard
Standard
Remote Trunk Release
Not Available
Standard
Heated Steering Wheel
Standard
Standard
Adaptive Cruise Control
Standard
Standard
Navigation from Telematics
Not Available
Not Available
Universal Garage Door Opener
Not Available
Not Available
Steering Wheel Audio Controls
Standard
Standard
Safety Features
ABS
Standard
Standard
Brake Assist
Standard
Standard
Night Vision
Not Available
Not Available
Rear Parking Aid
Standard
Standard
Traction Control
Standard
Standard
Stability Control
Standard
Standard
Blind Spot Monitor
Standard
Standard
Cross-Traffic Alert
Standard
Standard
Lane Keeping Assist
Standard
Standard
Tire Pressure Monitor
Standard
Standard
Lane Departure Warning
Standard
Standard
Airbags
Knee Air Bag
Not Available
Standard
Driver Air Bag
Standard
Standard
Seatbelt Air Bag
Not Available
Not Available
Passenger Air Bag
Standard
Standard
Rear Head Air Bag
Standard
Standard
Rear Side Air Bag
Not Available
Not Available
Front Head Air Bag
Standard
Standard
Front Side Air Bag
Standard
Standard
Warranty
Basic
4 Years / 50,000 Miles
4 Years / 50,000 Miles
Corrosion
7 Years / 100,000 Miles
12 Years / Unlimited Miles
Drivetrain
4 Years / 50,000 Miles
8 Years / 120,000 Miles
Maintenance
2 Years / 20,000 Miles
-
Roadside Assistance
3 Years / 36,000 Miles
4 Years / 50,000 Miles