Italian automobile manufacturer Ferrari has become synonymous with supercars and motorsports, and almost every sports car they've produced has a unique character and long history behind it. Today we'll be looking back at the F12berlinetta, a Grand Tourer which replaced the 599GTB in 2012 and has more recently been superseded by the 812 Superfast.
History Of The F12Berlinetta
Whereas Lamborghini is known for their eye-catching, loud and exclusively mid-engine range of supercars, Ferrari has always had a softer, more understated side that caters to the more refined driver. Sure enough they've made hypercars like the Enzo or LaFerrari, but cars like the Ferrari Testarossa or California Cabriolet are just as iconic.
The F12berlinetta celebrated Ferrari's rich history as an automaker that values style as much as performance. It packs an extremely powerful, naturally aspirated 6.3 litre 730-horsepower V12 engine that rockets to 60mph in 3.1 seconds and reaches 211mph flat out. These figures trumped those coming from the likes of the million-dollar Pagani Huarya or carbon-tubbed Lamborghini Aventador, garnering the car with masses of attention during its unveiling.
Yet at the same time, the F12b is an elegant looking front-engine car that isn't so much designed to be hurled around the track but rather cruise around those long roads with pure driving joy.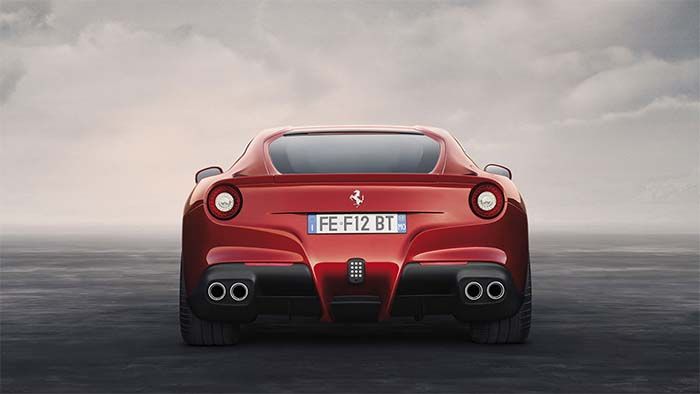 Exterior
From the outside, the F12berlinetta is truly a thing of beauty. Perhaps its best feature is its side profile, where everything stretching from its long front bonnet to the shorter rear end flows with grace. The front fender has a hole leading out to the side that makes things look even better, though its primary function is improved aerodynamics.
From behind, the F12berlinetta is simple yet gorgeous. There's not a whole lot going on, just a pair of Ferrari's iconic circular tail lights which also house the turning indicators within. Ferrari also pay homage to their racing roots by including an F1-inspired fog light in the middle.
Interior
Being a Grand Tourer, the first thing that strikes you about the F12 Berlinetta is how practical it is (for a supercar, at least). You won't find yourself struggling to get in and out of the car, and the ride height is low but not to the point you feel like you're sitting on the tarmac.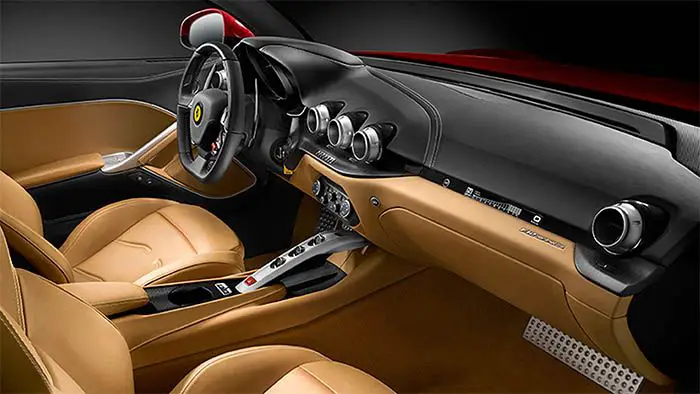 The interior is quite luxurious for a sports car, with black leather and red leather stitching all around. You get three spherical Ferrari climate control vents in the middle of the dashboard which fit harmoniously with the rest of the interior and features like a sliding armrest and reactive cup holder. All this differentiates it from pure performance supercars and makes it all the more practical to drive day in and day out.
Drive Experience
The Ferrari F12berlinetta is a joy to drive. While it's outer appearance might suggest a tamer drive, fire up the V12 and you immediately realize this is anything but. After all, this was Ferrari's range-topping front-engine car in its generation, and they didn't hold back when it came to performance.
Despite technically being a Grand Tourer, this definitely feels more like a pure supercar behind the wheel than other cars in the Super GT class. Performance-wise, the F12b is head and shoulders above the competition, though that may not necessarily be what people want from a Super GT car.
The resulting ride is firm and harsh, making an average drive to the shop all the more exciting. There are several driving modes, including an ESC off mode which lets you disable traction control and stability control altogether (not recommended unless you know what you're doing!)
Closing Thoughts
Today the F12berlinetta is available for a fraction of its original price. Given how comparable it is to its successor, the 812 Superfast, it isn't just a wonderful chapter in Ferrari's history but a serious buying alternative.
Only time can tell whether or not the F12berlinetta will go down as one of the legendary models. It certainly has the potential to, though that could arguably be the case for any Ferrari.
What's your favorite Ferrari GT car? Let us know in the comment section below!