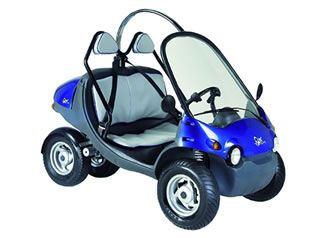 From £5,495 inc VAT
Congestion charge exempt and road legal for 16 year olds, CITY Elec is much safer than scooters, bikes and mopeds.

CITY Elec is easy to drive with automatic transmission and hydraulic brakes.

CITY Elec offers high levels of safety for both driver and passenger. The strong moulded central cell is mounted on a tough, anti-corrosion chassis. Added side bars, head restraints, inertia reel seatbelts and full rollover protection with a safety glass windscreen, provides high levels of comfort and safety.

With its knock-resistant bodywork and robust mechanicals, CITY Elec is cheap to service and easy to maintain. A comfortable driving position, simple controls and practical boot space make the CITY Elec suitable for drivers of all ages.

Interchangeable body panels and the CITY Elec accessory range allow owners to add personality and character to this most distinctive mode of personal transport.
QPOD CITY ELEC SPECIFICATION
Three wheel (twined rear wheel), electric vehicle Type Approved to European standards. rear wheel drive (twin 139/90 x 10), Front wheel steering (130/90 x10).
BODY: Single piece high resistance polyethelene moulded central shell mounted on a tubular steel anti-corrosion, 2 seater
ELECTRIC MOTOR: Permanent magnet 1.9kw 36 volt D.C motor
MAX CURRENT: 50 amps
EFFICIENCY: 85%, Electronic regulator and controller, allowing performance characteristics to be tailored to vehicle use
ELECTRIC: 12 volt, 180 watt alternatorRegenerative braking, 3 x 12 volt 90 amp-hr maintenance-free batteries connected in series, Twist-grip accelerator on handle bar with reverse switch.
SAFETY: Padded side protection bars, head restraints, 3 point inertia reel seat belts, roll over protection, safety glass windscreen
BRAKES: Cable operated drums with equaliser
SUSPENSION: Front, Mac pherson type, Rear, Cantilever type with shock absorber
DIMENSIONS: Length 201cm, width 106cm, Height 147cm
WEIGHT: 241 kgs (including batteries)
SPEED: 45 km/h
RANGE: 40 km (city use)
All QPOD models are covered by a 2 year manufacturers warranty