Need to get the family from the holiday villa down to the beach? Q4 offers totally practical transport for those short local journeys with a big grin factor.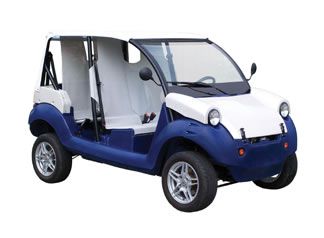 With space to seat 4 it's perfect for zipping down to the marina when you're escaping for the day. The Q4 offers incredible versatility with its many options. There's pockets behind the seats for stowing goodies for a day trip and optional doors for protection from the elements.
You can even fit an accessory tow bar for your jet ski or boat trailer and of course use Q4 to reverse your trailer straight off the quayside or beach.
If you are not taking 2 extra passengers in the back then the additional storage and carrying capacity available by folding up these seats comes into its own.
The model is homologated for on-road use in accordance with EU Directive 2002/24/EC
Technical Specifications
Body
High resistance, moulded polyethylene central cell, mounted on an anti-corrosion steel chassis.
Engine
2 cylinder, 505cc 4 stroke, water cooled injected Lombardini petrol engine, overhead camshaft.
Transmission
5 speed manual gearbox. Rear wheel drive.
Brakes
Dual circuit disc brakes.
Safety
3 point retractable seat belts.
Laminated windscreen.
Dimensions
Length: 2750 mm
Width: 1480 mm
Height: 1630 mm
Fuel tank capacity: 21 Litres
Weight
393 kg
Accessories
Removable carry bag & pockets
Soft sides with zip doors