The T3 is different. And we mean really different. For starters it's classed as a tricycle, but clearly sports 4 wheels! It's just how close the rear wheels are together.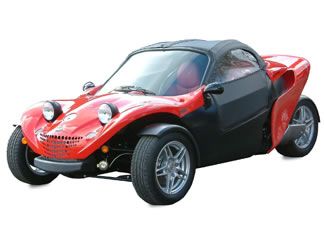 Performance? You might wonder just how quickly a 1360cc 4 cylinder fuel injected engine might push this machine at the horizon. Well, you'd be shocked. But not as shocked as an Audi TT owner, who'll have been comprehensively left over half a second behind on the 0-60 mph traffic light grid.
A full car licence is needed to drive the T3. The gull-wing doors are really cool and accessories include leather seats in a choice of colours.
Nothing else has the same road presemce as the QT Runner. It is simply Unique.
The model is homologated for on-road use in accordance with EU Directive 2002/24/EC
Technical Specifications
Body
High resistance, moulded polyethylene central cell, mounted on an anti-corrosion steel chassis
Engine
Peugeot 1360cc, water cooled, fuel injection, 4 cylinder petrol engine
Transmission
5 Speed Manual with Reverse
Brakes
Dual circuit disc brakes
Safety
3 point inertia-reel seat belts
Laminated windscreen
Dimensions
Length: 3175 mm
Width: 1600 mm
Height: 1150 m
Fuel tank capacity: 21 Litres
Weight
548 kg
Accessories
Gullwing doors
Cockpit cover