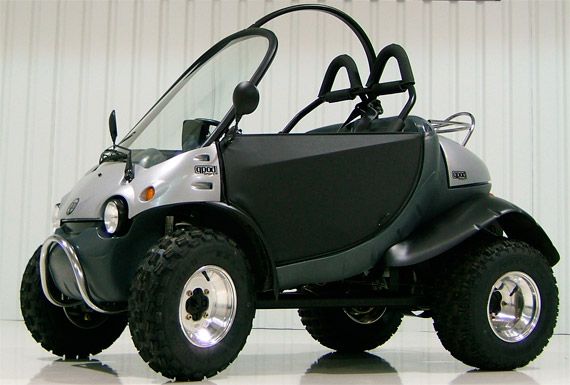 SECMA (Société d'Etude et de Construction de Mecanique Automobile) is a French automobile manufacturer based in Aniche in the North of France.
The most popular model in SECMA's Qpod range, the Qpod Sport, is unique: It offers both off-road fun and excitement as well as on-road practicality and pleasure. No other similar-sized vehicle provides comparable levels of comfort and safety, in a 2 seat configuration, at such an affordable price.
The powerful Lombardini engine, excellent transmission and rear wheel drive, responsive brakes and precise steering, combine to provide performance to suit every level of driver experience.
Capturing all the fun and functionality of a Quad in a brilliantly, simple design, in which safety is of paramount importance.
The high resistance, moulded central cell, mounted on a strong anti-corrosion chassis, provides excellent protection for both passenger and driver, who each have 3 point inertia-reel seat belts. The padded side bars, head restraints and safety glass windscreen provide levels of protection never before seen in a vehicle of this size.
The model is homologated for on-road use in accordance with EU Directive 2002/24/EC
Technical Specifications
Body: High resistance, moulded polyethylene central cell, mounted on an anti-corrosion chassis, 2 seater
Engine: 340cc 4 stroke single cyclinder, air cooled Lombardini engine
Transmission: Automatic
Brakes: Hydraulic front disc and rear drums
Electric and Instruments: 12 volt, 180 watt alternator, oil level light, odometer, fuel gauge, speedometer, warning lights for headlights, indicator emergency lights
Safety: Padded side bars, head restraints, 3 point inertia reel seat belts, safety glass windscreen
Length : 2100 mm
Width : 1320 mm
Height : 1500 mm
Fuel tank capacity : 10 ltrs
Weight: 220kg
Accessories
Complete Cab Kit
Half Doors
Canvas Sun Shade Roof
Bull bar
Towing Bar
Towing hitch device
Front winch
Manual braking on steering bar
Polished alloy wheel rims
Luggage rack