Many car manufacturers are meeting the increasing demand for SUVs with various styles and variations, and Hyundai is no exception.
Within their SUV lineup are the Kona and Tucson. The Tucson is a Hyundai classic, making its first debut all the way back in 2004 and picking up many awards along the way. Meanwhile, the Kona is a smaller SUV that first hit the roads in 2017.
Both remain popular choices among car buyers, especially those who seek value bang for buck and extensive warranty coverage. But which Hyundai crossover SUV fits your needs better? We will explore that question by comparing these two SUVs to each other and examining what they offer.
Quick Summary
The Hyundai Tucson is the next size up from the subcompact Hyundai Kona. It offers significantly more room for cargo, slightly more performance, and comes with more standard features. However, the Kona sports a more inspired exterior which is more up-to-date than the outgoing Tucson.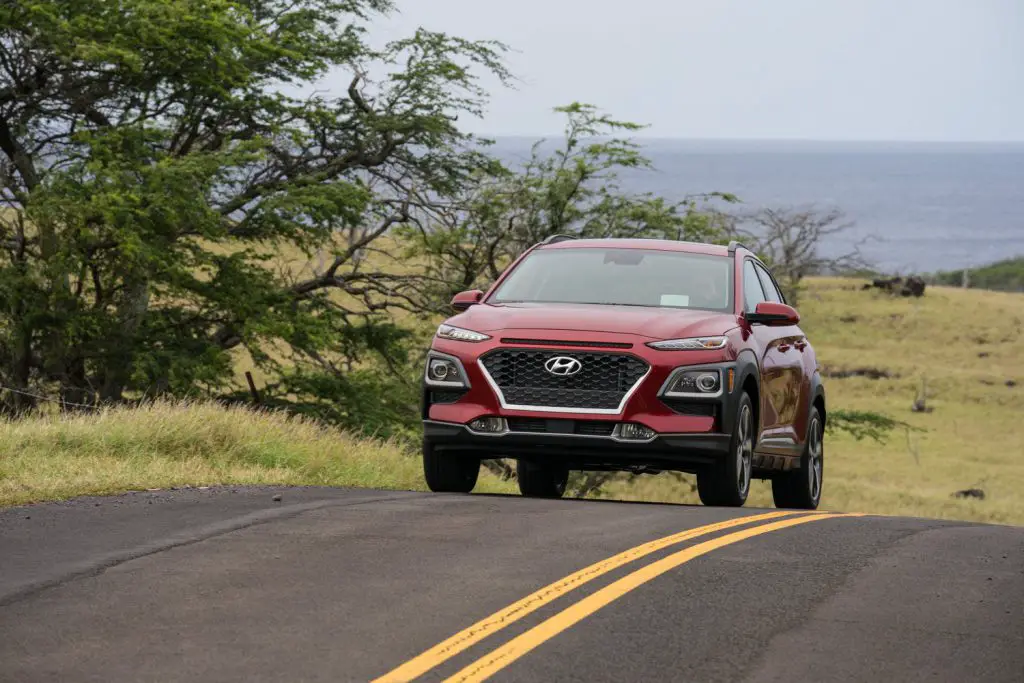 Kona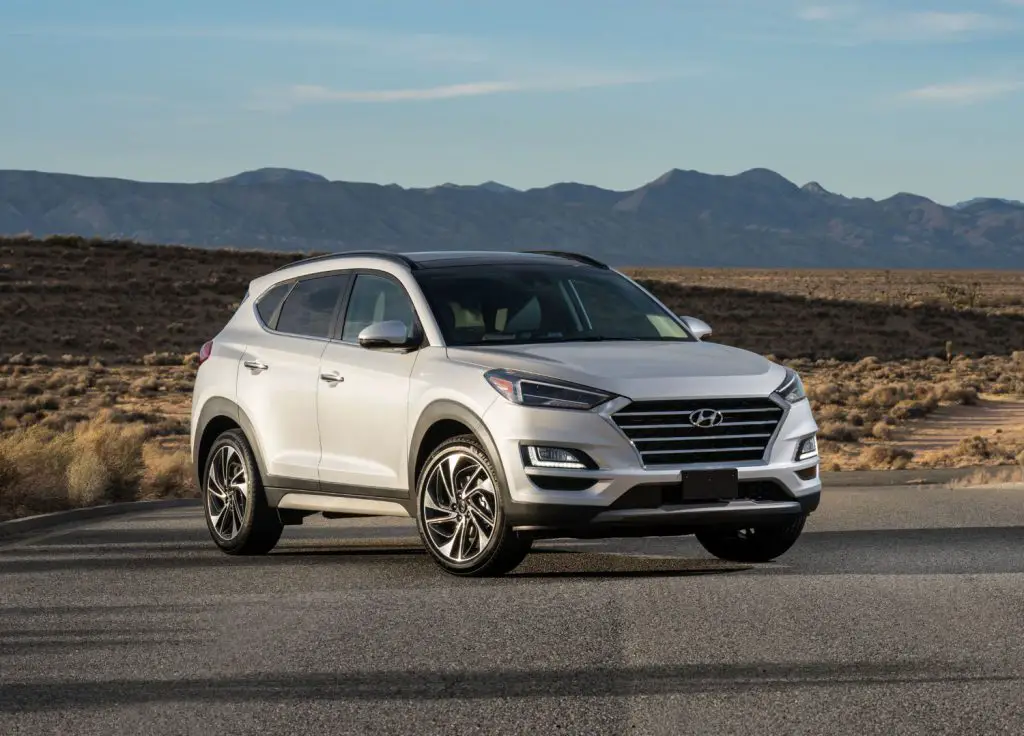 Tucson
Styling – Exterior
As a smaller subcompact, the Hyundai Kona goes with a sporty, funky aesthetic that doesn't try to come off as a typical SUV. There's definitely an adventure-ready, rugged look to the car as well, with black panelling and fenders which contrast with the rest of the vehicle's paint job. The Kona also follows Hyundai's newer designs, with the same slit-style headlamps that you can find on the new Hyundai Palisade.
The outgoing Hyundai Tucson looks more like a traditional SUV. As it approaches the end of its cycle, the SUV looks incredibly bland, so if style is a concern you might want to wait for the upcoming makeover. But if you hate attention when you stop at the red light, you'll love it.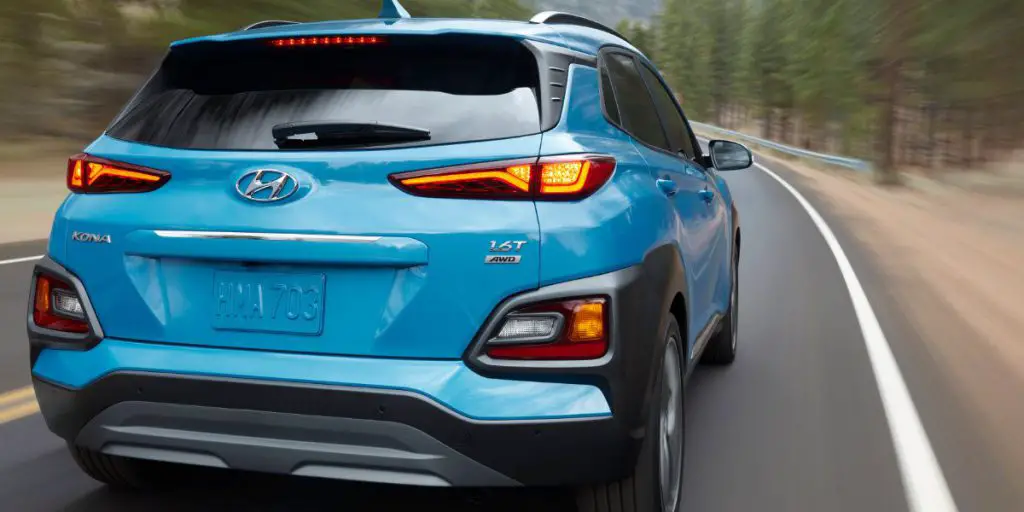 Kona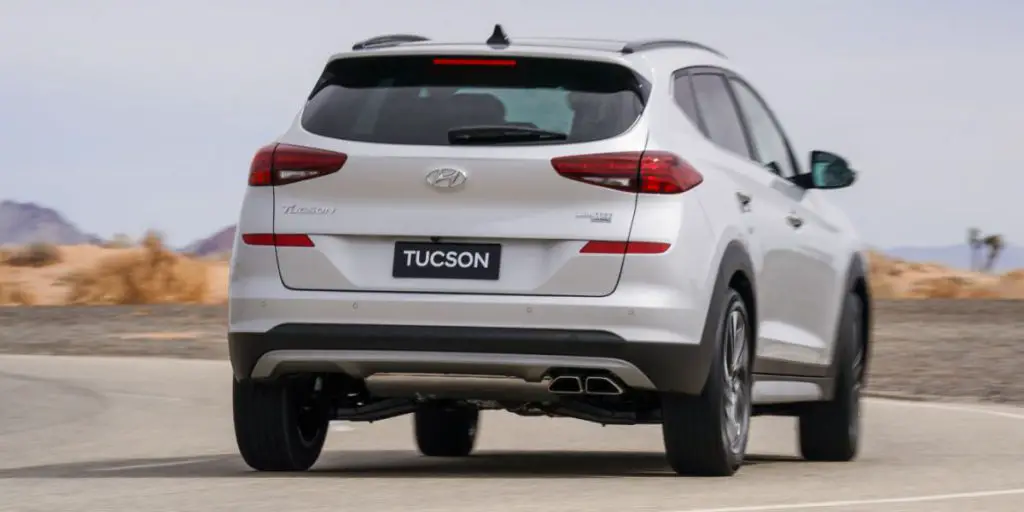 Tucson
Styling – Interior
Both models have comfortable cabins with decent amounts of room for their respective size class.
Like its exterior, the Hyundai Kona's interior has a bit of funk to it, with cute round air vents and slightly retro-esque infotainment setup.
The Hyundai Tucson's interior, on the other hand, is instantly forgettable, but is at least fully functional and well thought out.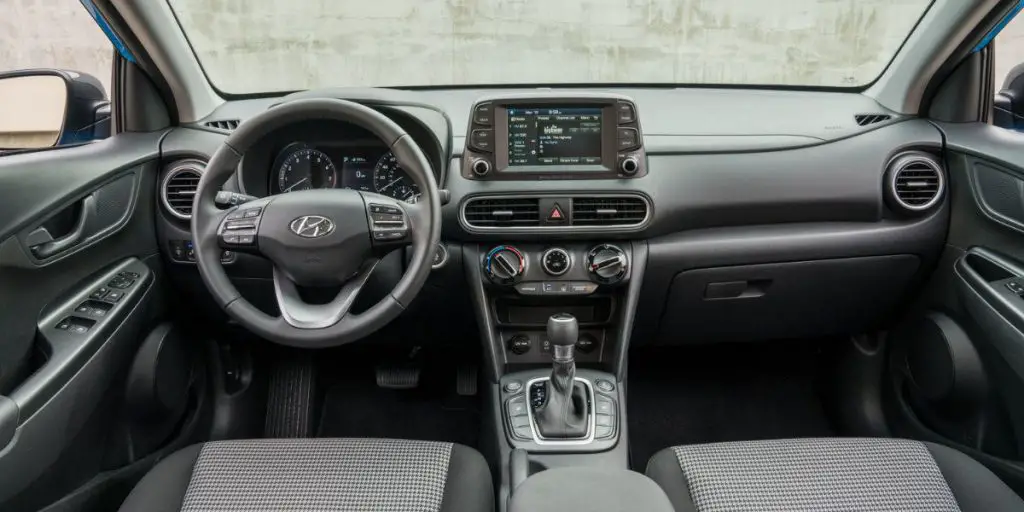 Kona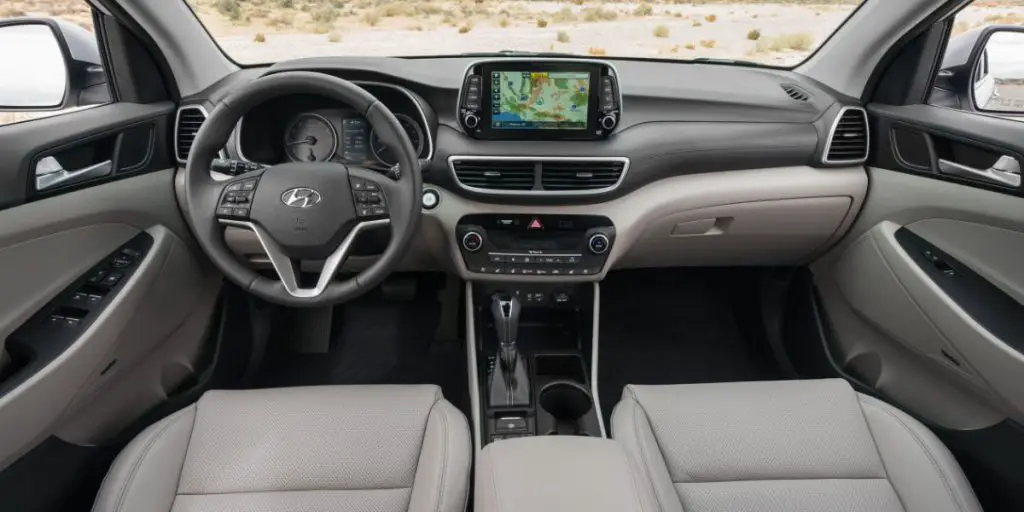 Tucson
Passenger Space and Practicality
Both models have a seating capacity of 5 people and feature virtually identical amounts of room for the driver and front passenger, but the Tucson comfortably beats the Kona when it comes to rear seat leg and hip room.
The Hyundai Kona has listed cargo space of 19.2 cubic feet with the rear seats up and 45.8 cubic feet when they're folded down The Hyundai Tucson features a substantially higher amount of cargo volume – 31 cubic feet with seats up and 61.9 cubic feet when they're folded down.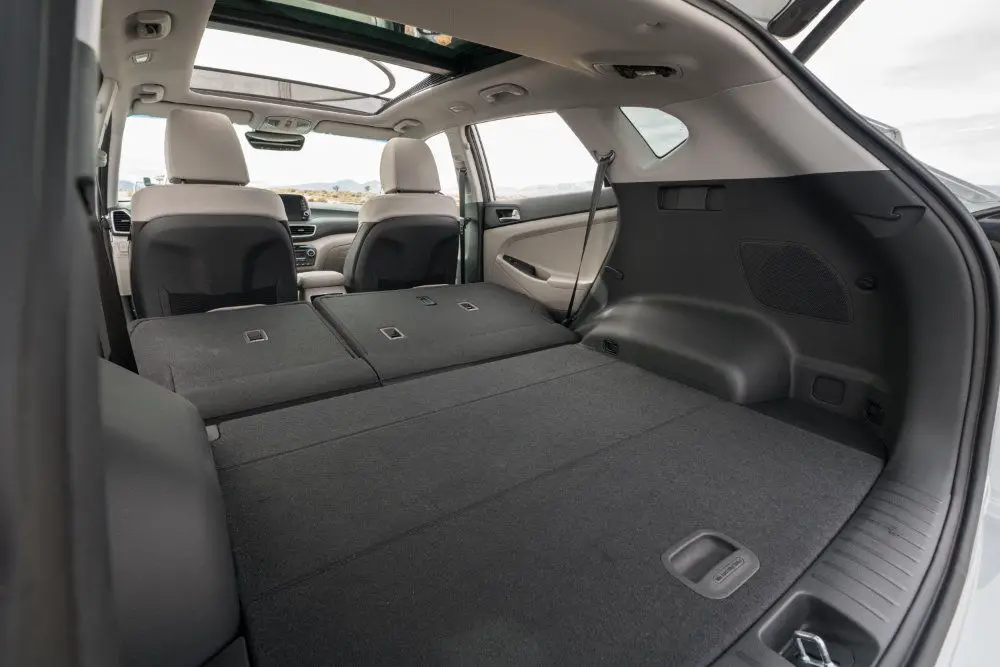 Performance
Both models operate as you might expect from small SUVs. Both have extremely similar turning diameters (34.8 inches for the Kona, and 34.9 inches for the Tucson), and feature front-wheel drive, 6-speed automatic transmissions, and 2.0-liter 4-cylinder engines. All-wheel drive is optional for both models.
Neither car offers a particularly thrilling drive, but the Kona can be had with a turbocharged, 175-horsepower engine that has a satisfying amount of oomph to it. There's also the Kona Electric, but that's almost a completely different car altogether, so we won't go any deeper into that.
Fuel Economy
As you might expect from a smaller vehicle, one significant advantage the Kona has over the Tucson is superior fuel efficiency. It has a combined fuel economy of 30 MPG across all models (27 City & 33 Highway on lower-priced trims, 28 City & 32 Highway on pricier trims).
Despite having a similar 2.0-liter Inline-4 engine, the Tucson gets a lower combined economy of 25 MPG (23 City & 28 Highway).
Technology and Features
Both 2021 models feature Smart Cruise Control, but the Hyundai Tucson's version comes with automatic stop and go, which deactivates cruise control if the car slows to below 6 MPH or less. If the car in front moves within 3 seconds after deactivating, it re-activates itself. The Kona lacks this stop and go feature.
Meanwhile, the Hyundai Kona features a HUD display that reflects on the windshield, something which isn't offered by the Tucson.
Pricing
The Kona base model SE starts at $20,400 and the SEL trim starts at $22,200. Both have different safety features, while the SEL trim has a Proximity Key with a push-button remote starter. The Limited and Ultimate Kona trims carry a special 175-hp 1.6L Turbo GDI engine with the same overall fuel economy of 30 MPG. The Limited starts at $26,200 and the Ultimate starts at $28,050.
The Tucson base model SE features Forward Collision Detect and starts at $23,700. The Value trim has BlueLink connectivity, Blind-Spot Collision Warning, and a remote start proximity key, which starts at $25,150. The SEL and Sport trims start at $26,100 and $28,250, respectively. The Limited trim comes with a heated steering wheel and a surround view monitor, starting at $29,400. The Ultimate trim comes with pedestrian detection and Smart Cruise Control with Stop & go, with a $32,050 starting price.
Overall, choosing the Hyundai Kona will save you around $4000 compared to a similarly equipped Hyundai Tucson. Of course, it will also be cheaper to run, which could amount to something significant if you drive a lot.
Safety
Hyundai has been making sure all newer vehicles come with safety options that keep everyone on the road safe, and the 2021 models are no exception.
Both models come with the following safety features – Forward-Collision Assist with Pedestrian Detection (FCA-Ped), Blindspot Collision Warning, High-Beam Assist, Rear Cross-Traffic Collision Warning, Lane Keeping Assist (LKA) systems, and Driver Attention Warning (DAW) that alerts you if it detects distracted or inattentive driver patterns.
Both models received 5-star US NHTSA crash testing scores. The Kona and the Tucson have the same standard safety features, so they're practically tied in this category.
Verdict
Choosing between the Hyundai Kona and Hyundai Tucson basically comes down to whether you want a nimble subcompact SUV in the Kona, or a slightly more spacious compact SUV in the Tucson.
However, in its current state, the Tucson is approaching the end of its lifecycle and it is therefore not a great time to buy. The all-new Tucson is already available in many parts of the globe, but Americans will have to wait till 2022.
Of course, there's also more to think about thanks to the Hyundai Venue, another subcompact SUV that offers excellent value for money. We'd highly recommend visiting your local Hyundai dealership and discussing your needs with an expert to really narrow down your choice.
Comparison Table
2021 Hyundai Kona
2021 Hyundai Tucson
Trim
Price
$20500
$23700
Performance
Engine
2.0L Inline-4 Gas
2.0L Inline-4 Gas
Horsepower
147 hp @ 6200 rpm
161 hp @ 6200 rpm
Torque
132 lb-ft @ 4500 rpm
150 lb-ft @ 4700 rpm
Transmission
6-Speed Automatic
6-Speed Automatic
Drivetrain
Front-Wheel Drive
Front-Wheel Drive
Handling
Steering Type
Rack-Pinion
Rack-Pinion
Rear Suspension
Torsion Beam
Multi-Link
Rear Wheel Size
P205/60HR16
P225/60HR17
Front Suspension
Strut
Strut
Front Wheel Size
P205/60HR16
P225/60HR17
Turning Diameter (ft.)
34.8
34.9
Fuel Economy
MPG/MPGe - Hwy
33
28
MPG/MPGe - City
27
23
MPG/MPGe - Combined
30
25
Gas Tank Size (gallons)
13.2
16.4
Cruising Range - Hwy (miles)
435.6
459.2
Size and Weight
Height (in.)
61.0
64.8
Length (in.)
164.0
176.4
Weight (lbs)
2890
3309
Max Width (in.)
70.9
72.8
Wheelbase (in.)
102.4
105.1
Interior Dimensions
Seating Capacity
5
5
Front Seat Leg Room (in.)
41.5
41.5
Front Seat Head Room (in.)
39.6
39.6
Front Seat Hip Room (in.)
53.3
55.6
Front Seat Shoulder Room (in.)
55.5
57.1
Rear Seat Leg room (in.)
34.6
38.2
Rear Seat Head Room (in.)
37.8
39.2
Rear Seat Hip Room (in.)
52.2
54.5
Rear Seat Shoulder Room (in.)
54.5
55.5
Infotainment Features
HD Radio
Not Available
Not Available
MP3 Player
Standard
Standard
WiFi Hotspot
Not Available
Not Available
Satellite Radio
Not Available
Not Available
Bluetooth Connection
Standard
Standard
Entertainment System
Not Available
Not Available
Premium Sound System
Not Available
Not Available
Auxiliary Audio Input
Standard
Standard
Smart Device Integration
Standard
Standard
Hard Disk Drive Media Storage
Not Available
Not Available
Interior Trim
Cloth Seats
Standard
Standard
Vinyl Seats
Standard
Standard
Leather Seats
Standard
Standard
Premium Synthetic Seats
Standard
Standard
Bucket Seats
Standard
Standard
Sun/Moonroof
Not Available
Not Available
Leather Steering Wheel
Not Available
Not Available
Woodgrain Interior Trim
Not Available
Not Available
Comfort Features
A/C
Standard
Standard
Rear A/C
Not Available
Not Available
Telematics
Not Available
Not Available
Seat Memory
Not Available
Not Available
Seat-Massage
Not Available
Not Available
Keyless Entry
Standard
Standard
Keyless Start
Not Available
Not Available
Cruise Control
Standard
Standard
Multi-Zone A/C
Not Available
Not Available
Power Liftgate
Not Available
Not Available
Climate Control
Not Available
Not Available
Head-Up Display
Not Available
Not Available
Power Mirror(s)
Standard
Standard
Automatic Parking
Not Available
Not Available
Navigation System
Not Available
Not Available
Power Driver Seat
Not Available
Not Available
Cooled Rear Seat(s)
Not Available
Not Available
Hands-Free Liftgate
Not Available
Not Available
Heated Rear Seat(s)
Not Available
Not Available
Remote Engine Start
Not Available
Not Available
Cooled Front Seat(s)
Not Available
Not Available
Heated Front Seat(s)
Not Available
Not Available
Power Passenger Seat
Not Available
Not Available
Remote Trunk Release
Not Available
Not Available
Heated Steering Wheel
Not Available
Not Available
Adaptive Cruise Control
Not Available
Not Available
Navigation from Telematics
Not Available
Not Available
Universal Garage Door Opener
Not Available
Not Available
Steering Wheel Audio Controls
Standard
Standard
Safety Features
ABS
Standard
Standard
Brake Assist
Standard
Standard
Night Vision
Not Available
Not Available
Rear Parking Aid
Not Available
Not Available
Traction Control
Standard
Standard
Stability Control
Standard
Standard
Blind Spot Monitor
Not Available
Not Available
Cross-Traffic Alert
Not Available
Not Available
Lane Keeping Assist
Standard
Standard
Tire Pressure Monitor
Standard
Standard
Lane Departure Warning
Standard
Standard
Airbags
Knee Air Bag
Not Available
Not Available
Driver Air Bag
Standard
Standard
Seatbelt Air Bag
Not Available
Not Available
Passenger Air Bag
Standard
Standard
Rear Head Air Bag
Standard
Standard
Rear Side Air Bag
Not Available
Not Available
Front Head Air Bag
Standard
Standard
Front Side Air Bag
Standard
Standard
Warranty
Basic
5 Years / 60,000 Miles
5 Years / 60,000 Miles
Corrosion
7 Years / Unlimited Miles
7 Years / Unlimited Miles
Drivetrain
10 Years / 100,000 Miles
10 Years / 100,000 Miles
Maintenance
3 Years / 36,000 Miles
3 Years / 36,000 Miles
Roadside Assistance
5 Years / Unlimited Miles
5 Years / Unlimited Miles