Hyundai cars have shot up in popularity over the last few years. Along with other Korean marques, Hyundai has shaken off its cheap image and has cemented itself as an exciting yet reliable brand that is a compelling alternative to established Japanese, American and European brands.
Sport-utility and crossover vehicles have also exploded in popularity over the last decade, easily surpassing sedans as the most sold type of car. Hyundai currently has a strong lineup of SUVs to cater for every driver and every need, with models that feature bold styling and modern interiors that the automaker has become known for.
More recently, Hyundai has been really trying to establish itself as a leader in the hybrid and electronic vehicle market, so it should come as no surprise that their SUV range includes a number of hybrid and fully electric models.
Let's take a closer look at the various models in the family of Hyundai SUVs.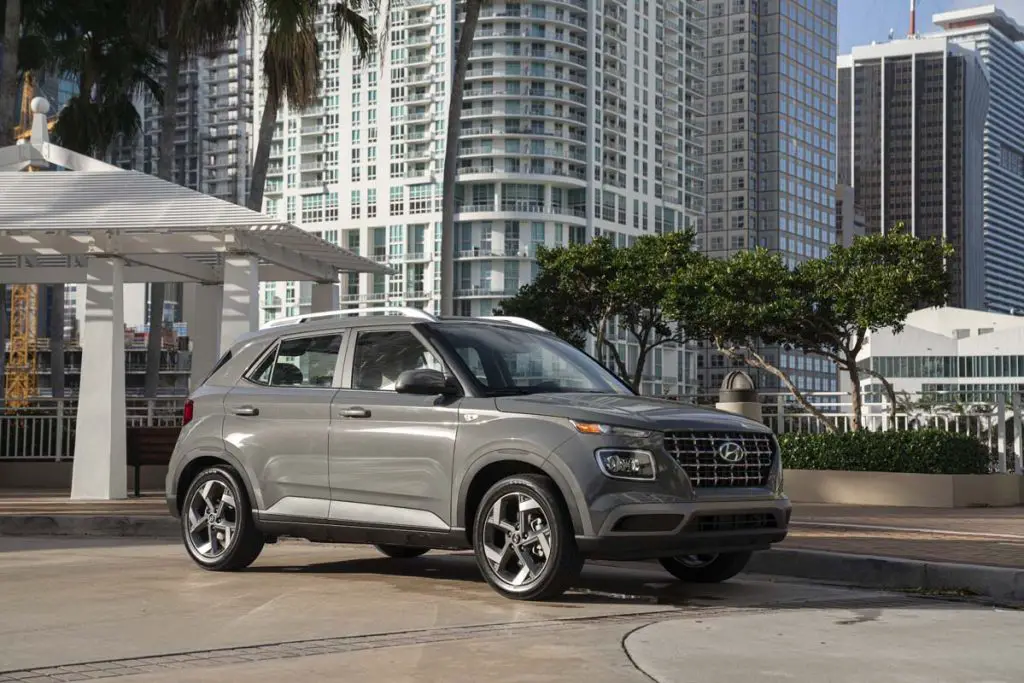 Hyundai Venue
Starts From: $18,990
Type: Subcompact SUV
Drivetrain: Front Wheel Drive
Key rivals: Kia Soul
The Hyundai Venue was first introduced to the US market in 2020 and is currently the manufacturer's smallest and most affordable Hyundai crossover utility vehicle.
The Venue isn't the most exciting SUV. Powered by a small 121-horsepower inline-four engine and CVT transmission, it won't get you anywhere fast. However, as a practical and efficient urban crawler, it does everything you need at an incredibly attractive price.
Priced below almost every other subcompact SUV in America, the Hyundai Venue actually doesn't have much direct competition. The Kia Soul and Hyundai Kona are two cars Venue buyers will likely consider at some point, but can you even call that a competition?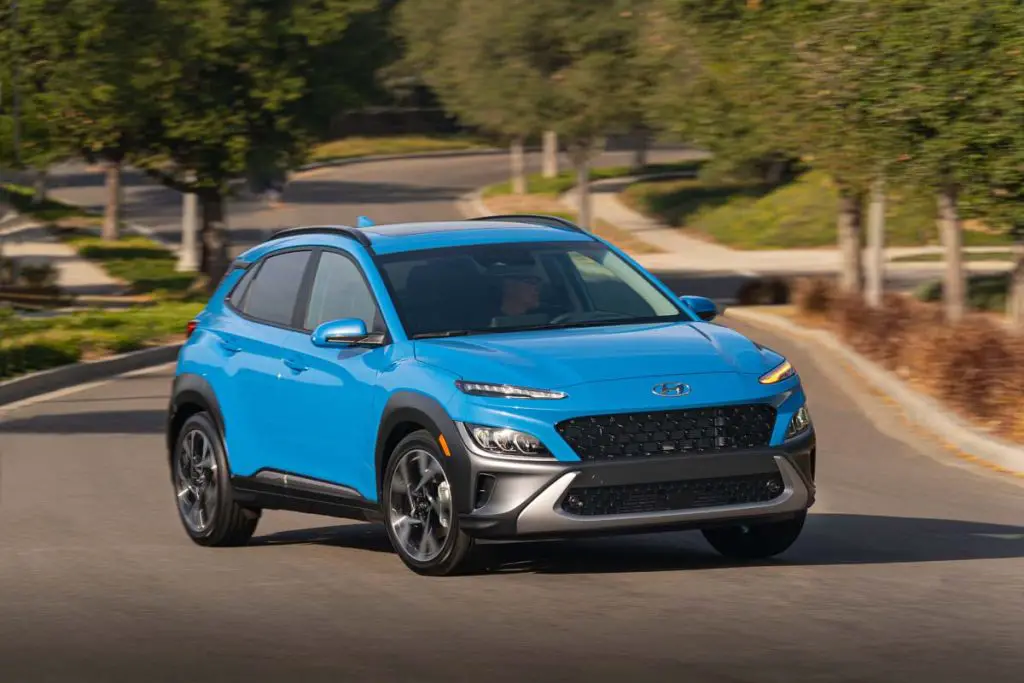 Hyundai Kona
Starts From:$21,150
Type: Subcompact SUV
Drivetrain: Front Wheel Drive, All Wheel Drive
Key rivals: Mazda CX-3, Honda HR-V, Subaru Crosstrek
The Hyundai Kona is comparable to the Venue in many ways, but it is aesthetically more exciting and packs a more powerful engine under the hood. This is marketed as an 'adventure-ready' small SUV that is surprisingly capable when optioned with all-wheel drive.
As standard, the Kona is equipped with a naturally aspirated 2.0-liter four-cylinder engine which produces 147 horsepower, but it gets a more powerful turbocharged 195 horsepower engine in the N-Line and Limited trims. The Hyundai Kona N, which is a custom-tuned sports version of the Kona, will become available in 2022.
The Kona is also one of the few Hyundai models to be offered as a plug-in electric car. The Kona Electric SEL and Kona Electric Limited start from $34,000 and $42,500 respectively, making them substantially more expensive than the base gas model, but you will recoup some of the difference in fuel savings and potential federal tax credits.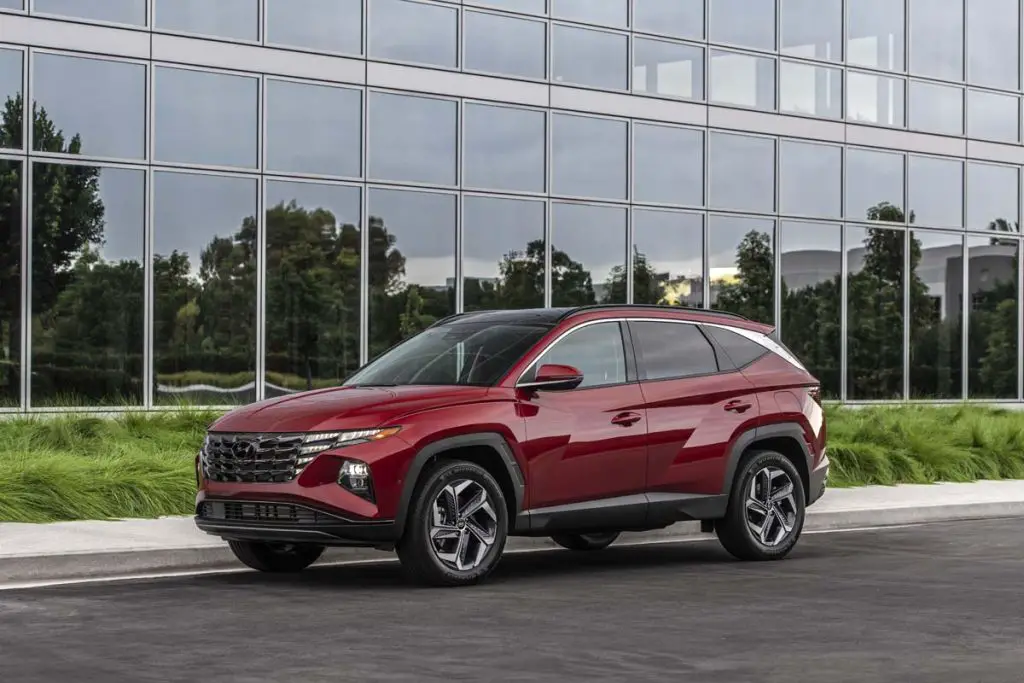 Hyundai Tucson
Starts From: $25,350
Type: Compact SUV
Fuel Type: Gas, Hybrid, Plug-in Hybrid
Drivetrain: Front Wheel Drive, All Wheel Drive
Key rivals: Mazda CX-5, Honda CR-V, Volkswagen Tiguan
Hyundai's most popular SUV gets a much-needed overhaul in 2022, giving it daring exterior styling that is more in line with recently updated Hyundais like the Elantra sedan. As a compact sports utility vehicle, the Hyundai Tucson is bigger than the subcompact Kona and thus more suitable as a family hauler.
The all-new 2022 Tucson also gets a brand new, well-equipped interior with all the latest technology. Besides style and technology improvements, the new Tucson is also more practical than the outgoing model, with more passenger space and a greater cargo capacity.
With a total of 10 trims, buyers might struggle to make a decision on which one to buy. The traditional gas-powered Tucson models share the same 2.5L, 187 horsepower inline-4 engine found in the Hyundai Sonata. While a fully electric model is unavailable, traditional self-charging and plug-in hybrids are offered.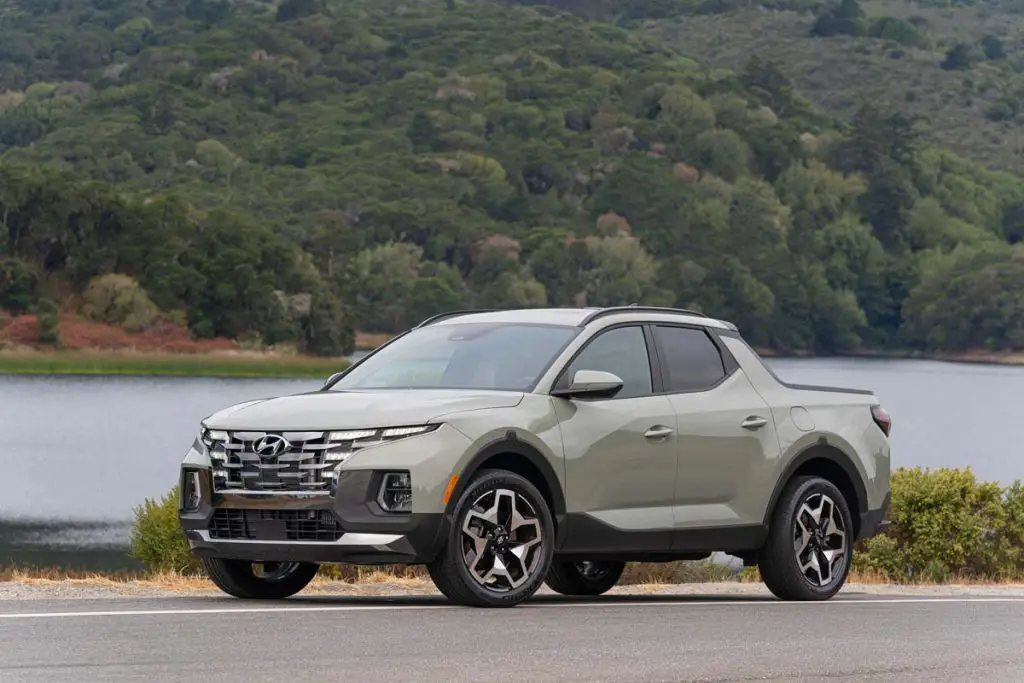 Hyundai Santa Cruz
Starts From: $25,350
Type: Sport Adventure Vehicle/Small Pickup Truck
Fuel Type: Gas, Hybrid, Plug-in Hybrid
Drivetrain: Front Wheel Drive, All Wheel Drive
Key rivals: Ford Maverick
If you needed any evidence of Hyundai's increased presence in the US, here it is. Designed in the Hyundai Design Studio in Irvine, California, the Hyundai Santa Cruz is the carmaker's first pickup truck – though Hyundai is still classifying it as an SUV.
With the same unibody construction you would find on something like the Honda Ridgeline, this isn't a traditional body-on-frame pickup truck. It's also one of the smallest pickups you can find in the car market, but that doesn't make it any less capable of towing heavy loads. The standard engine is capable of towing up to 3,500 pounds, while the turbocharged GDI 4-cylinder engine can tow up to 5,000 pounds.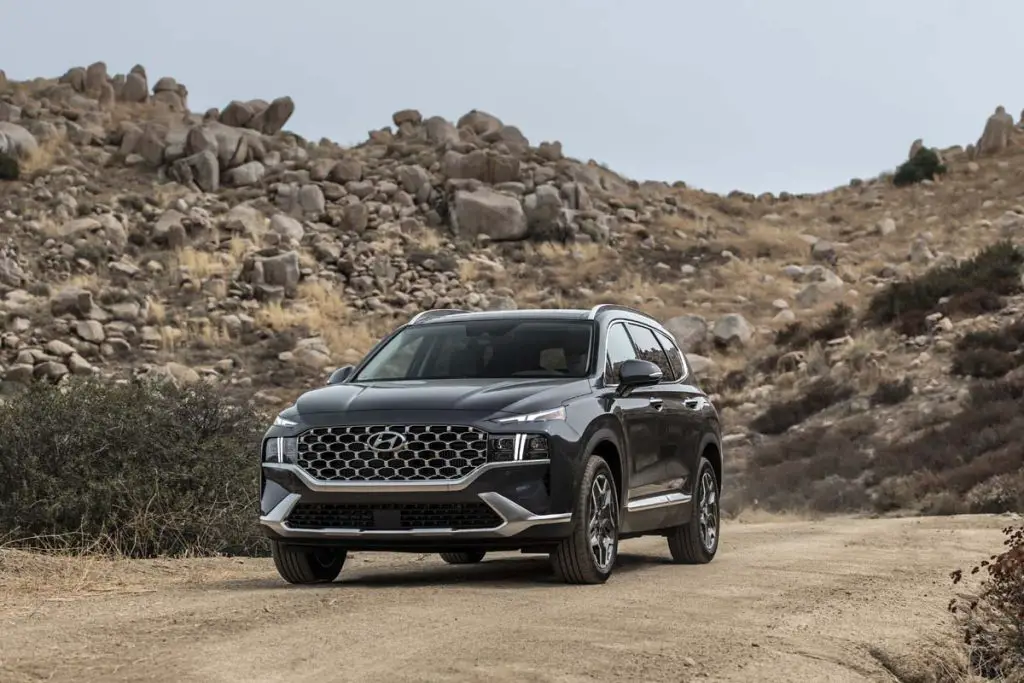 Hyundai Santa Fe
Starts From: $27,200
Type: Mid-size crossover SUV
Fuel Type: Gas, Hybrid, Plug-in Hybrid
Drivetrain: Front Wheel Drive, All Wheel Drive
Key rivals: Kia Sorento, Toyota Venza
Another massively popular Hyundai SUV in the US, the Santa Fe is a midsize 5-passenger SUV that is often compared to much more expensive SUVs in terms of styling and the level of luxury in the interior cabin.
Compared to the Tucson, the Santa Fe offers a more luxurious, larger interior and a more refined ride. While there is no option for a third row, the extra space makes it more appealing to families who will often be filling the rear row with passengers. Like the Hyundai Kona, the Santa Fe is available as a gas-powered vehicle, a hybrid vehicle and a PHEV plug-in hybrid.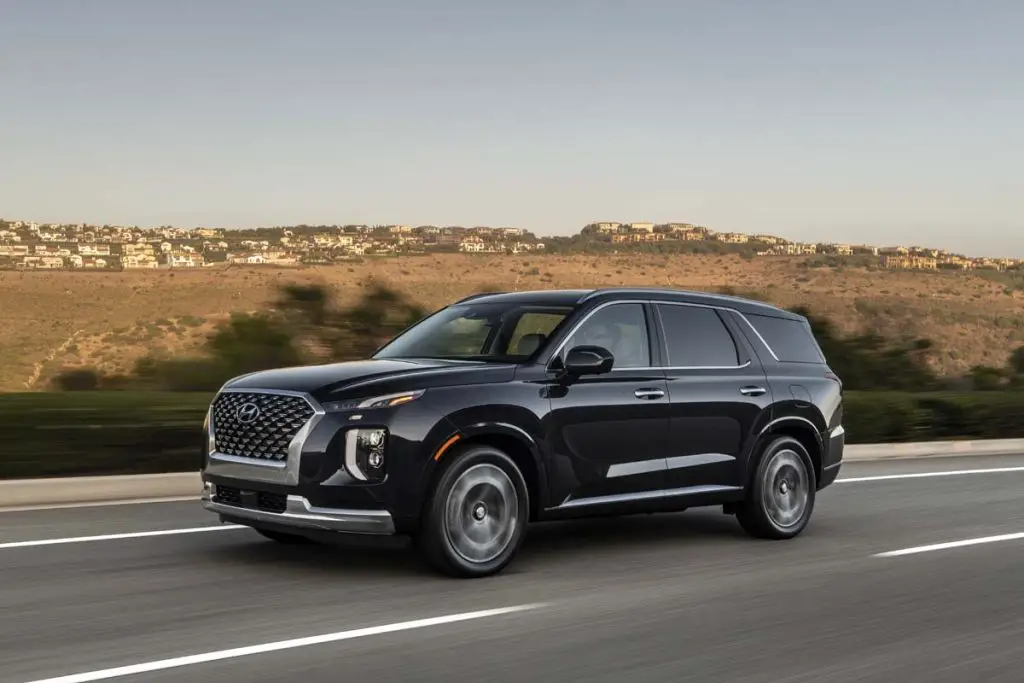 Hyundai Palisade
Starts From: $33,150
Type: Mid-size crossover SUV
Fuel Type: Gas
Drivetrain: Front Wheel Drive, All Wheel Drive
Key rivals: Kia Telluride, Chevy Traverse, Mazda CX-9, Honda Pilot
The Hyundai Palisade is the automaker's largest SUV model. The Palisade has received plenty of praise from the automotive media industry for being a near-luxury family cruiser and it's clear Hyundai designed it to be an example of what they are capable of.
With three rows there's seating for up to 8 passengers in the Hyundai Palisade, and plenty of room for cargo. If preferred, the Palisade's third row can come in the form of two captain chairs, which offers better comfort for third-row passengers, but limits the total passenger capacity to 7.
Performance is impressive too, with a 3.8-liter V6 engine coupled to an 8-speed automatic transmission that gives a sufficiently responsive drive. Front-wheel drive is standard and all-wheel drive is available as an option. Its off-road capability, though not up there with true 4WD vehicles, is more than enough for most family needs.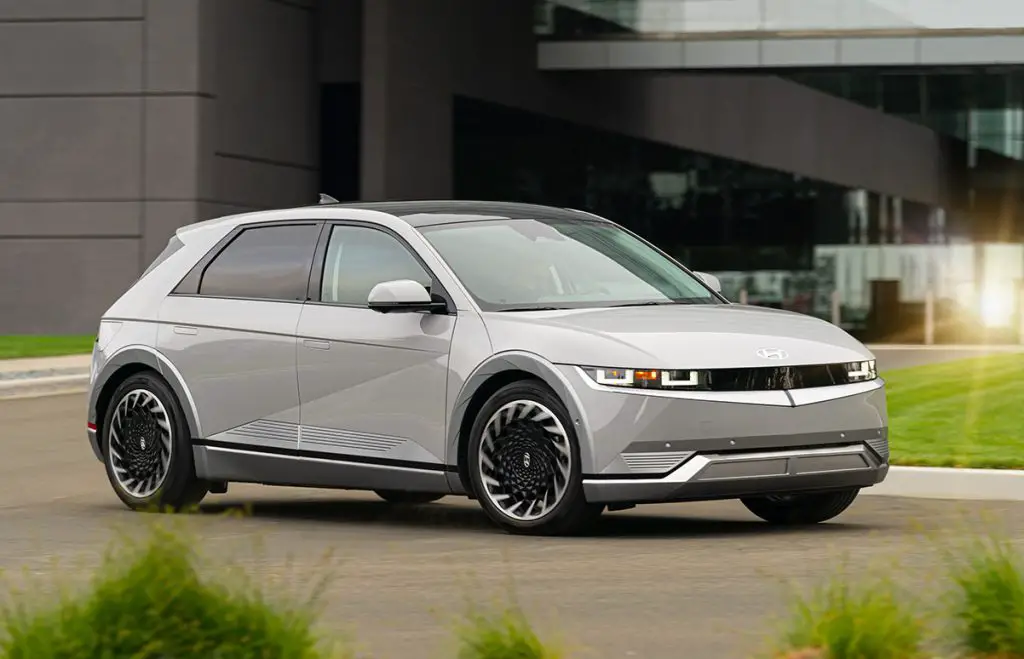 Hyundai IONIQ 5
Starts From: TBA
Body Type: Compact SUV
Fuel Type: Electric
Drivetrain: Rear Wheel Drive, All Wheel Drive
Key rivals: Kia EV6, Tesla Model 3, Volkswagen ID4
The Ioniq moniker applies to Hyundai's next generation of fully electric vehicles, and the Ioniq 5 is a compact electric SUV that sports a futuristic look both inside and outside. Of course, this isn't technically Hyundai's first electric SUV as that would be the Kona Electric, but this is the first one under the Ioniq subbrand and the first to feature the same advanced electrical architecture as the Porsche Taycan. Being a compact, the closest Hyundai SUV in terms of size is the Hyundai Tucson.
As with all next-gen electric vehicles, people are naturally curious about the design of the cabin inside. While the Ioniq 5's interior doesn't go quite as far as a Tesla, it is certainly a much more modern and clean take than your average gas-powered car interior.
The electric powertrain is either rear-drive or all-wheel drive, with the latter producing an impressive 320 horsepower and 446-pound feet of torque, which propels the vehicle from zero to 60 mph in just 5.2 seconds.
While this is the only Ioniq SUV that is available right now, the Hyundai Ioniq 6 and Hyundai Ioniq 7 will be released in the coming years.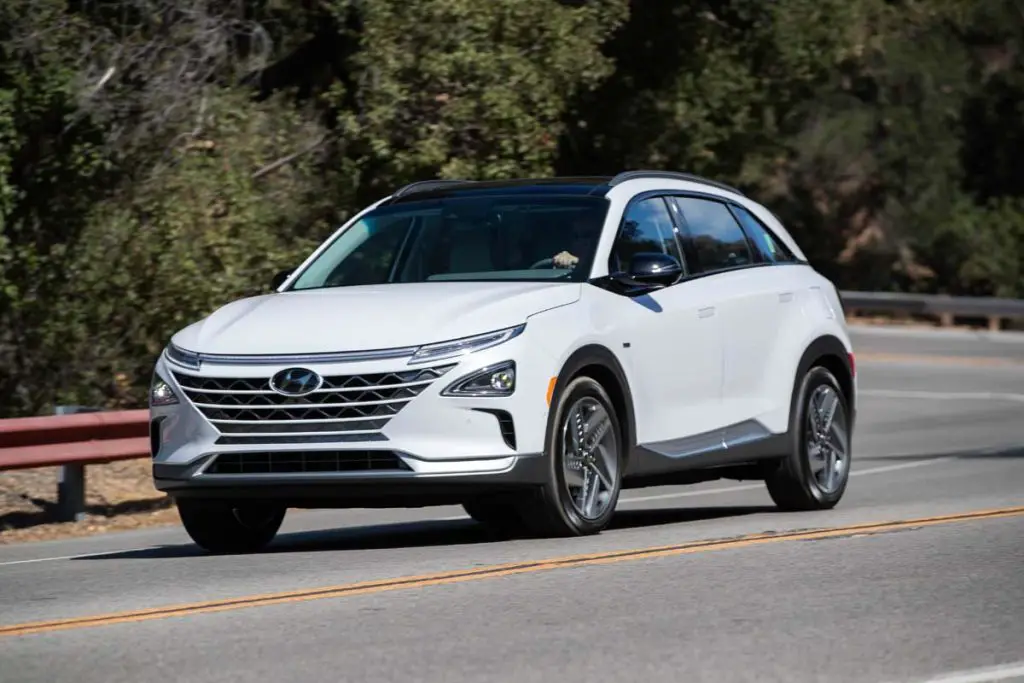 Hyundai NEXO Fuel Cell
Starts From: $58,935
Body Type: Compact Crossover SUV
Fuel Type: Hydrogen
Drivetrain: Front Wheel Drive
Key rivals: Toyota Mirai
The Hyundai Nexo is the only hydrogen-powered SUV in the US, and it just goes to show that Hyundai is considering all zero-emission possibilities in order to make its 2045 carbon neutrality pledge.
The Nexo has the wackiest styling seen in a Hyundai vehicle, though the Ioniq 5 arguably looks more futuristic. The fuel cell technology means enables the Nexo to achieve a combined 61MPGe and the car can be refuelled in just 5 minutes.
Unfortunately, because hydrogen fueling stations are limited to California, the Nexo will simply struggle to sell well. It's also incredibly expensive, the most expensive Hyundai vehicle, in fact, starting at just under $60k. However, the financial blow will be softened by federal tax credits, the California Clean Vehicle Rebate, and complimentary fuel for three years or up to $15,000 (whichever comes first).