SUVs have become the norm and it's obvious why automakers are rushing to boost the number of SUVs in their lineup.
Hyundai is no exception, and it makes complete sense that a company known for value for money would want multiple subcompact crossover offerings.
Despite this type of small SUV making up just under 6% of the overall US car market sales, demand is steadily increasing with no signs of slowing down.
But what exactly separates the Hyundai Venue from the Hyundai Kona? Let's take a closer look.
Quick Summary
Both belong to the subcompact segment, but the Kona is slightly larger and can carry more cargo. It's also more capable, with a bigger engine and optional AWD. However, the Venue is otherwise very similar, while being slightly cheaper to both purchase and run.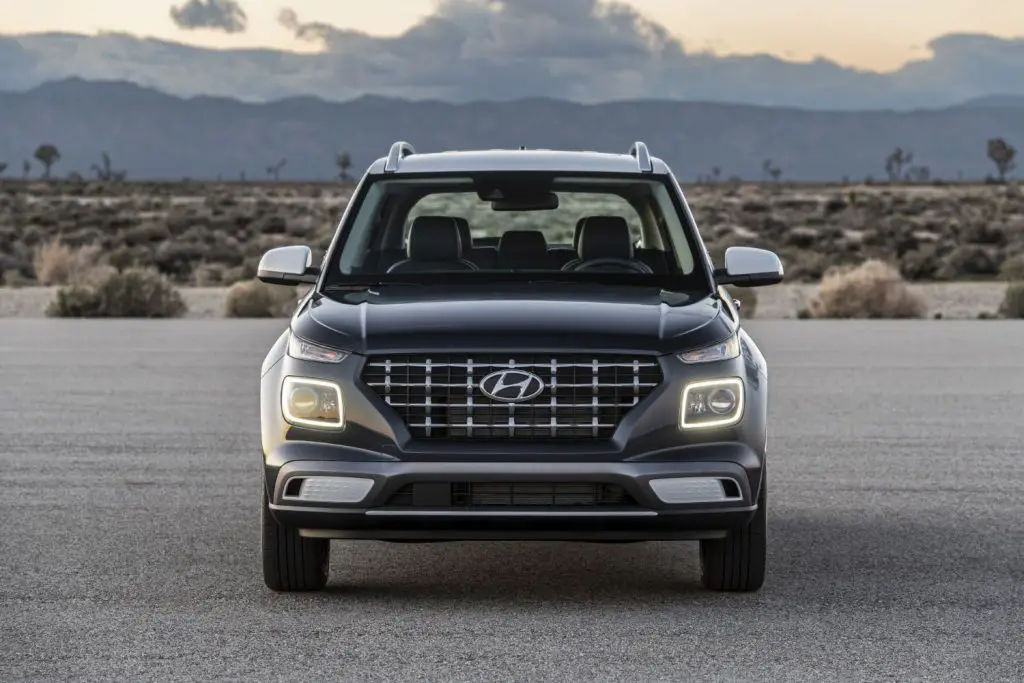 Venue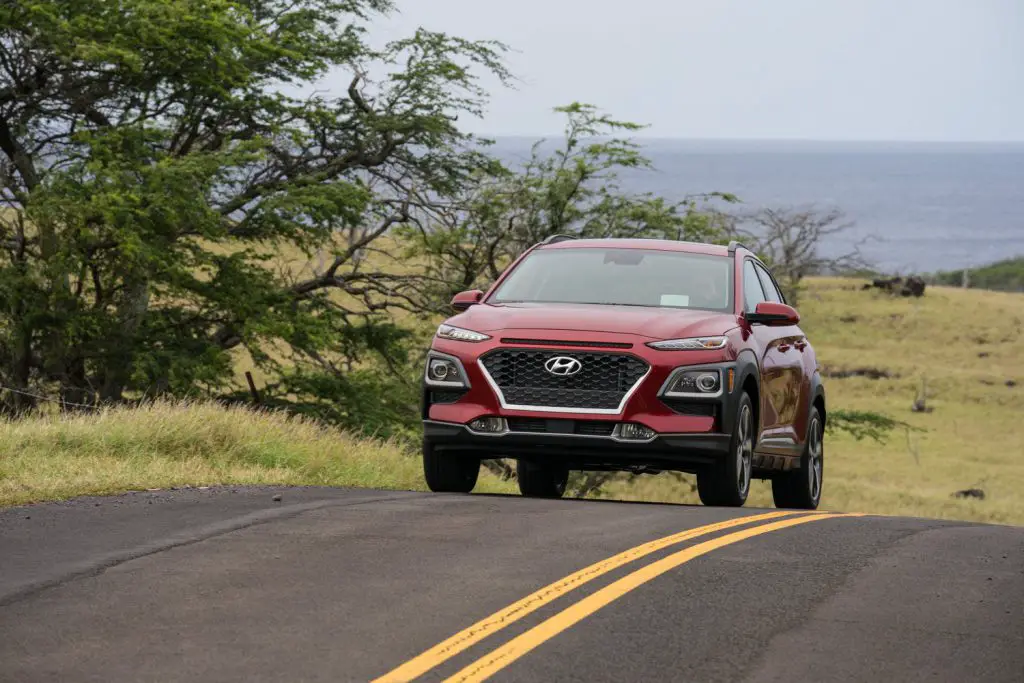 Kona
Styling
Making its debut in 2020, the Venue looks slightly more modern. Like the Kona, it features the thin, slit-like headlamps that you find on new Hyundais, but sports a larger front-grille. Especially attractive are found on its rear-end – dainty taillights which take inspiration from the Mini Cooper and VW Polo.
The Hyundai Kona has a marginally bigger exterior and a funkier, sportier appearance. The car itself is portrayed as being more adventure-ready, and its quirky looks and vibrant color choices will certainly appeal to a younger crowd.
Overall both SUVs feature modern designs which complement the small and agile nature of these SUVs, instead of pretending to be something they're not.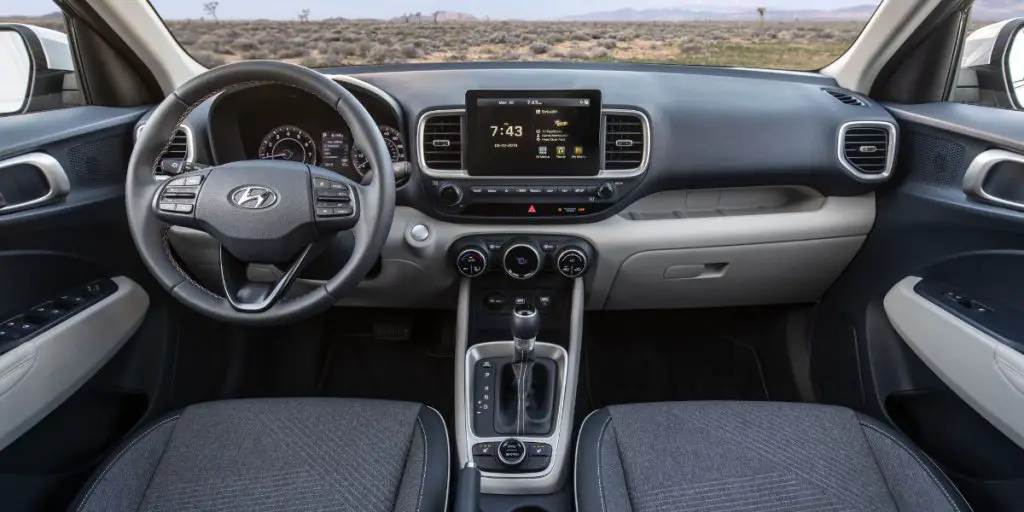 Venue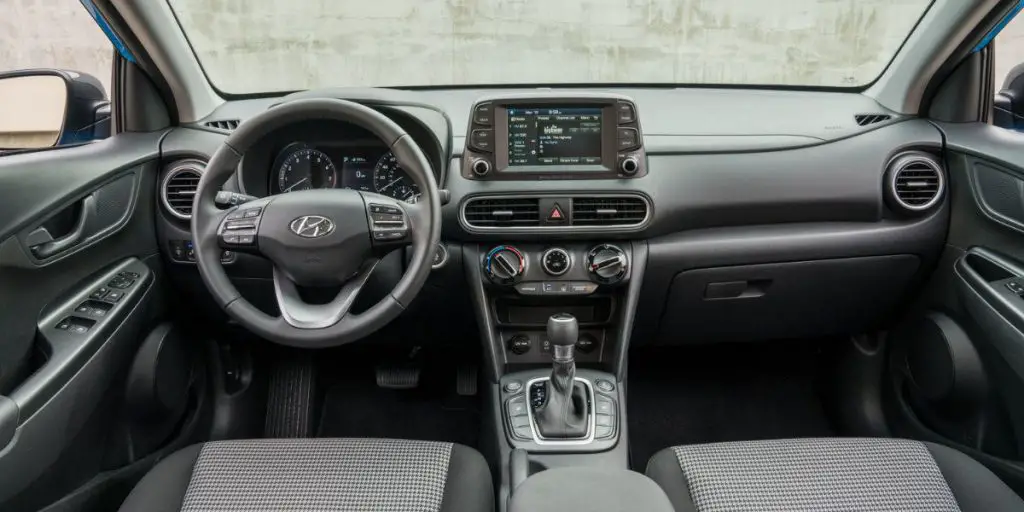 Kona
Interior
Despite being one of the most budget-friendly SUVs on the market, the Hyundai Venue's cabin feels upscale with decent materials and sturdy knobs and dials throughout. If we're nitpicking, the 8.0-inch infotainment looks slightly tacked-on, but otherwise it's difficult to fault the Venue's interior.
The Hyundai Kona's interior is similar in function to that of the Hyundai Venue, but like its exterior, has a slightly more funky theme. If you're willing to pay extra, the Kona has more luxurious upholstery options available than the Venue.
Performance
Hyundai designed the smaller Venue for city driving, while the Kona is more for those who want the capability of a traditional SUV.
Based on the Hyundai Accent subcompact car, the Hyundai Venue sports a 1.6-liter inline-4 engine with 121 horsepower. This is matched with a CVT transmission, which is fine on tarmac but not well-suited for driving off-road. The manual transmission option was removed for 2021.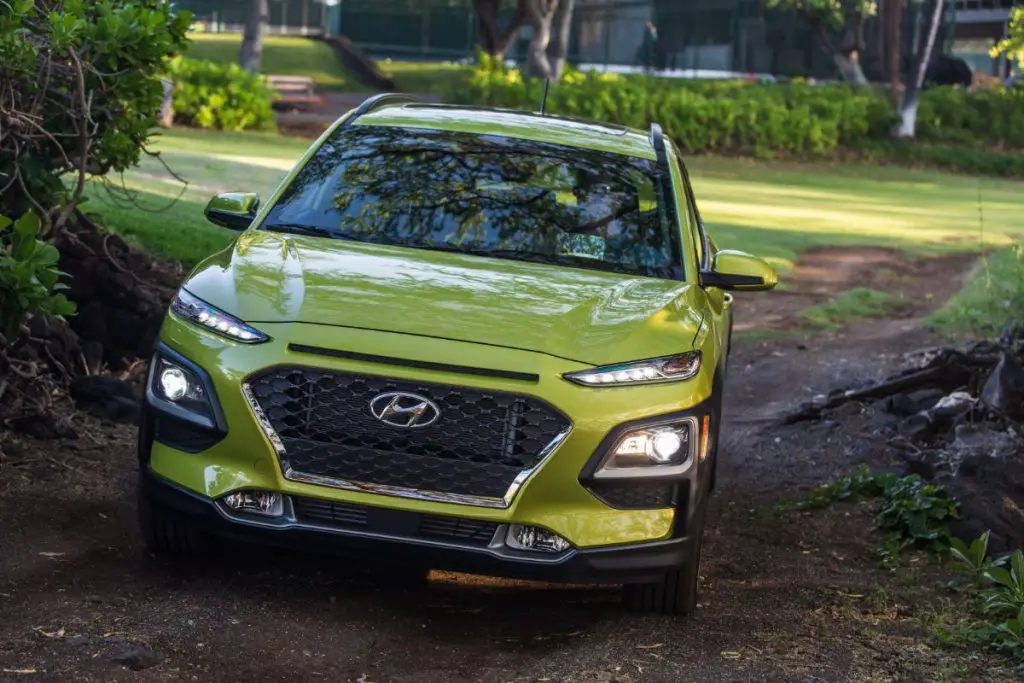 The Hyundai Kona, on the other hand, gets a more powerful 2.0-liter inline-4 engine which can produce 147 horsepower and a higher maximum torque. The 6-speed automatic transmission it's matched with means the Kona is better prepared for rougher driving conditions.
Tying into the Kona being the more capable vehicle, the Kona is offered with an all-wheel drive option, while the Venue is front-wheel drive only.
Both SUVs are agile on the road and great for navigating narrow roads. The turning diameter of the Venue is 33.4 ft while the Kona's is 34.8 ft, giving the Kona a slightly wider turn. However, the highly reactive steering on both crossovers can become a tad annoying on the highway when trying to stay in the same lane.
Passenger Space and Practicality
Both are 5-seater SUVs and perfectly fine for carrying the whole family, though things might feel a little cramped on longer trips.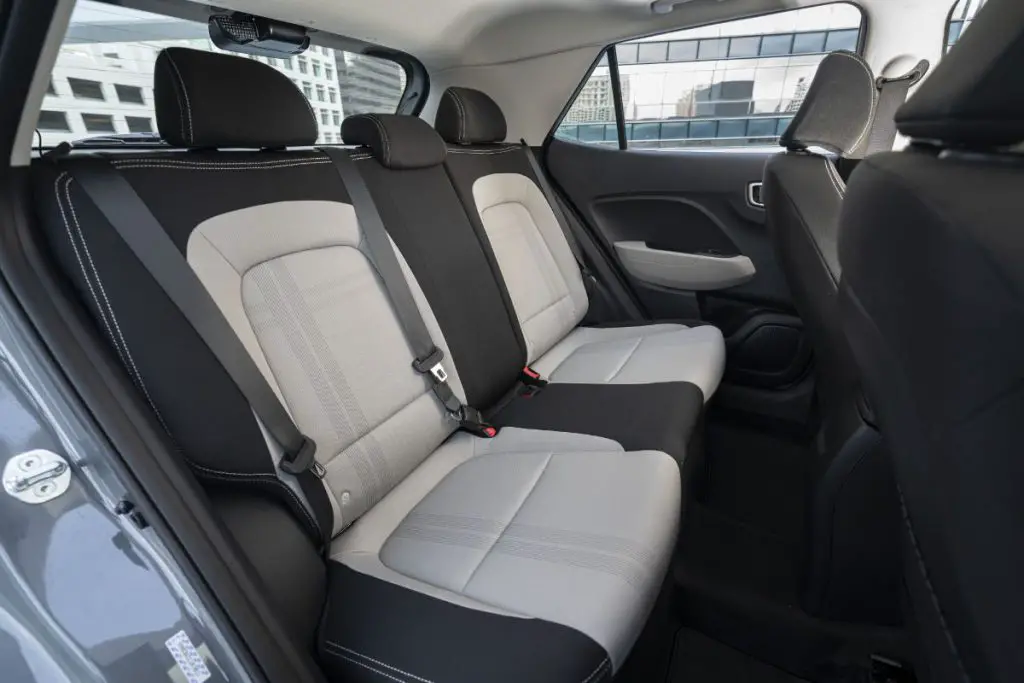 Venue
Passenger space is more or less equivalent, with the Venue and Kona offering similar amounts of measured leg, shoulder and hip room for front and back seats. The Hyundai Kona does technically offer slightly more space, but it shouldn't sway your decision.
However, the Hyundai Kona has a significantly larger amount of cargo space. The Kona boasts a roomy 45.8 cubic feet when the back seats are folded down, compared to the Venue's 31.9 cubic feet. If the back seats are up cargo volume is tied at roughly 19 cubic feet in both vehicles.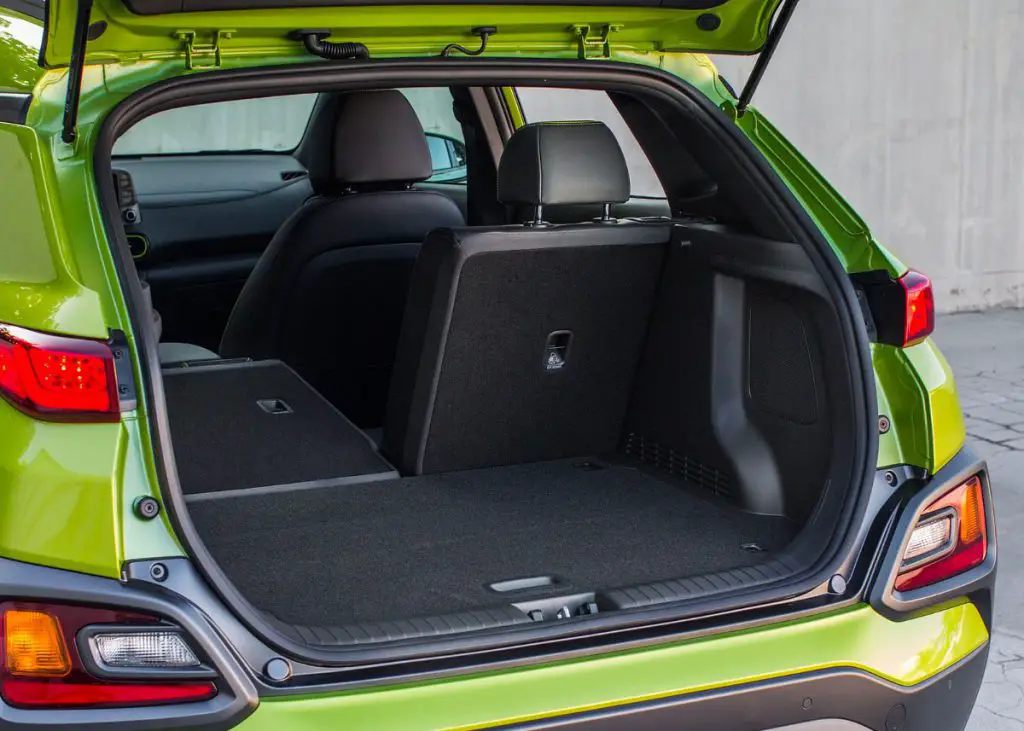 Kona
Technology and Features
Both models feature Driver Attention Warning (DAW) systems that detect inattentive driving patterns by issuing voice warnings from the front panel. Apple Carplay, Android Auto, and BlueLink connectivity features are also mutual features.
The Kona also features High Beam Assist that toggles between low and high beam headlights based on driving conditions, and Smart Cruise Control (SCC) that maintains a safe distance behind other vehicles. A HUD display on the windshield showing speed, navigation, and SCC info is included. The Kona allows for wireless device charging. The Venue lacks these options.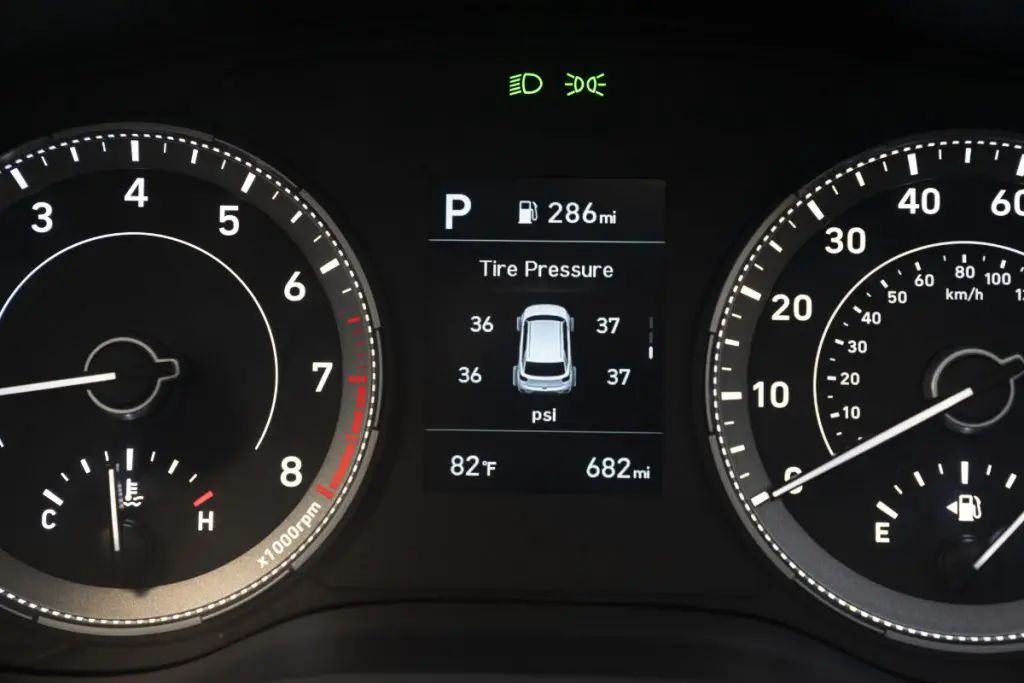 Fuel Economy
Both compact SUVs get similar fuel economy. The Venue's 1.6L DPI Engine gets 31 MPG (30 City/33 Highway), while the Kona gets 30 MPG (27 City/33 Highway) with the 2.0 MPI Engine. The Limited and Ultimate models also get 30 MPG (28 City/32 Highway) with the 1.6L Turbo GDI Engine.
Pricing
Expect to pay anywhere around $3,000 to $5,000 more than the Venue for a similarly equipped Hyundai Kona.
The 2021 base Venue model SE starts at $18,750, while the SEL model starts at $19,800. Each of these comes with different collision detection systems. If you prefer a Denim interior and exterior, that model starts at $22,050, but it lacks the safety systems of the other models.
The 2021 Kona models come with the 147-hp 2.0L engine, giving slightly more horsepower than the Venue, except for the higher priced Limited and Ultimate models, both sporting a 175-hp 1.6L Turbo GDI Engine (Limited starts at $26,200, Ultimate at $28,050). The base model SE starts at $20,400 and the SEL trim at $22,200. Both have different safety features, while the SEL model has a Proximity Key with a push-button start. The SEL Plus trim starts at $24,050 and features an 8-way power driver's seat, BlueLink system and wireless device charging.
Safety
Hyundai has been equipping their newer vehicles with the latest technology that prevents accidents and keeps everyone safe. Both models feature Forward-Collision Assist with Pedestrian Detection (FCA-Ped), Blindspot Collision Warning, Rear Cross-Traffic Collision Warning, and Lane Keeping Assist systems.
Lower-priced trims of the Venue and Kona come with safety features such as collision warning and Driver Attention Warning systems. Similar compact SUV models such as the Chevrolet Trax and the Honda HR-V lack this Driver Attention Warning feature.
Verdict
Both models come with similar fuel economy, safety features, and can provide a comfortable ride for a small family. The decision to purchase one over the other comes down to the kind of trips you plan to take and how much cargo space you would prefer.
We'd recommend the Hyundai Venue to city drivers who don't plan on taking cross-country trips outside of the odd one here and there. It is cheaper to run, even easier to park and matches almost all the features of the Kona, for less.
The Hyundai Kona optioned with all-wheel drive comes recommended for those who want to be better prepared for harsh weather conditions or driving on rougher roads. Its higher sticker price might also be worth it if you regularly transport large loads.
Comparable SUVs
The Hyundai Venue is considered relatively small within the subcompact SUV segment, and these kinds of crossover SUV are only just beginning to gain momentum in the US market. Key rivals to the Venue include the Kia Soul and Nissan Kicks.
Meanwhile, the Hyundai Kona shares the same platform with the Kia Seltos, which is another subcompact worth looking into. Those willing to pay slightly more for more off-road capability might be interested in the Subaru Crosstrek – read our full comparison.
If you're looking for a bigger compact SUV than the Hyundai Kona, see how it compares with the Hyundai Tucson, which is the next size up in Hyundai's SUV range.
Comparison Table
2021 Hyundai Venue
2021 Hyundai Kona
Trim
Price
$18750
$20500
Performance
Engine
1.6L Inline-4 Gas
2.0L Inline-4 Gas
Horsepower
121 hp @ 6300 rpm
147 hp @ 6200 rpm
Torque
113 lb-ft @ 4500 rpm
132 lb-ft @ 4500 rpm
Transmission
Continuously Variable Automatic (CVT)
6-Speed Automatic
Drivetrain
Front-Wheel Drive
Front-Wheel Drive
Handling
Steering Type
Rack-Pinion
Rack-Pinion
Rear Suspension
Torsion Beam
Torsion Beam
Rear Wheel Size
P185/65HR15
P205/60HR16
Front Suspension
Strut
Strut
Front Wheel Size
P185/65HR15
P205/60HR16
Turning Diameter (ft.)
33.4
34.8
Fuel Economy
MPG/MPGe - Hwy
33
33
MPG/MPGe - City
30
27
MPG/MPGe - Combined
31
30
Gas Tank Size (gallons)
11.9
13.2
Cruising Range - Hwy (miles)
392.7
435.6
Size and Weight
Height (in.)
61.6
61.0
Length (in.)
159.1
164.0
Weight (lbs)
2612
2890
Max Width (in.)
69.7
70.9
Wheelbase (in.)
99.2
102.4
Interior Dimensions
Seating Capacity
5
5
Front Seat Leg Room (in.)
41.3
41.5
Front Seat Head Room (in.)
39.4
39.6
Front Seat Hip Room (in.)
52.1
53.3
Front Seat Shoulder Room (in.)
53.9
55.5
Rear Seat Leg room (in.)
34.3
34.6
Rear Seat Head Room (in.)
38.6
37.8
Rear Seat Hip Room (in.)
43.5
52.2
Rear Seat Shoulder Room (in.)
53.7
54.5
Infotainment Features
HD Radio
Standard
Not Available
MP3 Player
Standard
Standard
WiFi Hotspot
Not Available
Not Available
Satellite Radio
Not Available
Not Available
Bluetooth Connection
Standard
Standard
Entertainment System
Not Available
Not Available
Premium Sound System
Not Available
Not Available
Auxiliary Audio Input
Standard
Standard
Smart Device Integration
Standard
Standard
Hard Disk Drive Media Storage
Not Available
Not Available
Interior Trim
Cloth Seats
Standard
Standard
Vinyl Seats
Not Available
Standard
Leather Seats
Not Available
Standard
Premium Synthetic Seats
Not Available
Standard
Bucket Seats
Standard
Standard
Sun/Moonroof
Not Available
Not Available
Leather Steering Wheel
Not Available
Not Available
Woodgrain Interior Trim
Not Available
Not Available
Comfort Features
A/C
Standard
Standard
Rear A/C
Not Available
Not Available
Telematics
Not Available
Not Available
Seat Memory
Not Available
Not Available
Seat-Massage
Not Available
Not Available
Keyless Entry
Standard
Standard
Keyless Start
Not Available
Not Available
Cruise Control
Standard
Standard
Multi-Zone A/C
Not Available
Not Available
Power Liftgate
Not Available
Not Available
Climate Control
Not Available
Not Available
Head-Up Display
Not Available
Not Available
Power Mirror(s)
Standard
Standard
Automatic Parking
Not Available
Not Available
Navigation System
Not Available
Not Available
Power Driver Seat
Not Available
Not Available
Cooled Rear Seat(s)
Not Available
Not Available
Hands-Free Liftgate
Not Available
Not Available
Heated Rear Seat(s)
Not Available
Not Available
Remote Engine Start
Not Available
Not Available
Cooled Front Seat(s)
Not Available
Not Available
Heated Front Seat(s)
Not Available
Not Available
Power Passenger Seat
Not Available
Not Available
Remote Trunk Release
Standard
Not Available
Heated Steering Wheel
Not Available
Not Available
Adaptive Cruise Control
Not Available
Not Available
Navigation from Telematics
Not Available
Not Available
Universal Garage Door Opener
Not Available
Not Available
Steering Wheel Audio Controls
Standard
Standard
Safety Features
ABS
Standard
Standard
Brake Assist
Standard
Standard
Night Vision
Not Available
Not Available
Rear Parking Aid
Not Available
Not Available
Traction Control
Standard
Standard
Stability Control
Standard
Standard
Blind Spot Monitor
Not Available
Not Available
Cross-Traffic Alert
Not Available
Not Available
Lane Keeping Assist
Standard
Standard
Tire Pressure Monitor
Standard
Standard
Lane Departure Warning
Standard
Standard
Airbags
Knee Air Bag
Not Available
Not Available
Driver Air Bag
Standard
Standard
Seatbelt Air Bag
Not Available
Not Available
Passenger Air Bag
Standard
Standard
Rear Head Air Bag
Standard
Standard
Rear Side Air Bag
Not Available
Not Available
Front Head Air Bag
Standard
Standard
Front Side Air Bag
Standard
Standard
Warranty
Basic
5 Years / 60,000 Miles
5 Years / 60,000 Miles
Corrosion
7 Years / Unlimited Miles
7 Years / Unlimited Miles
Drivetrain
10 Years / 100,000 Miles
10 Years / 100,000 Miles
Maintenance
3 Years / 36,000 Miles
3 Years / 36,000 Miles
Roadside Assistance
5 Years / Unlimited Miles
5 Years / Unlimited Miles