Electric cars have been thrust from the fringes of our automotive world right into the mainstream thanks to the growing global trend of planning bans on the sale of new gasoline and diesel cars starting in 2030.
Manufacturers from North America, Europe, and Asia are working furiously to develop the EV "for the masses"-the electric car that eventually everyone will turn to as the emblematic model of the sector.
Two competing models for such a title are the Nissan Leaf and the Chevrolet Bolt. Let's see what the Japanese giant and the homegrown US electric car have to offer.
Quick Summary
The popular Nissan Leaf is the more affordable electric vehicle, but it needs a bit of an overhaul to remain competitive. The redesigned Chevy Bolt offers better standard range, is more exciting behind the wheel, and offers superior technology features.
Pricing
Pricing can get a bit tricky when you're talking about EVs in the US right now because there are still federal tax incentives in place that can reduce the actual amount you pay, but how much you get depends on other factors.
In terms of what's shown on the Nissan and Chevy websites, the Nissan Leaf is the cheaper at the base-level, starting at $27,400, but Nissan makes it clear that this price is a suggested MSRP, and doesn't include things like tax and destination charge. There are 5 trim levels, the S, SV, S Plus, SV Plus, and SL Plus. The top-level SL Plus starts at $37,400.
The Chevy Bolt base-level 1LT trim starts at $32,495 and includes destination charge. It doesn't, however, include tax, title, license, dealer fees and optional equipment. The 2LT trim comes with some significant upgrades and starts at $35,695.
Overall, it's obvious these two electric cars are very much direct competitors targeting the same segment, given how closely their pricing is.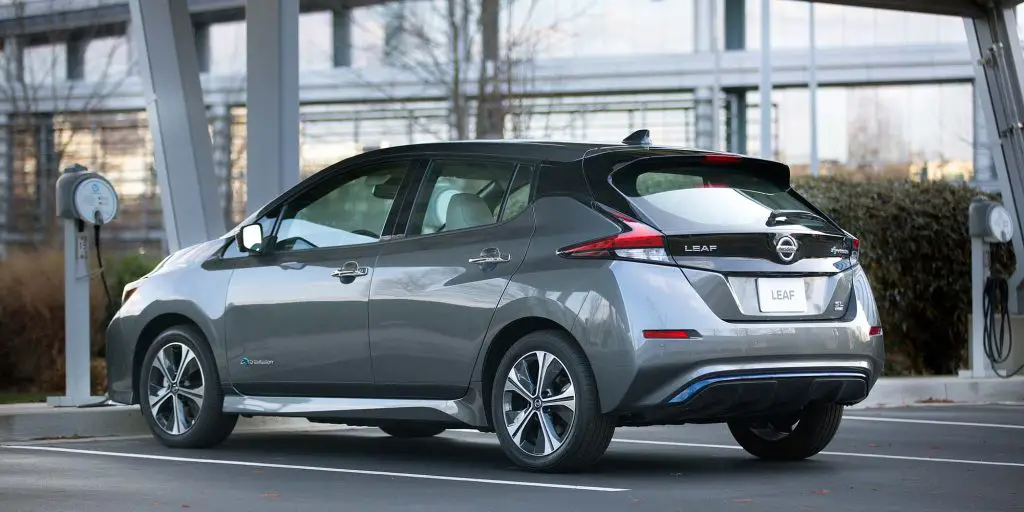 Leaf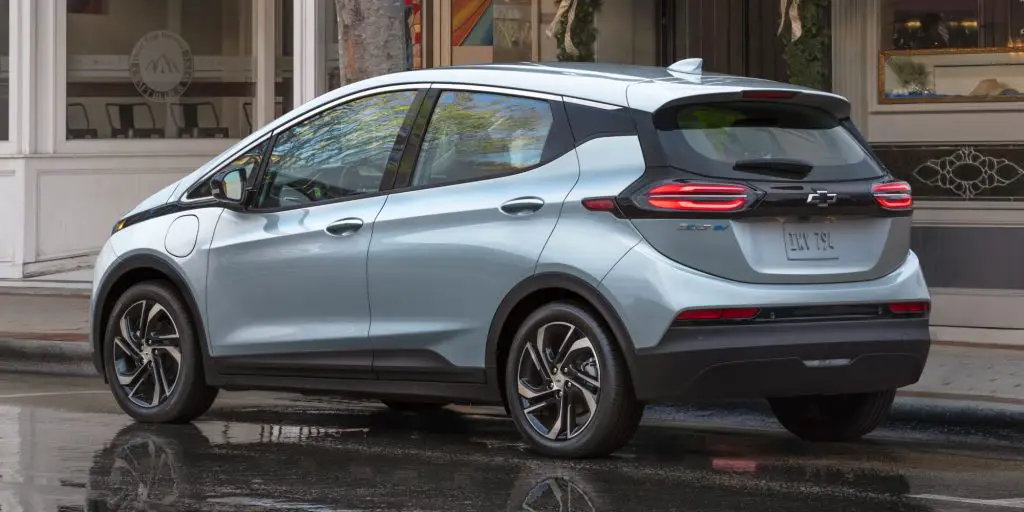 Bolt
Exterior Styling
Interestingly, these two models are styled in not overly dissimilar ways. Both the Nissan Leaf and the Chevy Bolt have a hint of compressed minivan mixed with a little bit of crossover SUV about them, especially in the Leaf Plus models.
Note: For 2022, it's worth noting that Chevrolet has released the all-new Bolt EUV, which is much closer to a regular crossover SUV in size and form. However, it starts at a higher price than the regular Bolt EV.
Both the Bolt EV and Leaf have a sense of urban chic and dynamism about them, with clean lines, sturdy builds, and a cosmopolitan sheen. The Nissan Leaf is the longer-looking of the two, with the Bolt feeling more compact in build.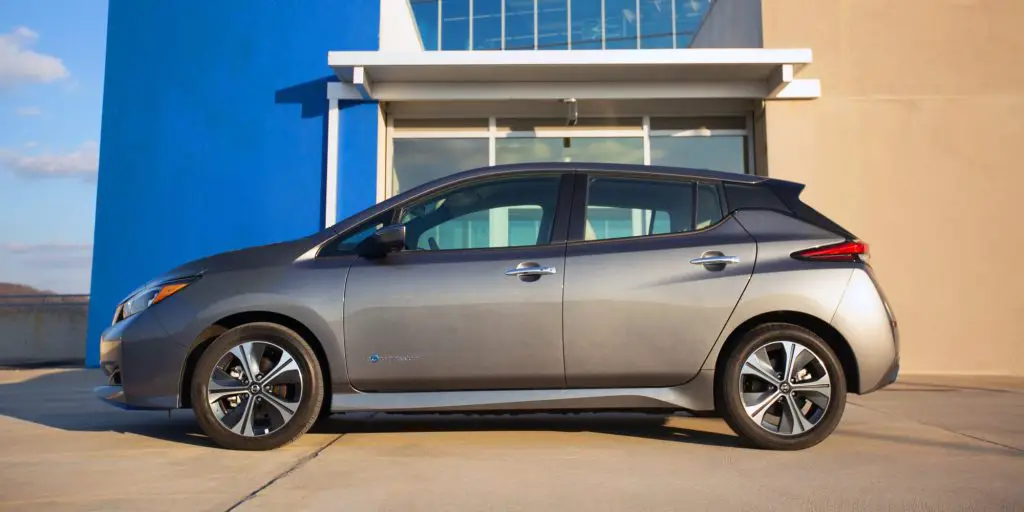 Leaf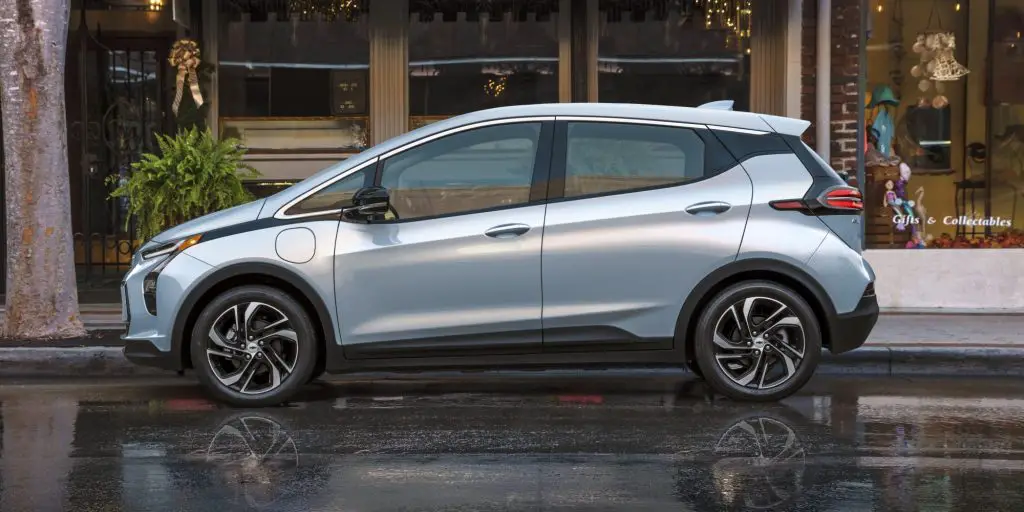 Bolt
Interior
Since the Bolt only offers 2 trim levels, you get a fairly decent level of interior appointment even at the base level, more so than the Leaf. The base-level Nissan Leaf contains rather a lot of cheap plastic and cloth, but once you get to the SL model and over, things get better with light gray leathers, soft-touch materials and a generally more stylish look.
The Bolt 2LT gets stylish perforated leather appointed seats, a heated flat-bottom steering wheel, and a very comfortable 36 inches of rear-seat leg room (compared to just 33.5 inches on the Leaf). The Bolt got a good redesign in the interior for 2022, so the latest models are looking better than ever.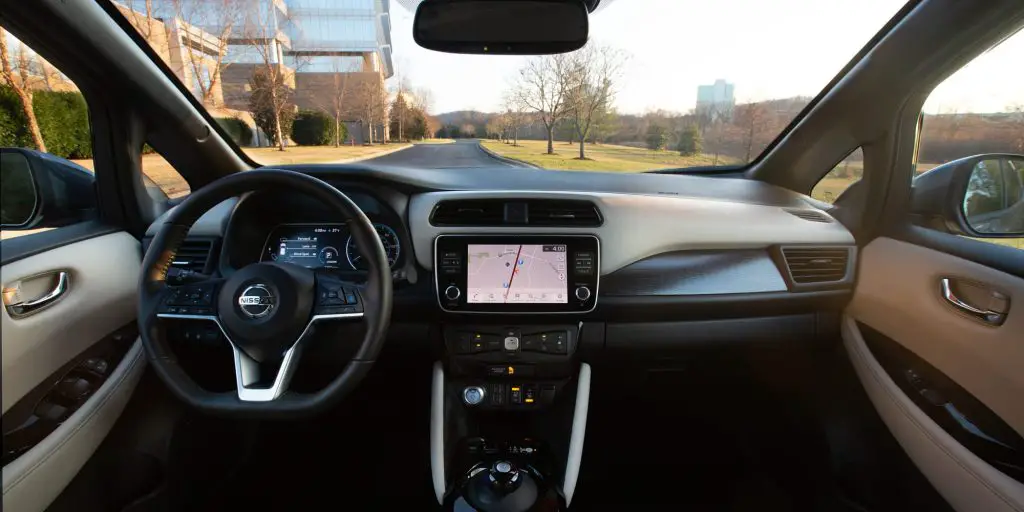 Leaf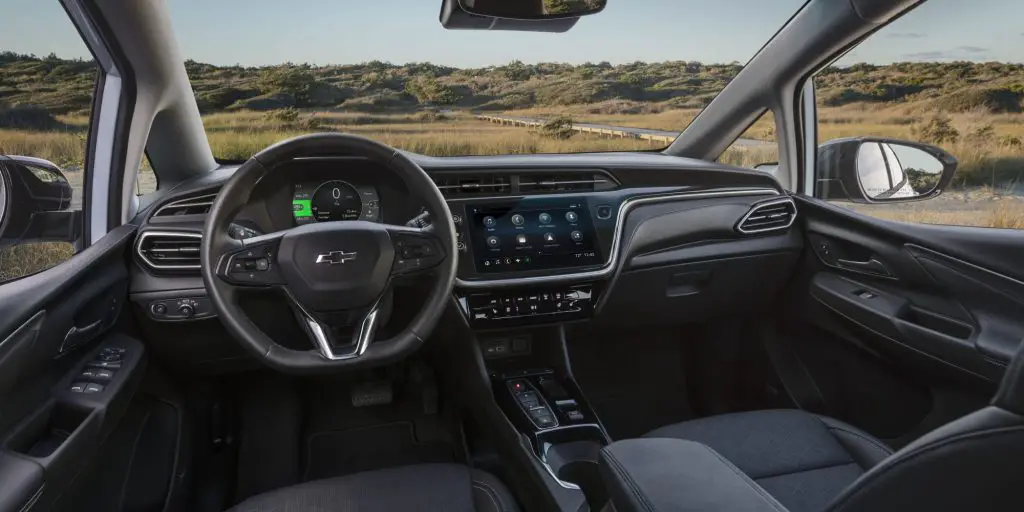 Bolt
Performance
The standard Nissan Leaf powertrain is a 40-kWh battery pack paired with a 147-hp electric motor, but you can upgrade to a 62-kWh battery with 214-hp if you go higher in the trim set.
The Chevy Bolt runs on a 65-kWh battery with its electric motor delivering 200-hp. The Leaf gets 0-60 in 7.7 seconds, but the Bolt is a whole second faster at 6.7 seconds. Neither feel sluggish though thanks to the instant torque you get from an all-electric powertrain.
Both models feature the much-desired one-pedal drive feature with regenerative braking that allows rush-hour drivers a less stressful time moving through heavy traffic as they don't have to keep jumping pedals. The Bolt's regenerative braking also features an adjustable mode which is handy when you need the brakes to be at different strengths in different conditions. Not even Tesla models allow that.
On the road, both feel balanced, stable, and capable. The weight of the battery pack helps prevent roll and other unpleasant feelings when going round corners at speed.
Driving Range
For EVs, the primary consideration when it comes to practicality is range. It's the Chevrolet Bolt that comes out on top with a standard 259-mile EPA estimated range regardless of trim level.
The Leaf's 40-kWh battery has a range of 149 miles, and the 62-kWh battery up to 226 miles, both of which fall short of that offered by the Bolt.
Charging Speed
One more area to consider is charging speeds and capacities. For the Leaf, if using level 2 home charging at 240-volts, then the 40-kWh battery will charge from empty to full in 8 hours, and the 62-kWh battery in 11.5 hours. On the Bolt, level 2 home charging takes 7 hours, which is faster than the Leaf.
Both work with DC fast charging, with the Bolt being able to add 100 miles of range in 30 minutes. Nissan claims that its 40-kWh battery can get to 80 percent in 40 minutes on a 50-kW fast charge, and 45 minutes for the 62-kWh battery when using a 100-kW charge. In reality, these DC charge times are quite close, and depend more on the starting point since it is virtually never starting from zero when at a public charging station.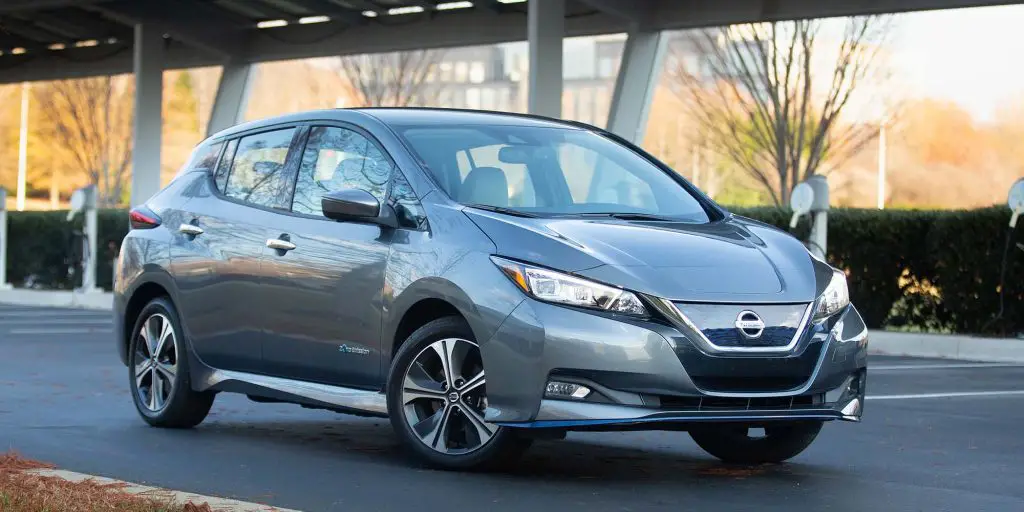 Leaf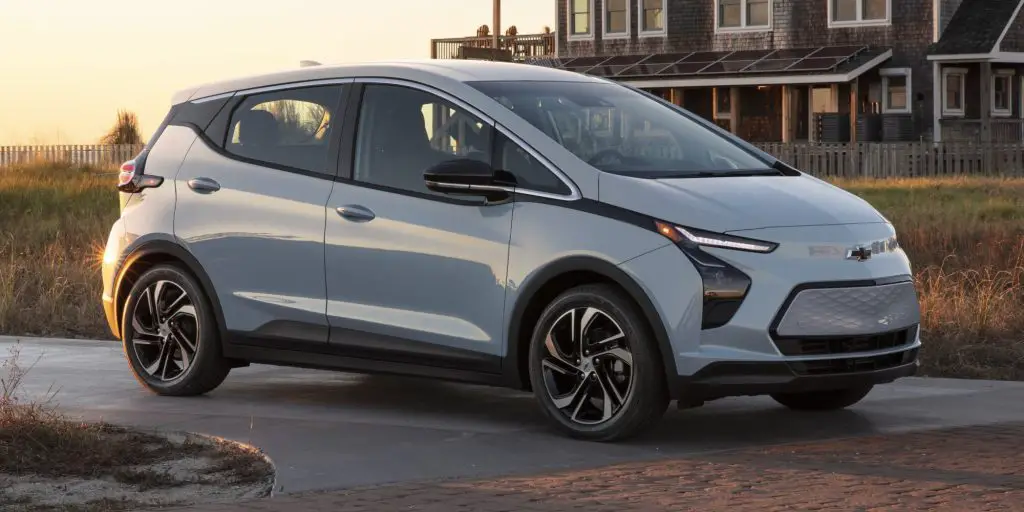 Bolt
Practicality
How do they fare when it comes to cargo space? The Nissan Leaf is better with the seats up, offering 23.6 cubic feet of cargo capacity.
The Bolt only offers 16.6 cubic feet with the seats up, but up to 57 cubic feet with rear seats folded down. The Leaf only goes up to 30 cubic feet when the rear seats are folded.
Both seat up to five passengers, but the Chevy Bolt offers a slightly more spacious cabin with more space for those in the back.
Technology & Features
For infotainment systems, the Bolt gets the bigger screen at 10.2 inches, compared to an 8-inch standard setup on the Nissan Leaf. The Nissan infotainment system, NissanConnect, however, is arguably more intuitive and user-friendly, even though it's not that much to look at.
Both electric vehicles are equipped with a 6-speaker audio system, but both can also be upgraded to a 7-speaker Bose system. The Bolt's speaker upgrade also comes with wireless charging and an additional 2 USB ports in the rear seats, too, so it's good value. Wireless Apple CarPlay and Android Auto are an option, too, on the Bolt. The Nissan Leaf, on the other hand, only offers standard CarPlay and Android Auto.
Higher trims of the Leaf can get Nissan's ProPILOT Assist system to make highway driving easier with lane centering and dynamic cruise control with distance-keeping tool between your Leaf and other traffic. You can buy a similar package on the Bolt, but it comes separately. Both models also feature over-the-air updates.
Safety
For the Chevy Bolt, standard safety features include automatic emergency braking, lane keep assist, lane departure warning, forward collision alert, front pedestrian braking, and following distance indicator.
Nissan is a bit more generous, adding in rear automatic braking, rear cross-traffic alert, blind-spot warning, and high beam assist. If you have ProPILOT Assist in your Nissan Leaf as well, then you can enjoy a suite of lane-monitoring technology that helps you stay even safer on the highway.
Key Rivals
There aren't many alternatives in this affordable EV category, save for the Mini Cooper Electric which suffers from an impractical 110-mile driving range. You really need take your budget up a notch to access the likes of the Tesla Model 3, VW ID.4, and Kia EV6.
Related: VW ID.4 vs Tesla Model Y
Verdict
City dwellers in need of an electric vehicle will find a lot to love about both of these models. However, the Nissan Leaf clearly offers a better price point, with the price potentially dipping under $20,000 if you factor in all subsidies and rebates on the base model.
The Chevrolet Bolt EV can also be reasonably priced with those incentives, but it seems it will always cost more at the basic level. The high-trim 2LT Chevy Bolt however is cheaper than the higher-level Leaf models.
Ultimately with these two, it seems to come down to range. If you want to have an EV with longer range, then there's no beating the Bolt that has a standard range of 259 miles. That gives many years of decent long-range driving. You have to go for the larger battery option on the Leaf to get close to that.
For affordability, therefore, the Leaf wins, but for range, it's the Bolt. In many other ways they are quite evenly matched, although the Chevy Bolt's more recent redesign makes it feel a little more modern.
Comparison Table
2022 Nissan Leaf
2022 Chevrolet Bolt EV
Trim
Price
$27400
$31500
Performance
Engine
Electric
Electric
Horsepower
147 hp @ 3282 rpm
200 hp
Torque
236 lb-ft
266 lb-ft
Transmission
Single Speed Automatic
Single Speed Automatic
Drivetrain
Front-Wheel Drive
Front-Wheel Drive
Handling
Steering Type
Rack-Pinion
Column-Mounted Electric Pwr
Rear Suspension
Torsion Beam
Compound Crank (Torsion Beam)
Rear Wheel Size
P205/55HR16
P215/50R17
Front Suspension
Strut
MacPherson Strut
Front Wheel Size
P205/55HR16
P215/50R17
Turning Diameter (ft.)
34.8
34.8
Fuel Economy
MPG/MPGe - Hwy
99
109
MPG/MPGe - City
123
131
MPG/MPGe - Combined
111
120
Size and Weight
Height (in.)
61.4
63.4
Length (in.)
176.4
163.2
Weight (lbs)
3516
3589
Max Width (in.)
70.5
69.5
Wheelbase (in.)
106.3
102.4
Interior Dimensions
Seating Capacity
5
5
Front Seat Leg Room (in.)
42.1
44.3
Front Seat Head Room (in.)
41.2
40.1
Front Seat Hip Room (in.)
51.7
51.3
Front Seat Shoulder Room (in.)
54.3
54.6
Rear Seat Leg room (in.)
33.5
36.0
Rear Seat Head Room (in.)
37.3
37.9
Rear Seat Hip Room (in.)
50.0
50.6
Rear Seat Shoulder Room (in.)
52.5
52.8
Infotainment Features
HD Radio
Not Available
Not Available
MP3 Player
Standard
Not Available
WiFi Hotspot
Not Available
Standard
Satellite Radio
Standard
Standard
Bluetooth Connection
Standard
Standard
Entertainment System
Not Available
Not Available
Premium Sound System
Not Available
Not Available
Auxiliary Audio Input
Standard
Standard
Smart Device Integration
Standard
Standard
Hard Disk Drive Media Storage
Not Available
Not Available
Interior Trim
Cloth Seats
Standard
Standard
Vinyl Seats
Not Available
Standard
Leather Seats
Not Available
Standard
Premium Synthetic Seats
Not Available
Standard
Bucket Seats
Standard
Not Available
Sun/Moonroof
Not Available
Not Available
Leather Steering Wheel
Not Available
Optional
Woodgrain Interior Trim
Not Available
Not Available
Comfort Features
A/C
Standard
Standard
Rear A/C
Not Available
Not Available
Telematics
Not Available
Standard
Seat Memory
Not Available
Not Available
Seat-Massage
Not Available
Not Available
Keyless Entry
Standard
Standard
Keyless Start
Standard
Standard
Cruise Control
Standard
Standard
Multi-Zone A/C
Not Available
Not Available
Power Liftgate
Not Available
Standard
Climate Control
Standard
Standard
Head-Up Display
Not Available
Not Available
Power Mirror(s)
Standard
Standard
Automatic Parking
Not Available
Not Available
Navigation System
Not Available
Standard
Power Driver Seat
Not Available
Optional
Cooled Rear Seat(s)
Not Available
Not Available
Hands-Free Liftgate
Not Available
Not Available
Heated Rear Seat(s)
Not Available
Not Available
Remote Engine Start
Not Available
Standard
Cooled Front Seat(s)
Not Available
Not Available
Heated Front Seat(s)
Not Available
Optional
Power Passenger Seat
Not Available
Not Available
Remote Trunk Release
Not Available
Standard
Heated Steering Wheel
Not Available
Optional
Adaptive Cruise Control
Not Available
Not Available
Navigation from Telematics
Not Available
Not Available
Universal Garage Door Opener
Not Available
Not Available
Steering Wheel Audio Controls
Standard
Standard
Safety Features
ABS
Standard
Standard
Brake Assist
Standard
Not Available
Night Vision
Not Available
Not Available
Rear Parking Aid
Standard
Optional
Traction Control
Standard
Standard
Stability Control
Standard
Standard
Blind Spot Monitor
Standard
Optional
Cross-Traffic Alert
Not Available
Optional
Lane Keeping Assist
Standard
Standard
Tire Pressure Monitor
Standard
Standard
Lane Departure Warning
Standard
Standard
Airbags
Knee Air Bag
Standard
Standard
Driver Air Bag
Standard
Standard
Seatbelt Air Bag
Not Available
Not Available
Passenger Air Bag
Standard
Standard
Rear Head Air Bag
Standard
Not Available
Rear Side Air Bag
Standard
Not Available
Front Head Air Bag
Standard
Standard
Front Side Air Bag
Standard
Standard
Warranty
Basic
3 Years / 36,000 Miles
3 Years / 36,000 Miles
Corrosion
5 Years / Unlimited Miles
3 Years / 36,000 Miles
Drivetrain
5 Years / 60,000 Miles
Qualified Fleet Purchases: 5 Years/100,000 Miles
Maintenance
-
1 Year/1 Visit
Roadside Assistance
3 Years / Unlimited Miles
Qualified Fleet Purchases: 5 Years/100,000 Miles