The 2022 model year has brought some big changes to the Volvo lineup, especially in the wagons segment.
With Volvo shifting their attention to electric vehicles, the base Volvo V60 and Volvo V90 wagons have been discontinued. What we end up with instead is the Volvo V60 Recharge (a plug-in hybrid) and the V60 and V90 "Cross Country" models, that feature body cladding and a raised ride height compared to the vanilla V60/V90 models. Basically, Volvo is trying to give the boring old wagon a feeling of adventure you'd get from an SUV.
So when choosing between them, you have to first decide whether you want a plug-in hybrid or not, since only the V60 is available as a PHEV. Now assuming that's not going to be a deciding factor, let's consider how the two Volvo wagons differ across other aspects.
Quick Summary
Both Volvos are now only available in the SUV-lite "Cross Country" flavor, which is a shame for buyers who wanted the more engaging low ride height of a standard station wagon. The V60 is slightly smaller and less practical than its bigger sibling, the V90, but it is the only Volvo wagon that can be had as a plug-in hybrid.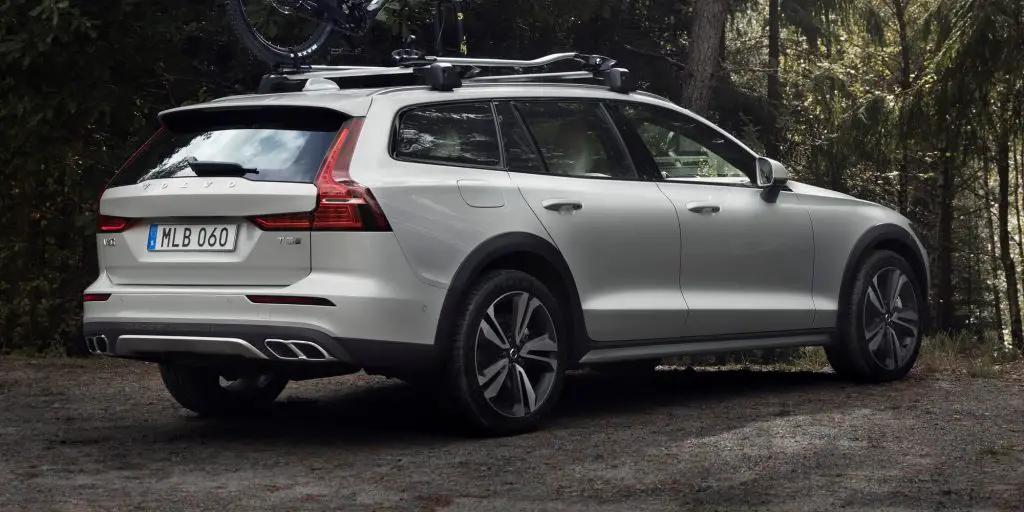 V60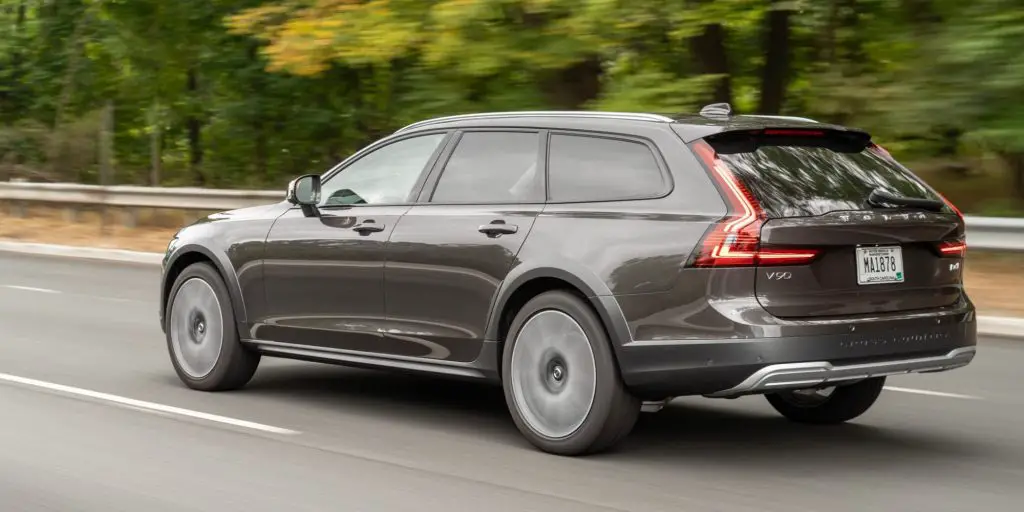 V90
Pricing
The Volvo V60 comes either as a gasoline "Cross Country" model with the T5 powertrain starting at $45,700, or as the Volvo V60 Recharge PHEV, starting at $67,300.
The V90 Cross Country is only available with the B6 mild-hybrid powertrain and starts at $55,200.
Exterior Styling
While both are classed as wagons, the V90 has a stronger hint of SUV in its build than the V60. The V90 has an extra 10 inches in height at 60.7 inches, and at 195.2 inches in length, it is at least 7 inches longer than any V60 model. These different dimensions help the V90 to look more SUV-like in its design.
At the front end, both the V60 and V90 models have a somewhat elongated trunk and all exhibit the more traditional or expected "boxy" Volvo looks that many people associate with the brand. While things like the light signature and front grille are quite similar in design, the rear-end of the V90 is a lot more pronounced and angular, which also makes it look more like an SUV.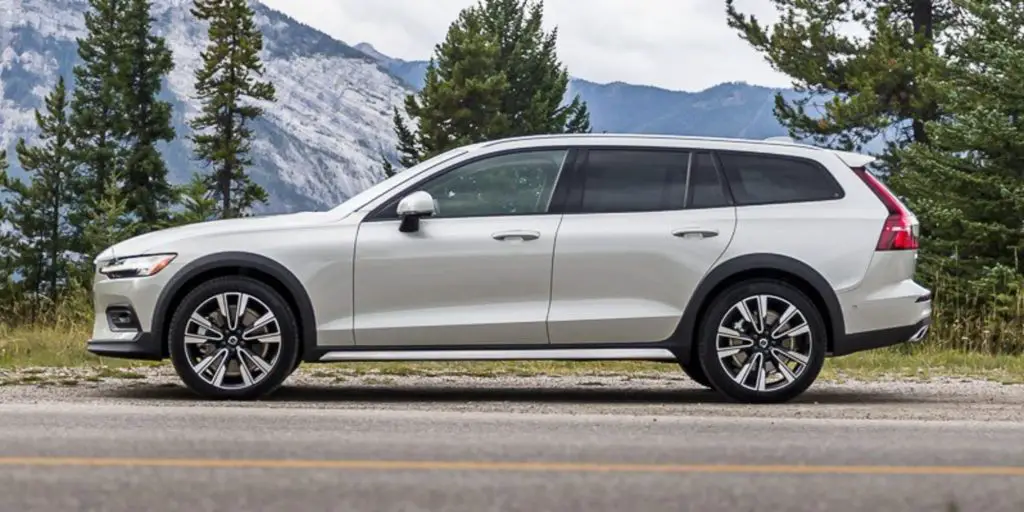 V60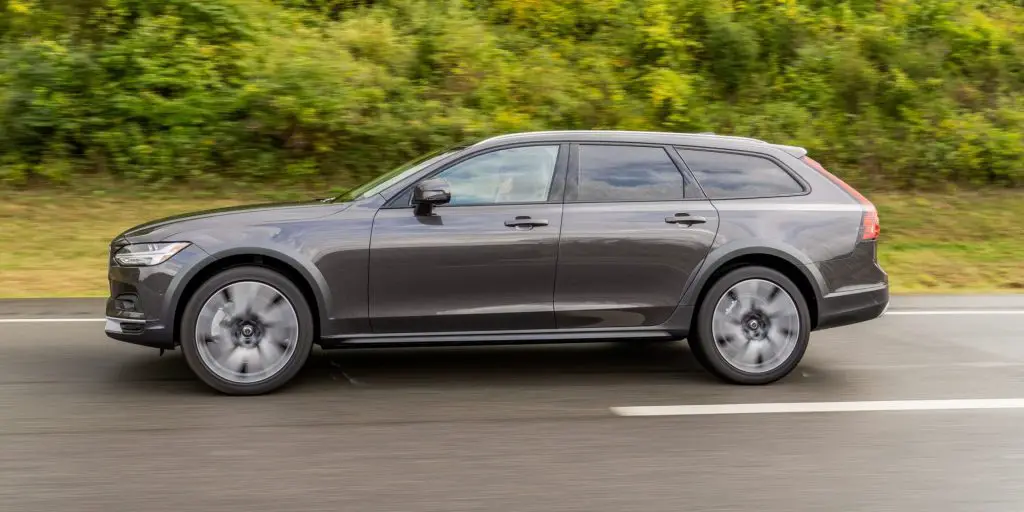 V90
Interior Styling
Where the V60 and V90 models come together is in their interior design. Volvo is perhaps second only to Mercedes-Benz for interior quality, and it spreads that Scandanavian quality equally across different models, especially in the new model years. It's hard to distinguish between the Volvo V60 Cross Country and V90 Cross Country models in this regard, and the same goes for the V60 Recharge.
Drivers get top-notch materials, two-tone leather options for the steering wheel, almost 36 inches of rear legroom, fine wood inlays, brushed metal detailing, optional driver seat massage, Nappa leather seats, an optional Bowers & Wilkins sound system, and a panoramic sunroof. When comparing the V60 and V90, as with many current Volvo models like the S60 and S90 they are based off, it's hard to find fault in any interior.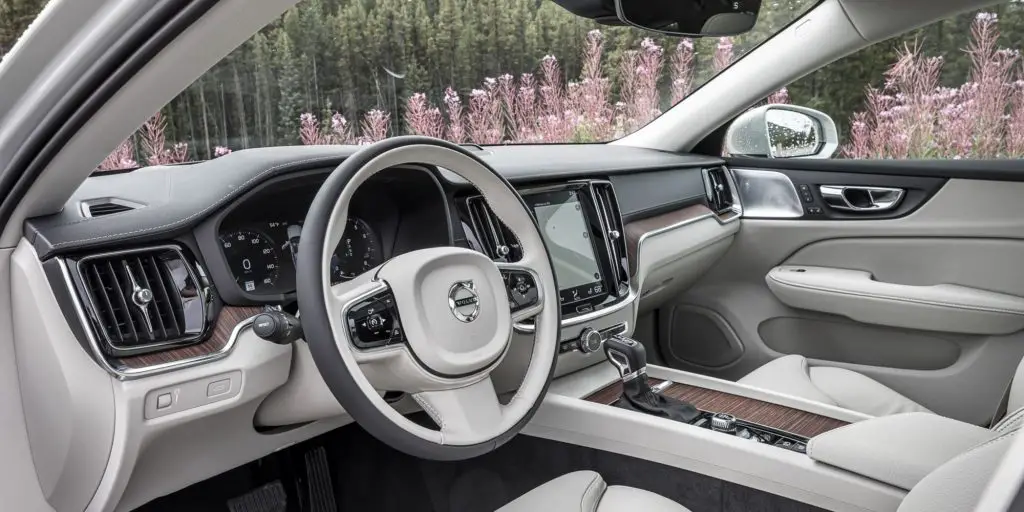 V60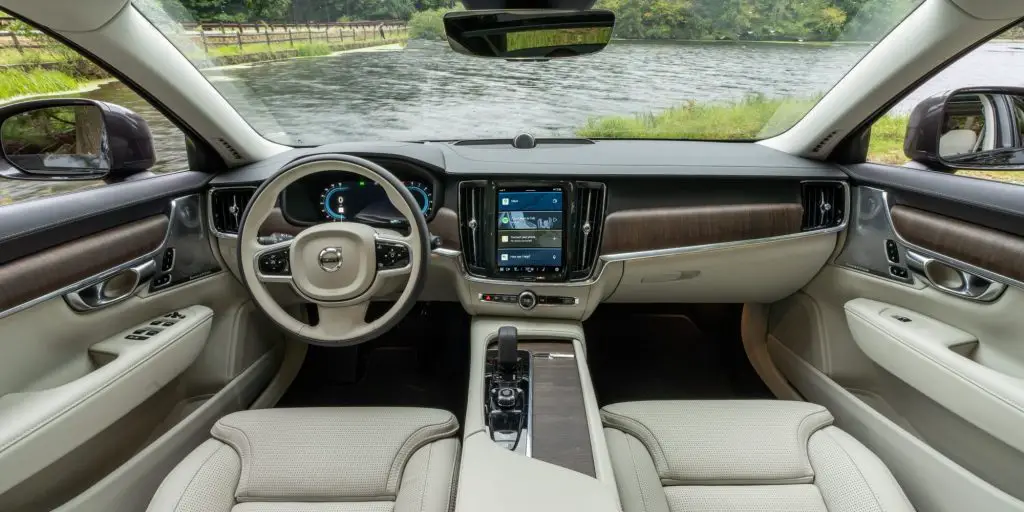 V90
Performance
The Cross Country models both work on the signature 2.0L 4-cylinder Volvo engine. But whereas the V60 Cross Country relies solely on gasoline and produces 250 horsepower, the V90 Cross Country benefits from a 48V mild hybrid system that bumps it up to 308 horsepower. The most expensive Volvo V60 PHEV trumps them all though, with a combined 415 horsepower. All of these wagons are all wheel drive as standard.
On the road, the V60 Cross Country manages to get from 0 to 60 mph in just 6.4 seconds, but the polestar T8-powered V60 PHEV Recharge rockets to 60mph in just 4.3 seconds. The Volvo V90 Cross Country can make the leap in just under 6 seconds, which is behind some of its luxury German rivals, but not at all bad for a wagon of its size.
Both the Volvo V60 and Volvo V90 feel responsive on corners, but the V90 has some advantages when it comes to braking. While the pedal feels a bit spongy, the V90 manages very strong braking, being able to stop from 70-mph in just 173 feet. The V60 has good brakes and can actually stop a bit shorter than that at 166 feet, but it's smaller and 200 pounds lighter in curb weight.
Both the V60 and V90 Cross Country also receive the special off-road drive mode, which offers features like hill descent control, advanced AWD settings and greater traction. The large wheels and 8.2 inches of ground clearance on both these models mean that they can handle just about any kind of terrain. It's not just a marketing gimmick, these are seriously capable wagons!
Comfort and Practicality
Both these Volvo cars seat up to 5 passengers. But being the bigger car, the Volvo V90 offers slightly more room for passengers in the front and rear seats. The most significant difference is 2 extra inches of hip room in the V90's rear seats compared to the V60.
According to the Volvo website's spec sheets, the V60 somehow offers a greater maximum cargo capacity at 60.5 cubic feet compared to just 53.9 cubic feet of cargo volume in the V90. This does seem odd, as the V90 should definitely have more room for cargo given its significantly bigger body.
When it comes to towing capacity, the V90 is rated more capable at 3,500-lbs, compared to just 2,000-lbs in both the V60 Cross Country T5 AWD and V60 T8 Polestar eAWD PHEV varieties.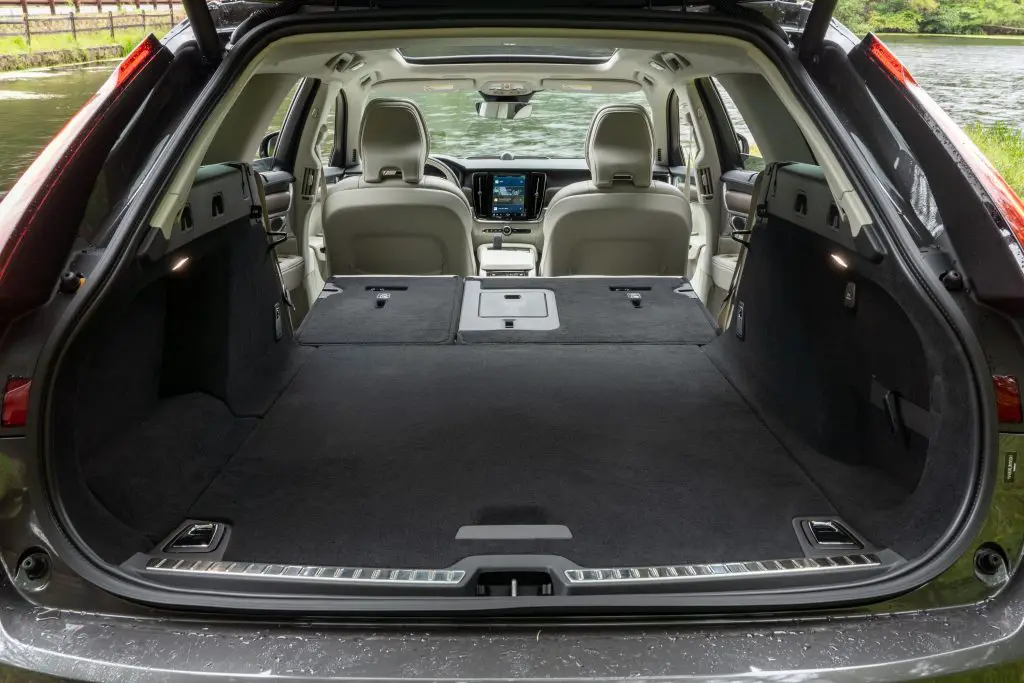 Fuel Economy
As for fuel economy, the V60 gets 22-mpg in the city, 31-mpg on the highway, and 25-mpg combined. The V90 has similar ratings of 22-mpg in the city, 29-mpg on the highway, and 25-mpg combined.
The plug-in hybrid Volvo V60 Recharge gets 69-MPGe rating from the EPA, and is naturally the most fuel-efficient vehicle of them all.
Technology & Features
The Volvo V60 is at something of a small disadvantage overall technologically because it has not yet been updated with the latest Google-powered systems. Where much of the Volvo range, including the V90 Cross Country, has upgraded from the older Sensus infotainment system to a Google-based infotainment system, the V60 remains with the older system in 2022.
Volvo's old Sensus system isn't "bad" per se, but it lacks the intuitiveness and snappiness of the newer Google tech. However, those not keen on Google's technology may appreciate actually prefer the fact that the V60 has foregone upgrading to the newer infotainment technology.
Hardware-wise, both are fitted with 12.3-inch digital instrument clusters, 9-inch central infotainment touchscreens, optional Bowers & Wilkins premium sound systems, a generous offering of ADAS and safety features, open and tilt panoramic roof, and a hands-free tailgate. There's also scope for a driver HUD, 360-degree parking camera, a 12V outlet in the cargo area, and advanced air filters removing up to 95 percent of harmful PM 2.5 particles with the Advanced package.
Safety
Volvo is typically generous on ADAS and safety features. The two models come with blind-spot information, collision avoidance measures including pedestrian detection, rear cross-traffic alert, adaptive cruise control and lane-keeping assistance as standard features.
Both models also maintain excellent safety ratings from the IIHS (top "G" rating) and internationally from Euro NCAP (5 Stars), carrying Volvo's long-held safety reputation forward into 2022 and beyond.
Key Rivals
Volvo once again finds itself challenging its German rivals in the luxury wagon market. The Audi A6 Allroad and Mercedes E-Class Wagon All Terrain are the most direct competitors to both of these Volvo station wagons, given their similarly adventurous image. They do cost substantially more, though.
Of course, you can't forget the bestselling Subaru Outback, which though not as luxurious, offers excellent performance and safety.
Finally, buyers who aren't deadset on a station wagon will want to consider the Volvo XC60/XC90 SUVs, which is certainly where the market seems to be flocking to. Just be aware that you won't get the same satisfaction driving them as you would a wagon.
Volvo V60 vs Volvo V90: Verdict
If you're in the market for a wagon, then these two wagons are both tempting offerings. It's great that the V60 comes with an optional PHEV powertrain, as that gives some flexibility to those who want the power and performance but also some electrical element that's good for city driving. The V90 is larger but maintains decent fuel economy for a car of its size, even comparable to smaller models like the V60.
The V60 is surprisingly more cargo-friendly, and therefore more practical in that sense, but you get a more spacious interior on the V90, and yet actually both offer about equal rear legroom. As for styling, the V90 is a bit more SUV-like in its design, and that could be a positive for many people who want a wagon but not for everyone to immediately know that it's a wagon.
Buyers have a lot to think about. Those in need of a stronger plug-in hybrid have no choice but to go for V60. Those wanting a bit more size and road presence should go for the V90.
Comparison Table
2022 Volvo V60 Cross Country
2022 Volvo V90 Cross Country
Trim
Price
$45700
$55200
Performance
Engine
2.0L Turbo Inline-4 Gas
2.0L Turbo Inline-4 Gas
Horsepower
250 hp @ 5500 rpm
295 hp @ 5400 rpm
Torque
258 lb-ft @ 1500 rpm
310 lb-ft @ 2100 rpm
Transmission
8-Speed Automatic
8-Speed Automatic
Drivetrain
All-Wheel Drive
All-Wheel Drive
Handling
Steering Type
Rack-Pinion
Rack-Pinion
Rear Suspension
Multi-Link
Multi-Link
Rear Wheel Size
P215/55VR18
P235/50VR19
Front Suspension
Double Wishbone
Double Wishbone
Front Wheel Size
P215/55VR18
P235/50VR19
Turning Diameter (ft.)
37.1
39.4
Fuel Economy
MPG/MPGe - Hwy
31
29
MPG/MPGe - City
22
22
MPG/MPGe - Combined
25
25
Gas Tank Size (gallons)
15.9
15.9
Cruising Range - Hwy (miles)
492.9
461.1
Size and Weight
Height (in.)
59.2
60.7
Length (in.)
188.3
195.2
Weight (lbs)
4031
4213
Max Width (in.)
72.8
75.9
Wheelbase (in.)
113.2
115.8
Interior Dimensions
Seating Capacity
5
5
Front Seat Leg Room (in.)
42.3
42.2
Front Seat Head Room (in.)
37.4
38.7
Front Seat Hip Room (in.)
55.3
56.4
Front Seat Shoulder Room (in.)
56.1
57.5
Rear Seat Leg room (in.)
35.2
35.9
Rear Seat Head Room (in.)
38.1
38.0
Rear Seat Hip Room (in.)
53.4
55.7
Rear Seat Shoulder Room (in.)
54.5
55.9
Infotainment Features
HD Radio
Standard
Not Available
MP3 Player
Standard
Standard
WiFi Hotspot
Standard
Standard
Satellite Radio
Standard
Standard
Bluetooth Connection
Standard
Standard
Entertainment System
Not Available
Not Available
Premium Sound System
Optional
Optional
Auxiliary Audio Input
Standard
Standard
Smart Device Integration
Not Available
Standard
Hard Disk Drive Media Storage
Not Available
Standard
Interior Trim
Cloth Seats
Standard
Standard
Vinyl Seats
Standard
Standard
Leather Seats
Standard
Standard
Premium Synthetic Seats
Standard
Standard
Bucket Seats
Standard
Standard
Sun/Moonroof
Standard
Standard
Leather Steering Wheel
Standard
Standard
Woodgrain Interior Trim
Not Available
Standard
Comfort Features
A/C
Standard
Standard
Rear A/C
Optional
Optional
Telematics
Standard
Standard
Seat Memory
Standard
Standard
Seat-Massage
Optional
Optional
Keyless Entry
Standard
Standard
Keyless Start
Standard
Standard
Cruise Control
Standard
Standard
Multi-Zone A/C
Standard
Standard
Power Liftgate
Optional
Optional
Climate Control
Standard
Standard
Head-Up Display
Optional
Optional
Power Mirror(s)
Standard
Standard
Automatic Parking
Optional
Not Available
Navigation System
Standard
Standard
Power Driver Seat
Standard
Standard
Cooled Rear Seat(s)
Not Available
Not Available
Hands-Free Liftgate
Optional
Optional
Heated Rear Seat(s)
Optional
Optional
Remote Engine Start
Standard
Standard
Cooled Front Seat(s)
Optional
Not Available
Heated Front Seat(s)
Standard
Standard
Power Passenger Seat
Standard
Standard
Remote Trunk Release
Standard
Optional
Heated Steering Wheel
Optional
Optional
Adaptive Cruise Control
Optional
Standard
Navigation from Telematics
Not Available
Not Available
Universal Garage Door Opener
Standard
Standard
Steering Wheel Audio Controls
Standard
Standard
Safety Features
ABS
Standard
Standard
Brake Assist
Standard
Standard
Night Vision
Not Available
Not Available
Rear Parking Aid
Standard
Standard
Traction Control
Standard
Standard
Stability Control
Standard
Standard
Blind Spot Monitor
Standard
Standard
Cross-Traffic Alert
Not Available
Not Available
Lane Keeping Assist
Standard
Standard
Tire Pressure Monitor
Standard
Standard
Lane Departure Warning
Standard
Standard
Airbags
Knee Air Bag
Standard
Standard
Driver Air Bag
Standard
Standard
Seatbelt Air Bag
Not Available
Not Available
Passenger Air Bag
Standard
Standard
Rear Head Air Bag
Standard
Standard
Rear Side Air Bag
Not Available
Not Available
Front Head Air Bag
Standard
Standard
Front Side Air Bag
Standard
Standard
Warranty
Basic
4 Years / 50,000 Miles
4 Years / 50,000 Miles
Corrosion
12 Years / Unlimited Miles
12 Years / Unlimited Miles
Drivetrain
4 Years / 50,000 Miles
4 Years / 50,000 Miles
Maintenance
3 Years / 36,000 Miles
3 Years / 36,000 Miles
Roadside Assistance
4 Years / Unlimited Miles
4 Years / Unlimited Miles