Volvo crossover SUVs have gained a reputation for refinement, safety, and reliability. They're often pitted against various German rivals, but if you've already decided on buying a new Volvo, you'll have to make the difficult choice between the Volvo XC40, XC60, and XC90.
For many, the subcompact XC40 is too small, leaving behind the Volvo XC60 and Volvo XC90. Unsurprisingly, the Volvo XC90 is the bigger and more powerful Volvo SUV, but with the Volvo XC60 offering ample room for the average family, the decision isn't a straightforward one. In this Volvo XC60 vs Volvo XC90 comparison, we'll be comparing the two models across multiple aspects.
Quick Summary
Key differences lie in price and size. The Volvo XC90 is a bigger midsize SUV that offers room for up to seven passengers, whereas the compact XC60 can only accommodate 5. Because the smaller XC60 offers equal engine horsepower, it's a bit more exciting and engaging to drive.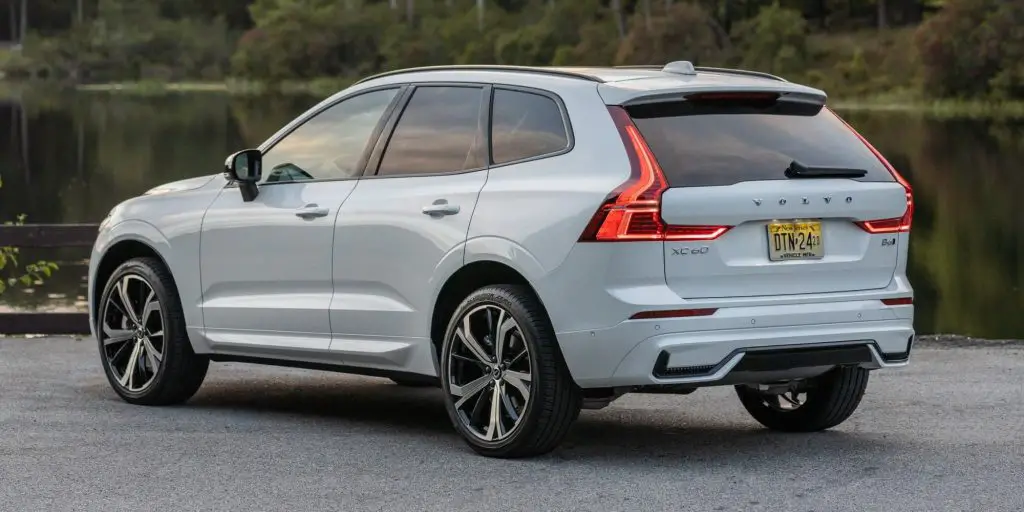 XC60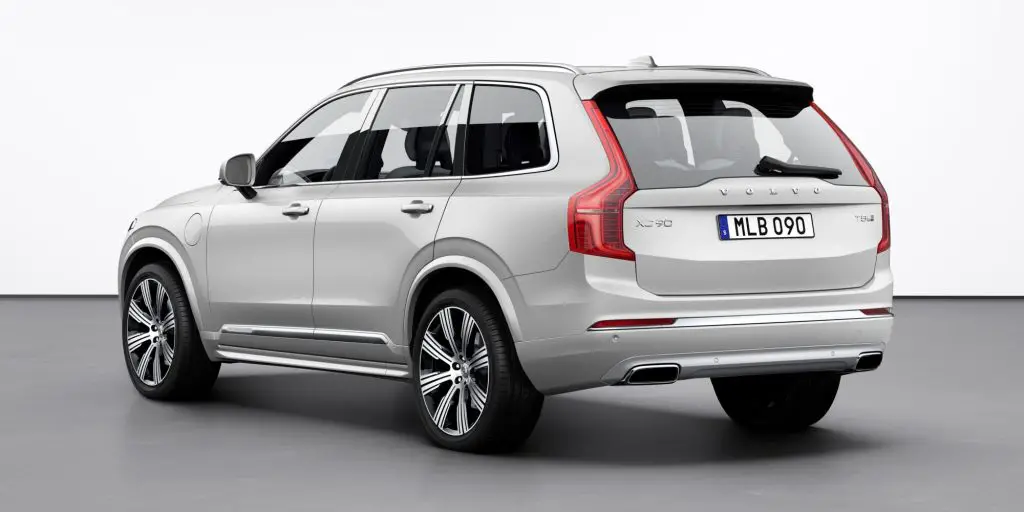 XC90
Hybrid Overload
Before we dive into our comparison, it's important to get comfortable with some hybrid terminology. Volvo has made the pledge to sell 50% fully electric vehicles by 2025, and is charging ahead (pun ahead) with the electrification of its vehicles.
Only the Volvo XC40 has a pure electric form (XC40 electric recharge), but Volvo is heavily pushing the plug-in hybrid XC60 and XC90 models for new buyers.
In fact, only the Volvo XC90 has a pure old-school gasoline model, and for most buyers, it's a good idea to make the switch to hybrid now if you haven't already.
The Volvo XC60 either comes as a 'mild-hybrid' (think Toyota Prius) or a plug-in hybrid. No pure gasoline model is available.
Pricing
The Volvo XC60 mild-hybrid versions begin at $42,650 as a manufacturer's suggested retail price (MSRP). The Volvo XC60 Recharge plug-in hybrid with the T8 powertrain starts at $54,250.
For the Volvo XC90, the gasoline versions begin at $49,900, whereas the plug-in hybrid version – XC90 Recharge – starts at $63,800.
All in all, expect to pay around $7000-$10000 more for the Volvo XC90.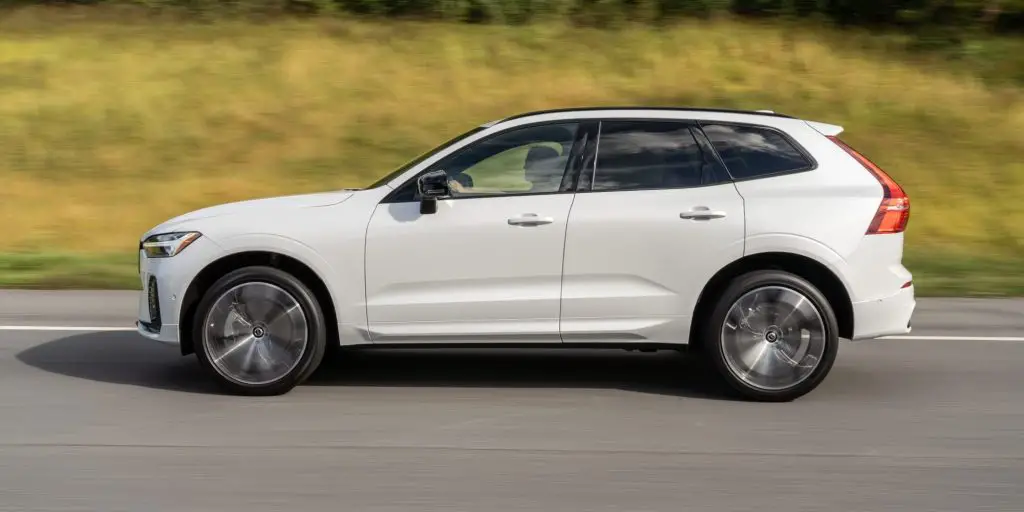 XC60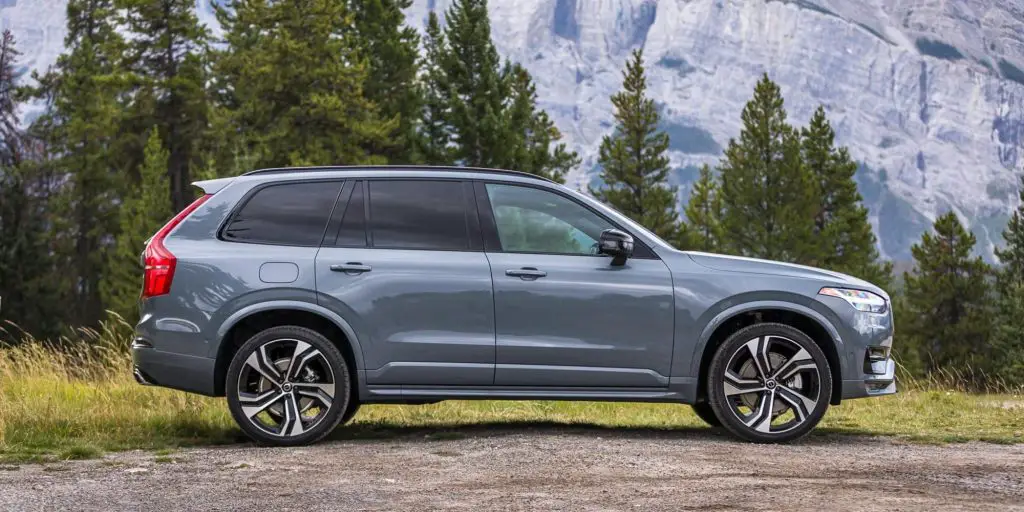 XC90
Exterior Styling
On the exterior, the most noticeable difference is the size. The Volvo XC90 is built to carry up to 7 people compared to 5 in the Volvo XC60, so it's not surprising that the exterior dimensions are different. The XC90 is 4.6 inches taller at 69.9 inches, and 10.4 inches longer at 195 inches. It's also an inch wider, and its 117.5-inch wheelbase is almost 5 inches longer than the XC60.
Besides the dimensions, both SUVs are designed in quite a similar fashion. They retain some of the signature straight edges and boxy dimensions you might expect on a Volvo but with more curvature and rounding than the smaller XC40 Volvo SUV. The front-end LED light signature, for instance, is the same, and the front grilles also look similar. There is some difference in the design of the bumper and intakes, however. What's more, at the rear end, the Volvo XC60 has a more pronounced slope giving it a slightly sportier look than the XC90.
Related: Volvo XC40 vs XC60
Interior Styling
On the inside, the Volvo XC90 features a third seating row, but it's not a great fit for adult passengers. Having said that, it's better than many third-row options from competing models. Both feature at least two rows of comfortable adult-friendly seating, though, which is typically enough for a family car. The third row is fine for kids and young teens, or simply fold the seats and use the extra cargo space.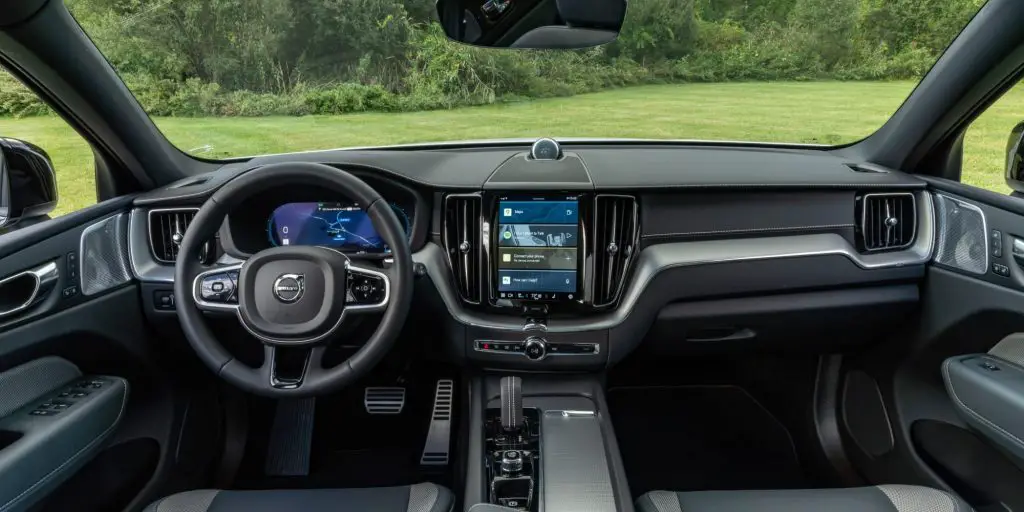 XC60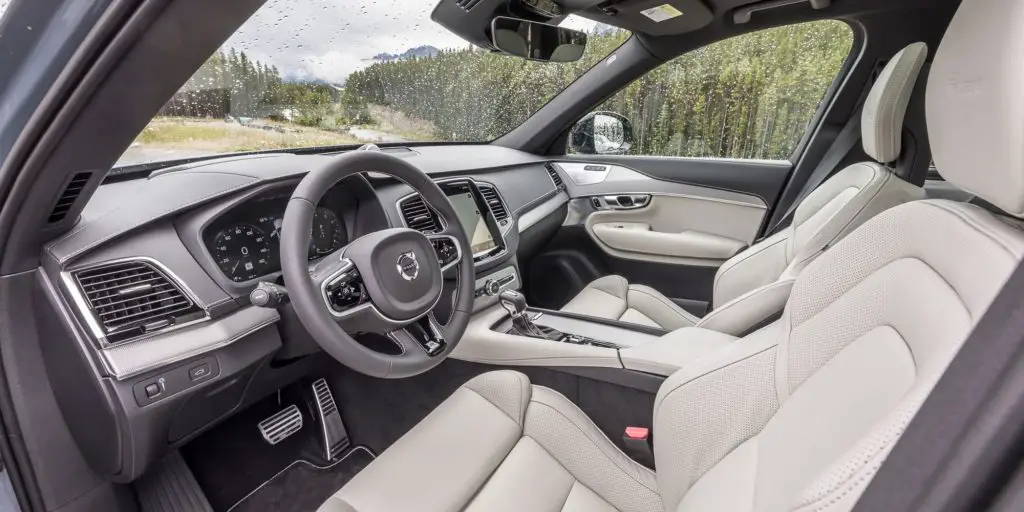 XC90
Where the two are quite evenly matched is in their interior materials. The XC90 may appear to be a step up, but the fact is that Volvo haven's skimped on anything in either XC60 or XC90. The high-quality materials are found in every corner, with no cheap plastic in sight. Fine details abound, from the crystal gear shift, the wood inlays on the dash, and piano black finishes around the technology, to the installation of top-notch gear like a premium sound system (more below).
Performance
The main engine in all XC60 and XC90 models is Volvo's 2.0L inline-4 unit but tweaked in different ways. First, the B5 and B6 powertrains in the XC60 work with a 48-volt mild-hybrid system generating 247-hp and 295-hp respectively. Both are paired with 8-speed automatic transmissions, with both front wheel drive (FWD) and all wheel drive (AWD) drivetrains available. The more powerful T8 plug-in hybrid powertrain is boosted by dual electric motors delivering 415-hp combined and an AWD drivetrain.
The XC90 also has 3 available powertrains. First, there's the T5 which delivers up to 250-hp and is turbocharged paired with a FWD drivetrain (AWD also optional). Next, there's the T6 that offers an up to 316-hp turbocharged system. Finally, there's the T8 plug-in hybrid getting up to 400-hp. All these are paired with an 8-speed automatic transmission.
On the road, the addition of optional air suspension in the XC90 makes an extremely quiet and comfortable ride only susceptible to very harsh bumps in the road. The XC60 is the more exciting to drive of the two, and handles itself well on the road, perhaps better than Volvo cars are given credit for. Having said that, it's no sports car and doesn't like being thrown about the road.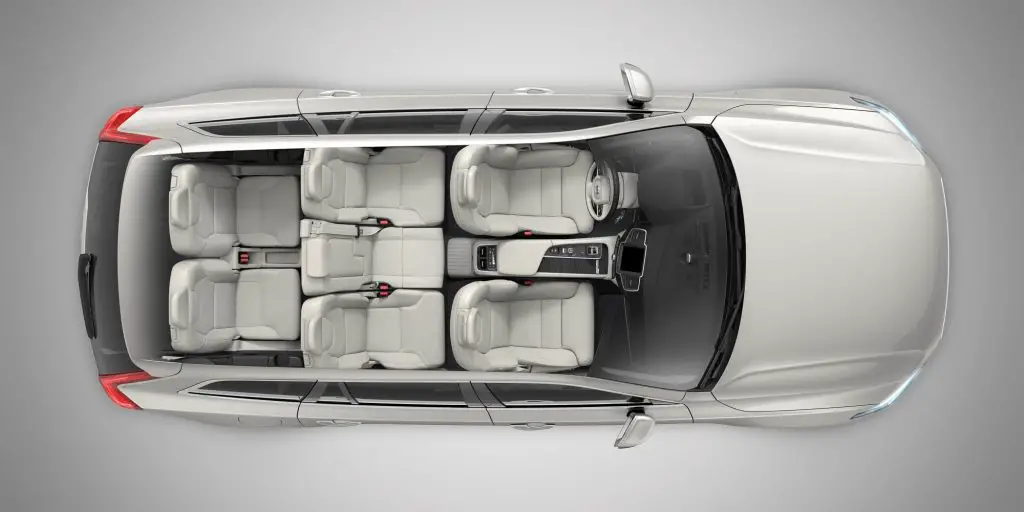 Fuel Economy
The Volvo XC60 mild-hybrid versions can get about 23-mpg in the city, 30-mpg on the highway and a combined rating of 26-mpg. The small electric motor helps, but it's hardly groundbreaking. The T8 plug-in hybrid gets a much better 57-MPGe, and has an electric-only range of 19 miles.
The Volvo XC90 gasoline versions get about 21-mpg in the city, 30-mpg on the highway, and 25-mpg combined. Surprisingly, that's very close to the XC60's fuel efficiency. The plug-in hybrid gets 55-MPGe and has up to 18 miles electric range.
Charging Time For Plug-In Hybrid Variants
When it comes to charging for the plug-in hybrids, they're based on the same basic powertrain so charging times are very similar. You can charge it fully overnight with a level-1 120-volt charging system that's normally factory issued. A home wall box with level-2 charging should complete a full charge in under 4 hours. There's no option for DC fast charging.
Practicality
For storage and cargo, both models are somewhat disappointing in their interior storage cubbies. Many owners reveal that cubby space is surprisingly limited, which for the XC90 is a particular blow as the larger of the two vehicles.
For maximum cargo capacity, however, the XC90 offers far more at 85.7 cubic feet compared to just 63.3 on the XC60. It can also tow up to 4,000-lbs compared to just 3,500-lbs on the XC60. The increased space for passengers and cargo is perhaps the biggest differentiator between the XC60 and XC90 Volvo SUVs.
Technology & Key Features
Volvo doesn't tend to discriminate when it comes to technology offerings in their new models. All XC60 and XC90 models come loaded with their new infotainment system powered by Google technology. The buttons are a little fiddly on-screen while driving, but the system itself is very intuitive and easy to use.
Both get the optional benefit of a Bowers & Wilkins premium sound system, as well as access to "Hey, Google" voice commands to access the many Google services for navigation and entertainment. Each is fitted with a 12.3-inch customizable digital instrument cluster offering a flawless display of all drive, navigation and other info, and there's also a large vertically oriented central infotainment touchscreen.
Safety Features
Volvo also doesn't discriminate when it comes to ADAS and safety technology. The packages are very similar on both XC60 and XC90 models, including collision avoidance, 360-degree parking camera, blind-spot monitoring, rear cross-traffic alert, adaptive cruise control, and lane-keep assist.
Key Rivals
The Volvo XC60 faces some stiff German competition in the Mercedes GLC, Audi Q5 and BMW X3. Other recommended vehicles include comparable Japanese luxury SUVs, such as the Acura RDX and all-new Lexus NX.
As the Volvo XC90 SUV exists in the bigger size segment, it competes directly with the Mercedes GLE, Audi Q7, and BMW X5.
Volvo XC60 vs XC90: Verdict
It's hard to declare one of these models an outright winner when they have such different things to offer. The Volvo XC60 is smaller but more dynamic and fun to drive compared to the smoother, more balanced, and calm ride of the XC90. Which luxury SUV is better is more a question of personal taste. The interiors are well-matched, with nothing to really set either apart.
For more comfortable rear seats and increased cargo capacity, one would naturally go with the XC90, but neither has a more practical advantage in fuel economy or even electric range. On top of that, they're equally furnished with technology and ADAS features, so in the end, the result has to be: choose the XC60 for a more enjoyable drive, but choose the XC90 for the added size and space.
Comparison Table
2022 Volvo XC60
2022 Volvo XC90
Trim
Price
$42650
$49900
Performance
Engine
2.0L Turbo Inline-4 Gas
2.0L Turbo Inline-4 Gas
Horsepower
247 hp @ 5400 rpm
250 hp @ 5500 rpm
Torque
258 lb-ft @ 1800 rpm
258 lb-ft @ 1500 rpm
Transmission
8-Speed Automatic
8-Speed Automatic
Drivetrain
Front-Wheel Drive
Front-Wheel Drive
Handling
Steering Type
Rack-Pinion
Rack-Pinion
Rear Suspension
Multi-Link
Multi-Link
Rear Wheel Size
P235/60HR18
P235/55HR19
Front Suspension
Double Wishbone
Double Wishbone
Front Wheel Size
P235/60HR18
P235/55HR19
Turning Diameter (ft.)
37.4
39.7
Fuel Economy
MPG/MPGe - Hwy
30
30
MPG/MPGe - City
23
21
MPG/MPGe - Combined
26
25
Gas Tank Size (gallons)
18.8
18.8
Cruising Range - Hwy (miles)
564.0
564.0
Size and Weight
Height (in.)
65.3
69.9
Length (in.)
184.6
194.9
Weight (lbs)
4008
4374
Max Width (in.)
74.9
79.1
Wheelbase (in.)
112.8
117.5
Interior Dimensions
Seating Capacity
5
7
Front Seat Leg Room (in.)
41.5
40.9
Front Seat Head Room (in.)
38.0
38.9
Front Seat Hip Room (in.)
56.4
56.0
Front Seat Shoulder Room (in.)
58.2
57.7
Rear Seat Leg room (in.)
38.0
37.0
Rear Seat Head Room (in.)
38.0
38.5
Rear Seat Hip Room (in.)
55.4
56.5
Rear Seat Shoulder Room (in.)
56.3
56.5
Third Row Leg Room (in.)
-
31.9
Third Row Head Room (in.)
-
36.3
Third Row Hip Room (in.)
-
44.9
Third Row Shoulder Room (in.)
-
46.9
Infotainment Features
HD Radio
Standard
Standard
MP3 Player
Standard
Standard
WiFi Hotspot
Standard
Standard
Satellite Radio
Not Available
Standard
Bluetooth Connection
Standard
Standard
Entertainment System
Not Available
Not Available
Premium Sound System
Optional
Optional
Auxiliary Audio Input
Standard
Standard
Smart Device Integration
Not Available
Standard
Hard Disk Drive Media Storage
Not Available
Not Available
Interior Trim
Cloth Seats
Standard
Standard
Vinyl Seats
Standard
Standard
Leather Seats
Standard
Standard
Premium Synthetic Seats
Standard
Standard
Bucket Seats
Standard
Standard
Sun/Moonroof
Standard
Standard
Leather Steering Wheel
Not Available
Standard
Woodgrain Interior Trim
Not Available
Not Available
Comfort Features
A/C
Standard
Standard
Rear A/C
Not Available
Standard
Telematics
Standard
Standard
Seat Memory
Standard
Standard
Seat-Massage
Not Available
Not Available
Keyless Entry
Standard
Standard
Keyless Start
Standard
Standard
Cruise Control
Standard
Standard
Multi-Zone A/C
Standard
Standard
Power Liftgate
Optional
Not Available
Climate Control
Standard
Standard
Head-Up Display
Optional
Optional
Power Mirror(s)
Standard
Standard
Automatic Parking
Not Available
Optional
Navigation System
Not Available
Standard
Power Driver Seat
Standard
Standard
Cooled Rear Seat(s)
Not Available
Not Available
Hands-Free Liftgate
Not Available
Not Available
Heated Rear Seat(s)
Optional
Optional
Remote Engine Start
Standard
Standard
Cooled Front Seat(s)
Not Available
Not Available
Heated Front Seat(s)
Optional
Optional
Power Passenger Seat
Standard
Standard
Remote Trunk Release
Standard
Not Available
Heated Steering Wheel
Optional
Optional
Adaptive Cruise Control
Optional
Standard
Navigation from Telematics
Not Available
Not Available
Universal Garage Door Opener
Standard
Standard
Steering Wheel Audio Controls
Standard
Standard
Safety Features
ABS
Standard
Standard
Brake Assist
Standard
Standard
Night Vision
Not Available
Not Available
Rear Parking Aid
Standard
Standard
Traction Control
Standard
Standard
Stability Control
Standard
Standard
Blind Spot Monitor
Standard
Standard
Cross-Traffic Alert
Not Available
Not Available
Lane Keeping Assist
Standard
Standard
Tire Pressure Monitor
Standard
Standard
Lane Departure Warning
Standard
Standard
Airbags
Knee Air Bag
Standard
Standard
Driver Air Bag
Standard
Standard
Seatbelt Air Bag
Not Available
Not Available
Passenger Air Bag
Standard
Standard
Rear Head Air Bag
Standard
Standard
Rear Side Air Bag
Not Available
Not Available
Front Head Air Bag
Standard
Standard
Front Side Air Bag
Standard
Standard
Warranty
Basic
4 Years / 50,000 Miles
4 Years / 50,000 Miles
Corrosion
12 Years / Unlimited Miles
12 Years / Unlimited Miles
Drivetrain
4 Years / 50,000 Miles
4 Years / 50,000 Miles
Maintenance
3 Years / 36,000 Miles
3 Years / 36,000 Miles
Roadside Assistance
4 Years / Unlimited Miles
4 Years / Unlimited Miles