The Volvo brand has associated itself with reliability and safety while offering a level of luxury that competes with Germany's Big Three automakers. Today, the Swedish car manufacturer is charging ahead (pun intended) with the electrification of its range, providing more choice for buyers than the likes of Audi and BMW who lag behind.
Two of the best-selling Volvo SUVs are the XC40 and XC60. In this comparison, we take a closer look at how these two Volvo SUVs compare across various aspects.
Quick Summary
The Volvo XC60 is larger and more practical than the compact, entry-level Volvo XC40. However, the Volvo XC40 is available as a fully electric BEV, whereas the XC60 is only offered either as a mild-hybrid or plug in hybrid vehicle (PHEV). Therefore, the decision will chiefly boil down to sizing needs and engine type preferences.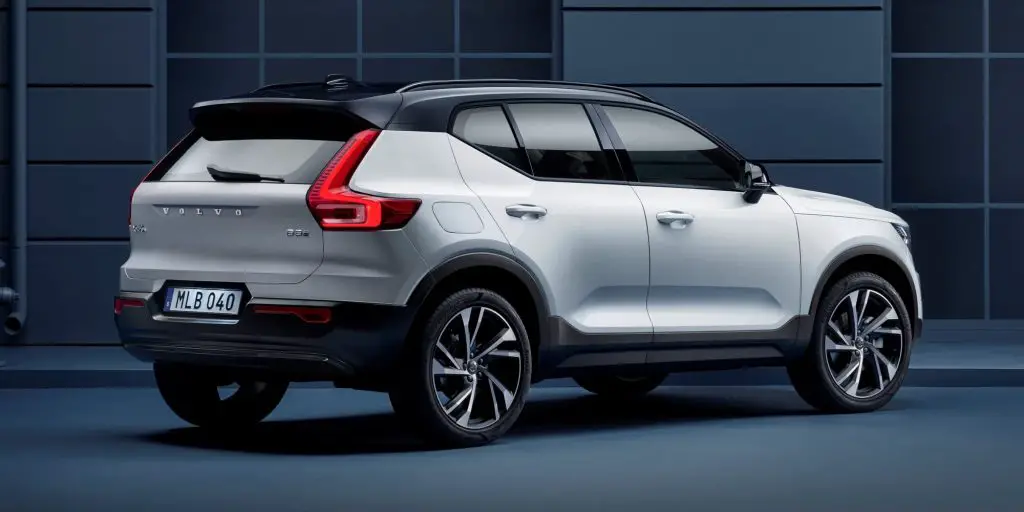 XC40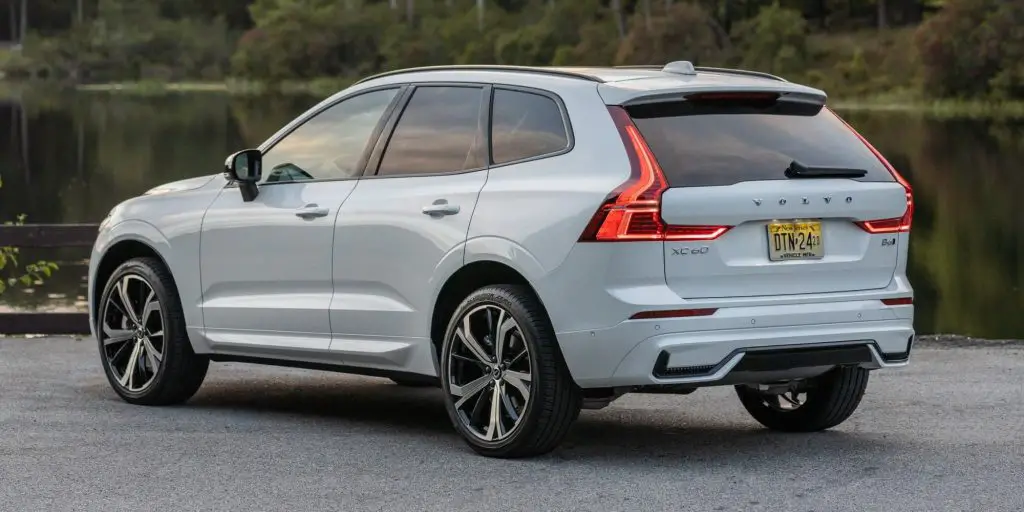 XC60
Pricing
A new Volvo XC40 equipped with a gasoline engine starts from $34,100, and the pure electric (BEV) model called the "XC40 Recharge" starts from $55,300.
As for the Volvo XC60, it's available as a mild-hybrid version starting at $42,650, as well as a plug-in hybrid version starting at $54,250.
The gasoline XC40 is therefore the most budget-friendly from the beginning, but savings made from buying an electric or hybrid version will help to offset that price difference over time.
Exterior Styling
The Volvo design DNA in each of these SUVs is unmistakable, both exhibiting the modernized, softened, and boxy signature Volvo shape. There are clean lines, fine details, and a strong, imposing presence created by each model.
Classed as a subcompact crossover SUV, the Volvo XC40 is definitely smaller, with a wheelbase 6-inches shorter and a total length 10 inches shorter, but the difference is less pronounced in their width (just 1 inch between them) and there's no difference in their height. The longer wheelbase gives the Volvo XC60 compact SUV more interior space, and about 2 inches more legroom in the rear seats.
In other exterior styling points, the two share many similarities, including a very similar headlight design, and a similar-sized front grille. The Volvo XC60, however, is noticeably longer and the front end droops for a sleeker, sportier look.
Interior Styling
On the inside, both offer high-end design points and luxurious finishes, but the more expensive Volvo XC60 edges out the Volvo XC40. The latter lacks the same level of sophistication and flair and you have to go for the top-of-the-line Inscription trim level to get the very finest detail that rivals the Volvo XC60, such as the Orrefors crystal shifter.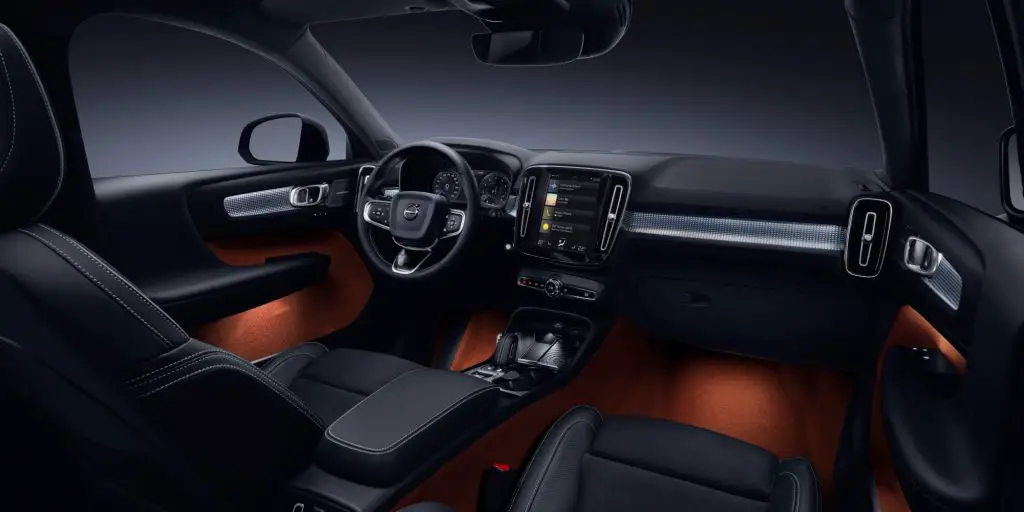 XC40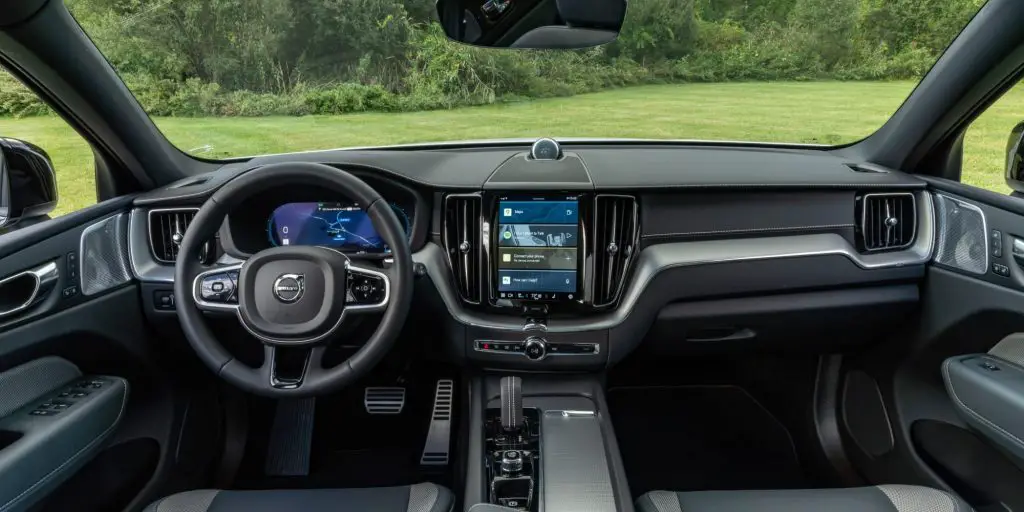 XC60
Performance
The gas Volvo XC40 is powered by a 2.0L 4-cylinder engine getting up to 248 horsepower if you choose the T5 engine. The base T4 engine produces up to 184 horsepower, and all powertrains are paired with an 8-speed automatic transmission.
The electric Volvo XC40 runs on a 75kWh battery powering 2 electric motors that together output more than 400 horsepower and offer a range of 223 miles in a single charge. Volvo is one of the few luxury SUV manufacturers that have really focused on giving their electrified vehicles special treatment, and the fully electric recharge powertrain you get with the electric Volvo XC40 simply performs better than the gas-powered variant.
Meanwhile, the Volvo XC60 offers 3 powertrains in total. The mild-hybrid B5 and B6 editions with 2.0L 4-liter engines that charge a 48V small battery, and the T8 plug-in hybrid system.
All are paired with an 8-speed automatic transmission and the PHEV T8 is the most powerful with a 400 horsepower output in total. The PHEV T8 hybrid system only offers 19 miles of pure electric range, which is fairly low by market standards, but enough for short trips in EV only mode.
Both SUVs perform well on the road, offering a quiet and comfortable ride, with excellent handling and cornering abilities. The main downside is on the gasoline Volvo XC40 when put under heavy throttle. The noise from the XC40 internal combustion engine can be a bit much when accelerating hard, but since most users will buy this SUV for city driving, it's not a huge issue.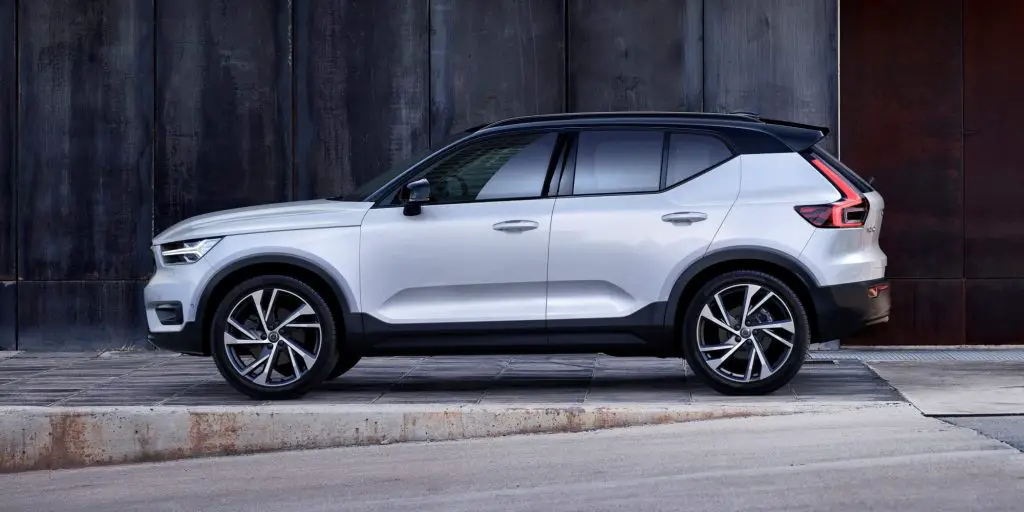 XC40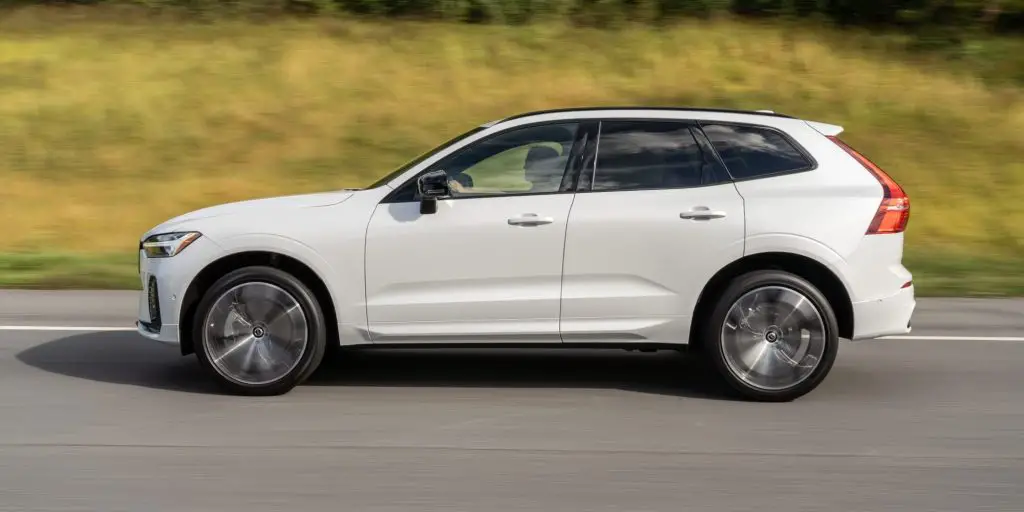 XC60
Practicality
When it comes to cargo space, the Volvo XC40 is smaller but still offers 57.5 cubic feet of cargo space, but the Volvo XC60 does better with a maximum cargo capacity of 63.3 cubic feet. Both share a seating capacity of 5 and a towing capacity of 3,500 lbs.
Next, let's look at charging times for the plug-in models. The XC40 Recharge is a pure electric model with a large 75kWh battery capacity, so a full charge on a home wallbox can take anywhere from 8-10 hours depending on the output. If using a DC fast charger however, it can go from 10 to 80 percent in just 37 minutes. The XC60 plug-in hybrid has a smaller capacity and can charge overnight fully using a level-1 1200-volt charger, but a wallbox charger should do it in about 4 hours. The bad news is that you can't use DC fast charging.
Fuel Economy
The gasoline Volvo XC40 gets 22-mpg in the city and 30-mpg on the highway and the electric version up to 223 miles in a single full charge. Both are fairly competitive in their class.
The Volvo XC60 gets the same 22-mpg in the city, but only 28-mpg on the highway. That drops to 21-mpg and 27-mpg respectively if you upgrade to the B6 powertrain. The PHEV model gets 27-mpg on hybrid mode only, but 57 mpg-e if the battery is kept fully charged and electric-only mode allowed to be used.
Technology & Features
Volvo is quite generous with tech features in all these XC40 and XC60 models. You can get wireless charging, premium sound systems, climate control and pre-setting, a full set of ADAS features, and easy smartphone integration. Only the most luxurious features, such as heated rear seats and backrest massage front seats are exclusive to the XC60.
Another thing to keep in mind is that the Volvo XC60 also features more integrated Google digital services including Google Assistant, Google Maps, Google Play, and more. You only get the Google features on the more expensive electric Volvo XC40 Recharge model.
On the outside, both Volvo SUVs are packed with standard features, including a power liftgate, tinted rear windows, auto-dimming sideview mirrors, and LED headlights with active bending.
Safety
The XC40 and XC60 models are quite evenly matched when it comes to safety features. Both safety systems are fitted with blind-spot monitoring, collision avoidance technology with pedestrian detection, rear cross-traffic alert, auto-braking when turning across oncoming traffic where risk is detected, lane centering, and a 360-degree parking camera to help make parking easier.
In addition, both have received excellent ratings from IIHS, Euro NCAP, and other safety organizations in crash testing.
Key Rivals
The Volvo XC40 competes in the luxury subcompact SUV segment, while the bigger Volvo XC60 is pitted against larger SUVs. Therefore, comparing the XC40 vs XC60 is the Volvo equivalent to comparing Audi Q3 vs Q5, BMW X1 vs X3, and Mercedes GLA vs GLC.
Volvo XC40 vs XC60: Verdict
The question of Volvo XC40 vs. XC60 is complicated because of the range of options. Both have gasoline and electric options, but they come in different forms. All of it really means that the only way to be sure about which is best is to look at the individual needs of the drivers who might buy them.
For instance, those driving in the city looking for more efficient fuel usage will benefit most from the XC40 Recharge BEV or the XC60 Recharge PHEV. Those who want to travel a lot on highways will benefit from the gasoline Volvo XC40 and the mild-hybrid Volvo XC60 and their more reliable range and efficiency.
Finally, if you rule out the subcompact XC40 for being too small for your needs, you might want to also consider Volvo's largest SUV offering, the Volvo XC90. You can read our Volvo XC60 vs Volvo XC90 comparison for more details.
In any case, the best way to decide between the two is to visit your local Volvo dealership and learn more about the two Volvo cars.
Comparison Table
2022 Volvo XC40
2022 Volvo XC60
Trim
Price
$34100
$42650
Performance
Engine
2.0L Turbo Inline-4 Gas
2.0L Turbo Inline-4 Gas
Horsepower
187 hp @ 4700 rpm
247 hp @ 5400 rpm
Torque
221 lb-ft @ 1400 rpm
258 lb-ft @ 1800 rpm
Transmission
8-Speed Automatic
8-Speed Automatic
Drivetrain
Front-Wheel Drive
Front-Wheel Drive
Handling
Steering Type
Rack-Pinion
Rack-Pinion
Rear Suspension
Multi-Link
Multi-Link
Rear Wheel Size
P235/55HR18
P235/60HR18
Front Suspension
Strut
Double Wishbone
Front Wheel Size
P235/55HR18
P235/60HR18
Turning Diameter (ft.)
37.4
37.4
Fuel Economy
MPG/MPGe - Hwy
32
30
MPG/MPGe - City
23
23
MPG/MPGe - Combined
26
26
Gas Tank Size (gallons)
14.2
18.8
Cruising Range - Hwy (miles)
454.4
564.0
Size and Weight
Height (in.)
65.3
65.3
Length (in.)
174.2
184.6
Weight (lbs)
3627
4008
Max Width (in.)
73.3
74.9
Wheelbase (in.)
106.4
112.8
Interior Dimensions
Seating Capacity
5
5
Front Seat Leg Room (in.)
40.9
41.5
Front Seat Head Room (in.)
39.0
38.0
Front Seat Hip Room (in.)
54.7
56.4
Front Seat Shoulder Room (in.)
56.7
58.2
Rear Seat Leg room (in.)
36.1
38.0
Rear Seat Head Room (in.)
39.1
38.0
Rear Seat Hip Room (in.)
54.6
55.4
Rear Seat Shoulder Room (in.)
56.3
56.3
Infotainment Features
HD Radio
Not Available
Standard
MP3 Player
Standard
Standard
WiFi Hotspot
Standard
Standard
Satellite Radio
Standard
Not Available
Bluetooth Connection
Standard
Standard
Entertainment System
Not Available
Not Available
Premium Sound System
Optional
Optional
Auxiliary Audio Input
Standard
Standard
Smart Device Integration
Standard
Not Available
Hard Disk Drive Media Storage
Not Available
Not Available
Interior Trim
Cloth Seats
Standard
Standard
Vinyl Seats
Standard
Standard
Leather Seats
Standard
Standard
Premium Synthetic Seats
Standard
Standard
Bucket Seats
Standard
Standard
Sun/Moonroof
Optional
Standard
Leather Steering Wheel
Standard
Not Available
Woodgrain Interior Trim
Not Available
Not Available
Comfort Features
A/C
Standard
Standard
Rear A/C
Not Available
Not Available
Telematics
Standard
Standard
Seat Memory
Standard
Standard
Seat-Massage
Not Available
Not Available
Keyless Entry
Standard
Standard
Keyless Start
Standard
Standard
Cruise Control
Standard
Standard
Multi-Zone A/C
Optional
Standard
Power Liftgate
Optional
Optional
Climate Control
Standard
Standard
Head-Up Display
Not Available
Optional
Power Mirror(s)
Standard
Standard
Automatic Parking
Not Available
Not Available
Navigation System
Optional
Not Available
Power Driver Seat
Standard
Standard
Cooled Rear Seat(s)
Not Available
Not Available
Hands-Free Liftgate
Optional
Not Available
Heated Rear Seat(s)
Not Available
Optional
Remote Engine Start
Standard
Standard
Cooled Front Seat(s)
Not Available
Not Available
Heated Front Seat(s)
Standard
Optional
Power Passenger Seat
Optional
Standard
Remote Trunk Release
Optional
Standard
Heated Steering Wheel
Optional
Optional
Adaptive Cruise Control
Optional
Optional
Navigation from Telematics
Not Available
Not Available
Universal Garage Door Opener
Optional
Standard
Steering Wheel Audio Controls
Standard
Standard
Safety Features
ABS
Standard
Standard
Brake Assist
Standard
Standard
Night Vision
Not Available
Not Available
Rear Parking Aid
Standard
Standard
Traction Control
Standard
Standard
Stability Control
Standard
Standard
Blind Spot Monitor
Standard
Standard
Cross-Traffic Alert
Not Available
Not Available
Lane Keeping Assist
Standard
Standard
Tire Pressure Monitor
Standard
Standard
Lane Departure Warning
Standard
Standard
Airbags
Knee Air Bag
Standard
Standard
Driver Air Bag
Standard
Standard
Seatbelt Air Bag
Not Available
Not Available
Passenger Air Bag
Standard
Standard
Rear Head Air Bag
Standard
Standard
Rear Side Air Bag
Not Available
Not Available
Front Head Air Bag
Standard
Standard
Front Side Air Bag
Standard
Standard
Warranty
Basic
4 Years / 50,000 Miles
4 Years / 50,000 Miles
Corrosion
12 Years / Unlimited Miles
12 Years / Unlimited Miles
Drivetrain
4 Years / 50,000 Miles
4 Years / 50,000 Miles
Maintenance
3 Years / 36,000 Miles
3 Years / 36,000 Miles
Roadside Assistance
4 Years / Unlimited Miles
4 Years / Unlimited Miles